culture: Who do you love?
I Love Taiwan, an event that took place in Taichung on Wednesday, may have broken the Guinness World Record for a mosaic
On Kei's (梁安琪) job seemed simple: Hold the big red letter K up high enough for all 2,012 people to see. "My friend is the letter L," Kei yelled over the repeated cheers of "I Love Taiwan."
Kei, a Taichung university student from Macao, and her friend were just two of the hundreds of volunteers needed to help direct people where to sit. It was all in order to create the world's largest picture mosaic, an image of a person with hands raised aloft along with the words I Love Taiwan underneath.
"Even though it's windy, you can't stop the passion," Kei said of the event held Wednesday morning at Taichung City Hall to help commemorate Double Ten National Day.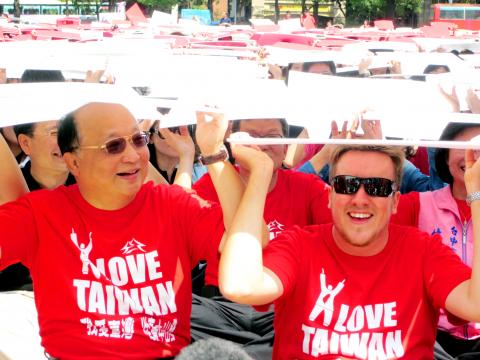 Taichung Mayor Jason Hu and I Love Taiwan organizer Shaun Bettinson.
Photo: John Evans
Shaun Bettinson, the event's organizer, said he believed the event shattered the current Guinness World Record of a 1,458-person mosaic. While Guinness representatives were not on hand, he said video, photos and eyewitnesses should be enough to validate the achievement. Official notification, he said, should happen within three weeks.
"There's no doubt in my mind that it was a success," said Bettinson, a 32-year-old British expat who has taught English in Taichung for the last eight years.
Bettinson has gained minor celebrity status with the launch of his I Love Taiwan campaign, which aims to amass 201,210 photos of people with their arms jutting into the air declaring their love for the nation. Collecting the photos and turning them into a massive collage and breaking another Guinness World Record remains a goal, he said. To date, 37,000 photos have been collected.
One of those making up the mosaic was Taichung Mayor Jason Hu (胡志強), who held a white board above his head for the required 10 minutes. "We're going to show our love for Taiwan," Hu said, rallying the participants. "With you, Taiwan is a better place to live."
Those on hand eagerly offered up what they loved about the nation. Reasons for loving Taiwan abounded, including the nation's delicious food and friendly, caring people.
"We love Kenting," said Robyn Knox of Taichung, who came with her husband, Mo Van Der Merwe. "We went there on our honeymoon."
Citing an example of Taiwanese kindness, Knox said it was the doorman at the English-speaking couple's apartment who offered to help them order their wedding invitations.
Of course, many also offered suggestions on how to make the country better. Improve roads to ease traffic congestion, said one woman, while another suggested the government should take better care of stray animals.
"I think the government should support more sports," said Liao Yu-ying (廖于瑩), who showed her national pride with a temporary tattoo of I Love Taiwan emblazoned on her left cheek.
Taichung resident Mei Wang (王玫) said she and her 72-year-old mother took part in the mosaic because they wanted to be part of a meaningful, history-making event. "When Shaun says, 'I Love Taiwan,' I want to follow him," Wang said.
Such outpourings of emotion both humble and empower Bettinson.
"It's all about love and liberating those feelings," he said. To build on this momentum, Bettinson said he plans to create a charitable I Love Taiwan Foundation, which would provide aid to the nation's disadvantaged residents.
Bettinson is not above getting emotional himself. As the last of the 2,012 people to sit down and form the mosaic, Bettinson looked up at the jumbo screen on the side of Taichung City Hall. Seeing himself next to the mayor and surrounded by throngs of supporters, Bettinson couldn't help but get choked up.
"It was amazing," he said afterwards. "I just wanted to cry."
Comments will be moderated. Keep comments relevant to the article. Remarks containing abusive and obscene language, personal attacks of any kind or promotion will be removed and the user banned. Final decision will be at the discretion of the Taipei Times.