Restaurant review: Shang Palace (香宮)
Shang Palace (香宮) at the Shangri-la Far Eastern Plaza (台北遠東國際大飯店) has long been known as a mecca for lovers of fine Chinese food, and with the introduction of new executive chef Ip Chi-kwong (葉志光), the establishment has achieved a new level of culinary luster. Chef Ip is in the vanguard of a culinary movement that has helped reshape Cantonese food, and which has introduced many popular favorites such as mango pudding as staples of a new, refreshingly vibrant menu.
The signature of new Cantonese cuisine is delicacy of presentation and a subtle use of flavor. The brasher flavors of Cantonese food have been toned down, but nothing has been sacrificed from the labor intensive processes that are used to maximize flavor.
A typical example of new Cantonese cooking can be seen in one of Ip's signature dishes of king prawn and tofu in double-boiled superior broth (上湯明蝦豆腐, NT$380), with its two beautifully presented prawns set against seemingly simple pieces of tofu. While the prawns are a visual highlight, the real surprise comes in the tofu, which is handmade daily from scratch in the hotel's kitchens, and then cooked in a rich stock that infuses a luscious flavor of meat into the delicate curd. Tofu is often regarded as one of Chinese food's most humble ingredients, but with the incredible care and attention to detail that is lavished on the making of this tofu, Ip puts his consummate craftsmanship on display in a manner that is delightful and self-effacing.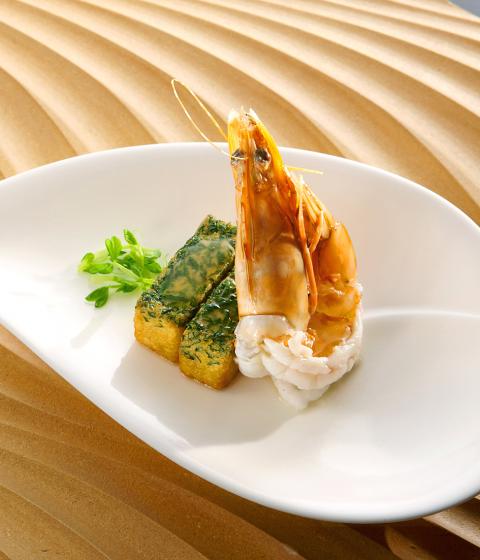 King prawn and tofu in double-boiled superior broth.
Photo courtesy of Shangri-la Far Eastern Plaza Hotel
Ip's dishes are about elevating conventional fare, giving it new twists and highlighting flavors that in the past may often have been hidden behind heavy sauces.
This can be seen in the pork ribs baked in Moet et Chandon Champagne (香檳焗肉排, NT$480). Baked ribs are a popular dish at any Cantonese eatery, but the flavor and even the texture of the meat sometimes disappears beneath various types of sweet and sour flavorings. Ip, who has spent much of his extensive career creating dishes that will appeal to the rich and famous familiar with the best cooking in the world, has opted to season these tender ribs with Champagne. As improbable as this combination seems, the results are spectacular. It goes without saying that the ribs themselves are of the highest quality, but the remarkable achievement is that they manage to suggest the vivacious brightness of bubbly.
Cantonese cuisine has incorporated many non-standard ingredients over its history, but as one of the great cuisines of China, it has remained true to itself even as it shows great versatility. The use of Champagne is one example. Another, and a personal favorite, is the pan-fried prime Wagyu beef tossed with foie gras (鵝肝和牛粒, NT$2,280), which might almost be mistaken for just any reasonably refined meat stir-fry, but in which the pairing of tender Wagyu beef and silky foie gras just sends your taste buds into overdrive. The dish is recognizably part of the Cantonese repertoire, but through the use of something like foie gras, it is taken to a whole new level.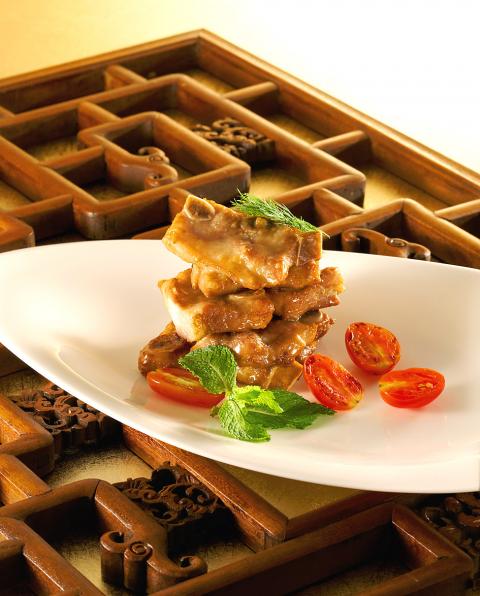 pork ribs baked in Moet et Chandon Champagne.
Photo courtesy of Shangri-la Far Eastern Plaza Hotel
Ip's attention to every step of the creative process produces truly memorable food. Although an innovator in the creation of many new dishes, he draws heavily on tradition, not compromising on time-consuming and labor-intensive procedures if they give him the results that he wants. The minced pigeon served with fresh lettuce leaves (生菜乳鴿鬆, NT$780) reproduces a classic dish with little change, but it takes a couple of bites to notice one fundamental difference with the version of this dish served in most restaurants: the complete absence of greasiness. To achieve this, the pigeon is pan-fried without any oil, a difficult process requiring painstaking attention to heat and timing during preparation.
As a premium restaurant at one of Taipei's top hotels, the standard of service is high, and the presentation of the dishes never less than elegant. Many of the new dishes that have been introduced are currently being offered at a reduced price to encourage diners to explore Ip's unique culinary world.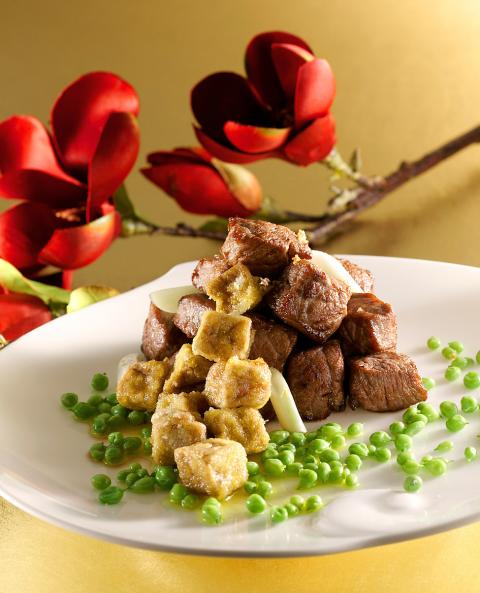 Pan-fried prime Wagyu beef tossed with foie gras.
Photo courtesy of Shangri-la Far Eastern Plaza Hotel
Publication Notes
Shang Palace (香宮)
Address: 6F, 201 Dunhua S Rd Sec 2, Taipei City (台北市敦化南路二段201號6樓), Shangri-la Far Eastern Plaza Hotel (台北遠東國際大飯店)
Telephone: (02) 2376-3229
Open: 11:30am to 2:30pm and 6pm to 9:30pm
Average meal: From NT$1,000 per person
Details: Chinese and English menu, credit cards accepted
Comments will be moderated. Keep comments relevant to the article. Remarks containing abusive and obscene language, personal attacks of any kind or promotion will be removed and the user banned. Final decision will be at the discretion of the Taipei Times.