Book review: The view from China
Troy Parfitt traveled through China for three months in an attempt to show why the country will 'never rule the world'
At the end of his review of Notes From the Other China (reviewed in the Jan. 20, 2008 edition of the Taipei Times), Bradley Winterton concludes that the tone of its author, Troy Parfitt, is outrageous and wearying in the extreme. Nothing much has changed with Why China Will Never Rule the World: Travels in the Two Chinas.
Parfitt wrote the book because he was fed up hearing about China being dubbed a great nation. "I remained especially unmoved by China writers and watchers who had, for one reason or another, become smitten with the Middle Kingdom, believing it to be a land of immeasurable achievement and boundless opportunity," he writes in the prologue.
He proposes to debunk these "mythomaniacs" and "Sinophiles" in the media, academia and business — who he rarely cites — by traveling China for three months, sniffing out as much foulness as possible so as to prove the impossibility it will ever rule the world.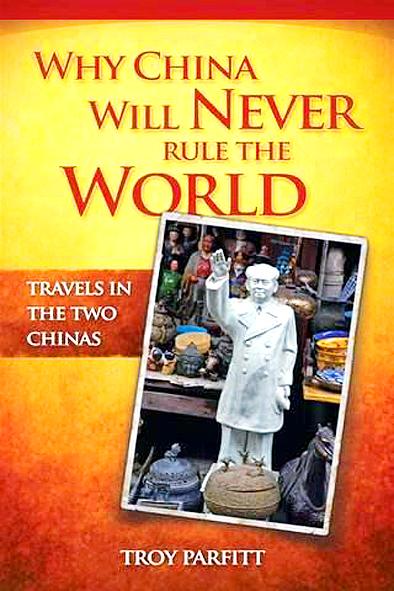 Why China Will Never Rule the World: Travels in the Two Chinas,by Troy Parfitt.
I agree with Parfitt's thesis that China will never rule the world — if only because it's a totalizing theory better left to 19th and early 20th-century notions of empire. Yet almost from the first page, his superficial observations and condescending attitude develop a counter-narrative in the mind of the reader. What other China commentators perceive, fairly in my opinion, as the country's growing pains — neighborhoods torn down willy-nilly, pollution, an urban population that doesn't seem to care who gets run over by its proliferating vehicles — he raises to a vile national characteristic.
He travels to Hong Kong, which I'm sure the folks there will be thankful to know impressed him, and Macau, which didn't, before disembarking on China's southern regions. When Parfitt enters Guangzhou, he informs us Chinese urban areas are "stupendously unbeautiful places."
"Guangzhou appeared as a study in greys. Everything was grey: the sky, the roads, the buildings, the river, the people," he writes. And he considers Guangzhou "nicer than most" Chinese cities.
Parfitt is not going to have much of anything positive to say about China or its people, so let's dispense with the illusion that he'll provide a balanced account. Of China's train stations, he writes, "People pushed, shoved, elbowed, cut in line, argued, shouted, smoked, emptied their lungs, and dropped their trash and cigarette butts where they stood."
Here he is on China's underground economy: "[F]ake sushi, fake steak, fake gravy, fake music, fake goods, fake pharmaceuticals, fake news, fake weather reports, fake education, fake rights, fake laws, fake courts, fake judges, a fake congress, a fake constitution."
Though these lists were presumably based on first-hand observation, one gets the impression throughout the book that Parfitt had a preconceived notion of what China was like before he arrived: A monolithic mass of jabbering peasants out to make a quick buck, snorting and farting their way into the modern world. And he isn't content to show that the behavior he witnesses is a kind of disease that only infects his subject.
He lays the groundwork for this throughout the first 100 pages, but perhaps most directly when he cites a five-year study, which he doesn't source, conducted in Singapore on myopia.
"As you will have guessed, incidence of short-sightedness was highest among [Chinese]," he writes.
"The study concluded that racial and cultural differences appeared to be responsible for the discrepancy," he adds.
From questionable building and business practices to the inability of taxi drivers to read a map or find a location, Parfitt insinuates that the shortcomings of the Chinese are part of their genetic makeup.
And be warned, he implies, because barbarity and coarseness is a cultural meme that can infect anyone traveling there — even a man as beyond reproach as Parfitt. Noting suspicion in others, he becomes suspicious. He lies to a hotel owner to get out of teaching English. Tired of telling people he's Canadian, he becomes "inventive" and says he's from Iceland, Norway and France, among other countries. Witnessing others littering, he throws garbage into a river. He has become a churlish traveler. "I freely admit it," he says.
"I was abrupt with people and awfully distrustful. I shook my head so often I feared it might come off. I glared. I scowled. I did what many Western people do when lied to or harassed: I became confrontational," he writes.
I could cite several more examples (there is even a section on Taiwan that rehashes old dissatisfactions — corrupt cops, menacing motorists, brawling legislators), but why bother. People like Parfitt are convinced of their righteous observations.
Revealingly, he barely gives any space to China's emerging middle class — the doctors, lawyers, activists, artists and journalists who are trying to create a civil society that might treat the disease of crudeness and vulgarity that Parfitt finds everywhere. Nor does he provide any insight into these people, their lives and struggles and how they view today's China, or if they want it to "rule the world."
Instead, we get long passages on Mao Zedong (毛澤東), Chiang Kai-shek (蔣介石) and Sun Yat-sen (孫逸仙), who for Parfitt, it seems, serve as symbols of the national character. (One shudders to think the account he would produce about Germany, say, or Cambodia.) He seems unwilling to do the difficult work and engage the Chinese on a level deeper than the superficial propaganda fed to them by their rulers. In fact, he doesn't seem interested in the Chinese at all. He endlessly contradicts the country's inhabitants, but doesn't question why an American he meets in a bar thinks that China is preparing for war ("Oh, you can just feel it").
A more interesting and balanced account might have included how a human rights lawyer in Beijing feels about the Chinese Communist Party remaining above the rule of law, for example, or how a religious practitioner is trying to rebuild her life after decades of persecution. These people can be readily found in China and Parfitt, with his Chinese-language skills and decades of living in Asia, could have found them. He didn't, or at least there is no evidence of it in this mean-spirited account.
Publication Notes
Publication Notes
Why China Will Never Rule the World: Travels in the Two Chinas
By Troy Parfitt
424 pages
Harkcover: Canada
Comments will be moderated. Keep comments relevant to the article. Remarks containing abusive and obscene language, personal attacks of any kind or promotion will be removed and the user banned. Final decision will be at the discretion of the Taipei Times.