Starry, starry night
Principal dancers from troupes in Europe, North America and South Korea will be performing as part of the Sixth International Ballet Star Gala next weekend in a program packed with contemporary works never before seen in Taipei
Next weekend will see a virtual UN of dancers (five Russians, two Canadians, two French, two Americans, two South Koreans, a Spaniard and a Czech) on stage at the National Theater for the Sixth International Ballet Star Gala.
This year's gala promises to be a real treat for balletomanes, with just a few of the old gala classics — such as the Don Quixote pas de deux — on show, while the overwhelming majority of works will be contemporary duets and solos not seen before in Taipei.
Among the contemporary pieces, there will be an excerpt from Jose Martinez's Les Enfants du Paradis, Roland Petit's Le Rendez Vous, an excerpt from Val Caniparoli's Lady of the Camellias, Rolando d' Alesio's Come Neve al Sole, Itzik Galili's Mona Lisa, Luis Martin Oya's Por Ti, Jorma Elo's One Overture, as well as a solo, Moorhuhn, that crowd favorite Daniil Simkin created for himself.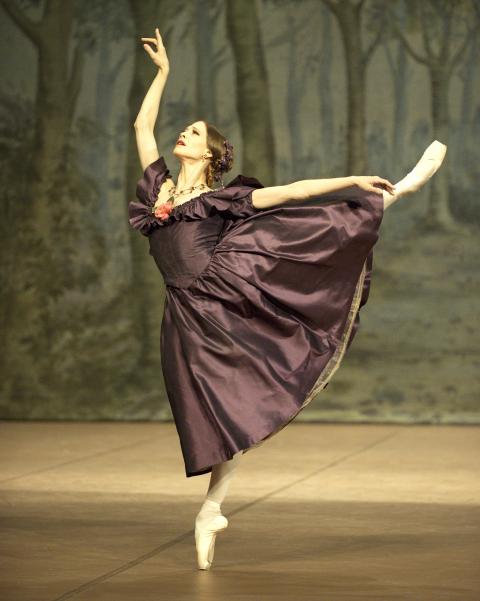 Alicia Amatriain will be among the stars dancing at the Sixth International Ballet Star Gala.
Photo Courtesy of Art Wave Inc
In addition to Simkin from the American Ballet Theater, the lineup includes Polina Semionova and Dmitry Semionov from the Berlin Staatsoper Ballet, Sarah Lane and Cory Stearns from the American Ballet Theater, Igor Kolb from the Mariinsky Theatre (aka the Kirov), Alicia Amatriain and Jason Reilly from the Stuttgart Ballet, Isabelle Ciaravola and Yann Saiz from the Paris Opera Ballet, Jiri Jelinek and Sonia Rodriquez from the National Ballet of Canada, Hwang Hye-min and Ohm Jae-tong from Universal Ballet and Maria Kochetkova from the San Francisco Ballet.
With the exception of Simkin, Kolb, Hwang and Ohm, the dancers are new faces for Taipei — although if you watched the film Black Swan, you saw Lane's body doubling for that of star Natalie Portman's.
If you had asked ballerina turned impresario Wang Tzer-shing (王澤馨) a few years ago if she ever thought she would produce a sixth gala, she would have answered a resounding no. The challenges of putting on such a massive show, with almost no outside support and an annual struggle to book space at the National Theater, are overwhelming.
Wang is still frustrated by the annual challenges, but with five galas in Taiwan and several similar galas in Singapore under her belt, and having brought South Korea's Universal Ballet to Taipei in the spring, she knows she can beat the odds. She was also clear on who and what she's looking forward to seeing.
"Semionova of course. She's considered one of the most beautiful ballerinas in the world right now, not just her face, but her technique," Wang said in an interview last month. "We've been trying since the first gala to get her, but she's so busy. Finally, she's able to come. As for the rest, each dancer is so unique, it is hard to compare."
"The purpose of the gala is to show the capabilities, what the dancers can do in classical or contemporary pieces," Wang said. "If we talk about the dancers, everyone loves Daniil Simkin, even if he's been to Taipei so many times (this is his fourth gala). He's young, but he is so attractive on the stage. He's never done the Don Quixote pas de deux [here] ... and his solo is so cute.
"We were really, really impressed when Universal Ballet came in April. We thought about having more Asian dancers perform as we want audiences to know that they can do ballet perfectly well … Asian dancers are very lyrical, especially the girl [Hwang] — she's tiny and delicate."
Wang is on a mission — not just for her galas, but for ballet in modern-dance heavy Taiwan.
"We have to get audiences back into the theater for ballet. Once they get in, they will realize how beautiful ballet is," she said. "At least give it a try. You may like it, you may not, but you may fall in love with it for the rest of your life."
Publication Notes
Performance Notes
What: Sixth International Ballet Star Gala
When: Saturday at 7pm and Jan. 8 at 2:30pm
Where: National Theater, 21-1 Zhongshan S Rd, Taipei City (台北市中山南路21-1號)
Admission: Tickets are NT$1,200 to NT$6,000, available at NTCH box office and online at www.artsticket.com.tw
Comments will be moderated. Keep comments relevant to the article. Remarks containing abusive and obscene language, personal attacks of any kind or promotion will be removed and the user banned. Final decision will be at the discretion of the Taipei Times.