Restaurant review: Hsiao Hsiang Ting 小巷亭
In 2000, as a relative novice in the arts of food writing, I reviewed Hsiao Hsiang Ting (小巷亭) for the Taipei Times; even then it was a well-established eatery. In the proceeding 12 years, Taipei's food scene has changed immensely. Top-notch Japanese and European restaurants have opened, and local chefs and restaurateurs, flush with experience gained from the finest establishments overseas, have set up luxury eateries all over town. But it is nice to know that some things don't change; Hsiao Hsiang Ting is one of the city's constants.
Taipei is a long way from rivaling Tokyo, Hong Kong or even Singapore as a regional culinary mecca, but there are some things it does particularly well. One of these is outstanding budget dining, a niche that is dwindling by the day, but still persists in the most unexpected places.
Hsiao Hsiang Ting opened in 1975 as an inexpensive Japanese restaurant catering to the cinema-goers who frequented the many movie theaters in the vicinity of the Nanjing West Road roundabout. Most of those theaters have now closed, but Hsiao Hsiang Ting is prospering.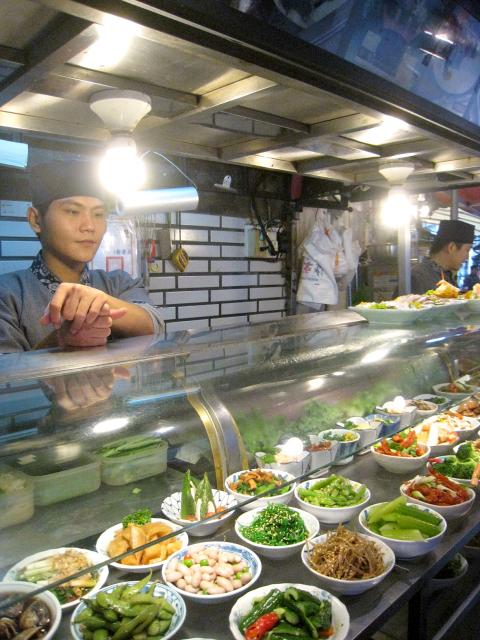 Hsiao Hsiang Ting: an oldie, but a goodie.
Photo: Ian Bartholomew, Taipei Times
The restaurant's forte is Taiwanese-style Japanese cuisine, with the Japanese influences coming primarily from the Osaka region, where founder Chen Te-cheng (陳德誠) got his training. This is reflected in Hsiao Hsiang Ting's specialty, oden (黑輪), which is sold under the name kanto-ni (關東煮). A bowl that includes slow-cooked daikon, served in big chunks, tofu, and fish and meat balls and comes with a luscious miso accented dipping sauce (around NT$100), is one of the best examples of this popular street food to be found in the city.
A vast array of other dishes is laid out along stainless steel display cases.
Hsiao Hsiang Ting serves its fare buffet style, though the staff prepares sushi to order behind the counter. A plate of mixed sushi is around NT$150, and though purists might take exception to the heavy soy sauce coating, it's very much in keeping with the restaurant's bold flavors.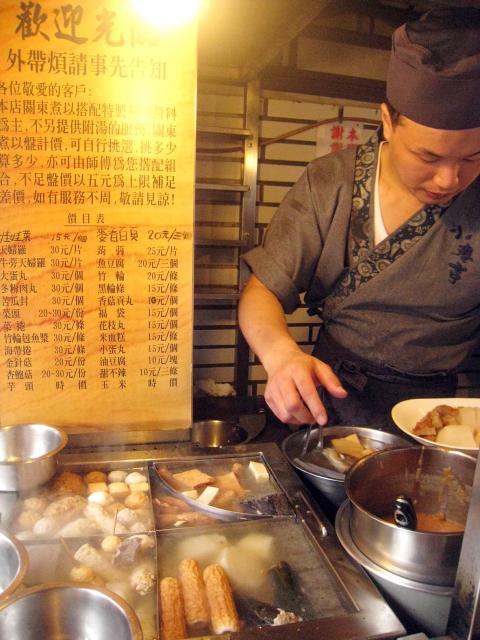 Hsiao Hsiang Ting: an oldie, but a goodie.
Photo: Ian Bartholomew, Taipei Times
Meat and fish such as eel are available. The grilled cod maw (鱈魚下巴) is particularly recommended.
To round out the meal there is a wide choice of colorful side dishes, some vegetarian, others made from seafood. You can always go back to the counter to pick up additional dishes, the bill calculated at the end when the plates on your table are tallied.
Located on the sidewalk and retaining something of a street food ambiance, the atmosphere at Hsiao Hsiang Ting is casual.
Though the restaurant looks like an overgrown street stall, the staff takes considerable care over the presentation of the food, and service is brisk and friendly.
Since the first review, the dining area has been moved from the street into either side of the alley: on one side a restaurant-like enclosed space, on the other, a few tables and chairs in an alcove.
There are certainly establishments that can boast far more authentic and sophisticated Japanese cuisine, but for a local food experience, Hsiao Hsiang Ting has few rivals.
Publication Notes
Hsiao Hsiang Ting 小巷亭
Address: 8, Ln 250, Nanjing W Rd, Taipei City (台北市南京西路250巷8號)
Telephone: (02) 2555-2386
Open: 11:30am to 9:30pm
Average meal: NT$300
Details: No menu, cash only
Comments will be moderated. Keep comments relevant to the article. Remarks containing abusive and obscene language, personal attacks of any kind or promotion will be removed and the user banned. Final decision will be at the discretion of the Taipei Times.