Santa touches down in Wulai
Volunteer organizations are hosting a toy and clothing drive for the Atayal community in Wulai. An event this Sunday will include a visit from Father Christmas
The ATAYAL organization and Taipei Volunteer Fire Department have teamed up with the Community Services Center to sponsor a clothing and toy drive for members of Wulai's (烏來) Atayal indigenous community. Donations can be dropped off at the Community Services Center or taken directly to an event this Sunday afternoon to be held in front of the Atayal Museum (泰雅民族博物館) in Wulai.
Activities will include Christmas caroling and a raffle for a mountain bike and children can have their photos taken with Santa Claus.
"The donation drive for the people in Wulai is the first one of many that we hope to do," says Gary Smoke, fire marshal of the Taipei Volunteer Fire Department. "Our involvement is to give something back to Taiwan."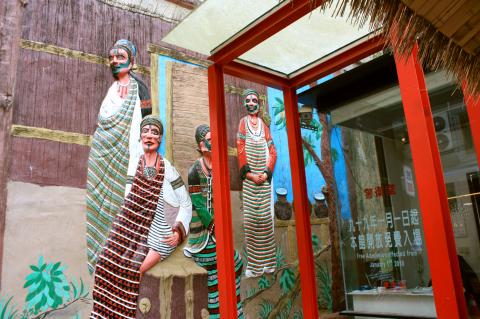 Organizers of the Wulai Christmas Clothing and Toy Drive will present items to members of the Atayal aboriginal community in front of the Wulai Atayal Museum this Sunday afternoon.
Photo courtesy of Tony Coolidge
The Wulai Christmas clothing and toy drive was inspired in part by the Wufeng Project (五峰計畫), a volunteer-driven initiative to build a community center for Atayal people in Cingcyuan (清泉), Hsinchu County. The project organized photography and art workshops for children in Cingcyuan and auctioned their creations to raise NT$2.1 million for the center.
Organizers of the Wulai drive hope to emulate the Wufeng Project, says Tony Coolidge (陳華友), the head of ATAYAL, an American nonprofit organization that seeks to make connections between members of indigenous tribes in Taiwan and the US.
"I've been seeing this growing awareness and interest in the expat community to reach out to indigenous people," says Coolidge, who is a member of the Atayal tribe and was born in Wulai. "We're hoping that this is a small thing that can grow into something more."
Smoke says he hopes that the Taipei Volunteer Fire Department and ATAYAL can also help forge a relationship between the Atayal community and members of indigenous tribes in the northwest US to facilitate cultural exchanges and study abroad programs.
The organizers of the toy and clothing drive will work with Hsinhsien Church (信賢教會) in Wulai to distribute items to children. Coolidge says the drive will focus on children living in single-parent households or those left with relatives while their parents seek work in cities. Items will also be given to children in families that have been affected by alcoholism.
The greatest need is for school-age children's clothing, as well as arts and crafts supplies and educational toys targeted to children age 12 or younger. Sports equipment, including basketballs and baseballs, is also in demand.
Donations of secondhand computers are welcome. Smoke says members of the Taipei Volunteer Fire Department will repair computers and use them to create a network for the Atayal community in Wulai.
Publication Notes
Event notes
What: Wulai Christmas Clothing and Toy Drive
When: Sunday from 1pm to 4pm
Where: Wulai Atayal Museum, 12 Wulai St, Wulai Dist, New Taipei City (新北市烏來區烏來街12號), tel: (02) 2661-8162
Admission: Free
Other info: Donations are also being accepted at the Community Services Center at 25, Ln 290, Zhongshan N Rd Sec 6, Taipei City (台北市中山北路六段290巷25號), tel: (02) 2836-8134. For more information about the drive, send an e-mail to tvfd.ihq@gmail.com
Comments will be moderated. Keep comments relevant to the article. Remarks containing abusive and obscene language, personal attacks of any kind or promotion will be removed and the user banned. Final decision will be at the discretion of the Taipei Times.