Book review: Airborne Dreams: "Nisei" Stewardesses and Pan American World Airways, by Christine R. Yano
Why are the 1950s so hard to come to terms with?
In one sense they represent an era of slightly spurious good times, an island of peace and prosperity after the horrors and deprivations of World War II. It wasn't that things were really that good, you feel, but rather that there was an irresistible compulsion on the part of people living then, in both Europe and the US, to persuade themselves that they were. Hence it appears as a sort of placid haven, conservative in taste as in politics, managing to hold its own between the grimness of the 1940s and the radical innovations of the 1960s. But "appears" is the key word.
It's most prominent statesmen were conservatives — Eisenhower, De Gaulle, Macmillan, all three with the power to unleash nuclear weapons. Boys had polished shoes, short hair and side partings. Frank Sinatra was a key voice on the airwaves (TV was in its infancy, and often only in black-and-white), and even well-established modernists such as Picasso were still greeted with a shudder. The pre-war decades had in many respects been more radical, but this was a time when the middle classes reigned. After being allowed a mere sliver of cheese every week under the UK's food rationing system, to inhabit a suburban home of your own, with its clipped lawn and cheerful flower beds, was easily seen as a form of paradise.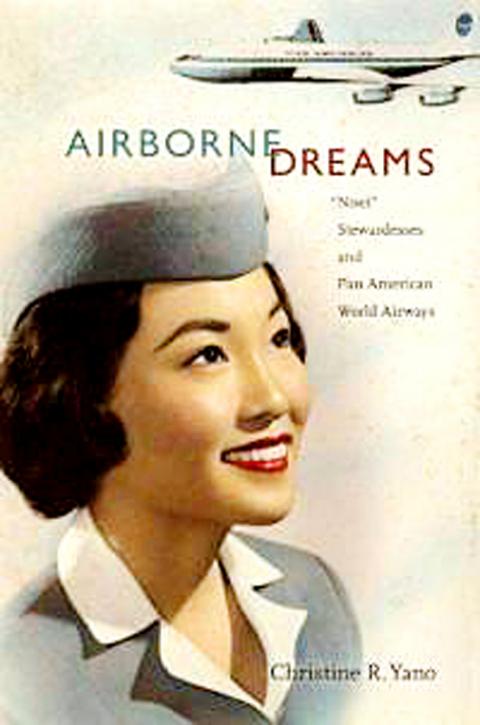 Airborne Dreams: "Nisei" Stewardesses and Pan American World Airways, by Christine R. Yano
These days we tend to be more interested in the era's rebels — Elvis Presley, James Dean, the Beat Generation — all precursors of what was to come. But the decade also produced its own characteristic art that, by and large, has worn well — books by Graham Greene and Lawrence Durrell, films by Bergman and Fellini, and some sumptuous classical recordings.
The future wasn't only present in the person of rebels — the rich and successful were also forging ahead into new lifestyles. One of the most significant of these was international air travel. The major airlines were getting into their stride, and the new jets were in the process of revolutionizing travel.
Christine R. Yano's Airborne Dreams focuses on Pan Am, or Pan American World Airways. It's a paradoxical area because this new technology, rightly seen as era-defining and inaugurating "the jet age" with its characteristic "jet-setters," was still intensely conservative in its ethos. One example is its employment policy with regard to stewardesses. Once the presence of non-whites was accepted into the concept, stewardesses were employed on a racial quota basis, something that is hard to swallow today.
The book looks at the stewardesses of Japanese ethnic origin, first introduced in 1955. Pan Am felt that it was desirable to have Japanese-speaking personnel on board, not only to cater to its Japanese passengers on long-haul flights (divided in those days into many short stages), but also to confirm the "exotic" nature of long-distance air travel. The well-heeled passengers were encouraged to feel cosmopolitan and, as if to confirm the effect, they were given some exotic-looking stewardesses to cater to their in-flight needs.
These were often second-generation Japanese immigrants to the US. But it wasn't so long since America had been at war with Japan, and US citizens of Japanese descent had been interned. So some women who could remember being in American internment camps suddenly found themselves at the forefront of the modern age, and in effect representing their nation on its most prestigious airline.
And Pan Am was prestigious. Its founder and head from 1927 to 1968, Juan Trippe, would have liked it to have been the US national airline, even its sole international carrier. But Washington opted instead for a policy of free competition and, unlike many other countries, the US never had a flagship national carrier. Even so, Pan Am was a first among equals, with close contacts to the government and happily engaging in "confidential" missions. To the flying public, its style was both luxurious and formal, in contrast to (according to this author) the friendly informality of United.
The former stewardesses of Japanese background interviewed in this book don't have anything very thrilling to say. They were on the whole conventional people, and probably believed that they had to remain so if they wanted to keep their jobs. Any popular idea that they were sex symbols, geishas of the sky, apparently wasn't reciprocated in practice. Air stewardess may have a "coffee, tea or me" reputation (to quote a phrase Yano uses), but on Pan Am it was different, or so this book asserts.
Parents' reactions to their daughters taking such work varied. The more affluent claimed to feel ashamed that they hadn't opted to be, say, teachers, and were only mollified when they discovered that stewardesses weren't given tips.
Grim times awaited Pan Am, however. It was involved in the worst disaster in aviation history in Tenerife in 1977, and was the victim of the notorious terrorist bombing over Lockerbie, Scotland in 1988. The airline declared itself bankrupt in 1991.
Yano appears anxious to reflect the glamour of Pan Am and its Japanese-descended stewardesses in their heyday while feeling obliged to incorporate the fashionable academic perspectives of race and class as well. The result is a slightly incongruous work, with the occasional insight but many wearying pages. The author is now working on a book about Hello Kitty.
You can't help wondering whether any of these stewardesses thought about the fact that many of the planes they were working on had been built in the same factories as those that rained fire and radiation on their ancestral homeland. Probably not. The 1950s, after all, was an age when many of the truths we take for granted today were left discreetly unmentioned.
Publication Notes
Publication Notes
Airborne Dreams: "Nisei" Stewardesses and Pan American World Airways By Christine R. Yano
228 pages
Duke University Press
Softcover: US
Comments will be moderated. Keep comments relevant to the article. Remarks containing abusive and obscene language, personal attacks of any kind or promotion will be removed and the user banned. Final decision will be at the discretion of the Taipei Times.