Music: Twice the pleasure
Tonight and tomorrow see two concerts in Taipei's National Concert Hall, the first featuring the celebrated Swiss flutist Peter-Lukas Graf and the second the world premiere of a Taiwanese oboe concerto.
Graf will be 82 this year but is still very active on the international concert scene. Tonight he'll play a sonata Mozart wrote when still a child, a mature Schubert sonata, and a concerto by Khachaturian. All three were originally written for violin but have been adapted for the flute — the Khachaturian concerto by Graf himself.
Tomorrow evening has the National Symphony Orchestra (國家交響樂團, NSO) playing Bruckner's mammoth Symphony No. 7, and before the interval the first performance of Song of Losses, an oboe concerto by the eminent Taiwanese composer Yang Tsung-hsien (楊聰賢).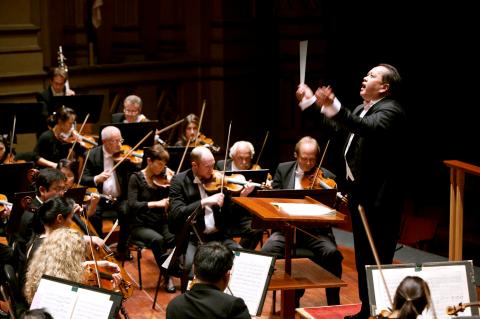 The National Symphony Orchestra will perform under the baton of Ling Jahja tomorrow.
Photo Courtesy of David Hartig
Yang says that his sense of the inevitable losses in life forced him to shape the ending of his concerto the way it is. The soloist in this premiere will be the Taiwanese oboist Hsieh Wan-chen (謝宛臻).
As for the Bruckner symphony, it's a magnificent if sprawling masterpiece. The long slow movement is thought to be a tribute to Wagner and usually ends (there are several different versions of the score) with a cymbal clash symbolizing his death.
It's a work that benefits from advance preparation. The 1970-1971 Karajan recording with the Berlin Philharmonic, remastered in 2005, is classic in every sense. As a second choice, the 2000 version by Gunther Wand, also with the Berlin Philharmonic, is highly praised.
The NSO's conductor will be Indonesian-born Ling Jahja (林望傑), currently music director of the San Diego Philharmonic and said to be the only conductor of Chinese descent to have conducted all the major orchestras in the US, as well as having contacts with the NSO going back over a decade.
Graf plays at the National Concert Hall tonight. Tickets are NT$500 to NT$2,500. The NSO under
Ling plays in the same hall tomorrow night, with tickets at NT$400 to NT$2,500. Tickets can be purchased at NTCH box offices, through www.artsticket.com.tw or by calling (02) 3393-9888. Both concerts begin at 7:30pm.
Comments will be moderated. Keep comments relevant to the article. Remarks containing abusive and obscene language, personal attacks of any kind or promotion will be removed and the user banned. Final decision will be at the discretion of the Taipei Times.