Proud and loud
Now in its ninth year, Taiwan LGBT Pride Parade aims to raise awareness of discrimination against homosexual communities
Rainbow flags, drag queens in flamboyant costumes and revelers will once again take over downtown Taipei when the nation's lesbians, gays, bisexuals, transgenders and their supporters march side by side tomorrow in the annual Taiwan LGBT Pride Parade, one of the largest in Asia.
Though the event feels like and is indeed celebrated as a big carnival for LGBT communities, Taiwan LGBT Pride is also a platform to raise awareness and deliver serious messages. With this year's theme, LGBT Fight Back, Discrimination Get Out! (彩虹征戰—歧視滾蛋), organizers aim to highlight the continued prevalence of discrimination against people of different sexual orientations.
"Several incidents that took place this year make us realize how discrimination has become different and more elusive. Before it was 'homosexuality is abnormal and perverse.' Now the language and attitude have become more refined and sly," said J.J. Lai (賴正哲), convener-in-chief of this year's parade.
Photo: Taipei Times
Lai mentioned a large-scale petition organized by the Chen Ai Alliance (真愛聯盟), a self-proclaimed parents group, in April. The aim of the petition was to block the release of three reference books that contain gender and sexual diversity teaching materials, as required by the Gender Equality Education Act (性別平等教育法), for teachers in elementary and junior high schools. With help from several legislators, the group successfully pressed the Ministry of Education to suspend the distribution of the books.
Gender and activist groups including the Gender/Sexuality Rights Association in Taiwan (台灣性別人權協會) and Taiwan Gender Equity Education Association (台灣性別平等教育協會) took the case to court, saying that the alliance had twisted the content of the teaching materials and inaccurately presented the number of petition signatures they had garnered.
"The gravity of the matter lies in the fact that conservative groups are able to influence policies through manipulation," said Liu Ching-hung (劉敬弘), a parade volunteer whose activism began with the country's first wave of gay rights awareness in the 1990s.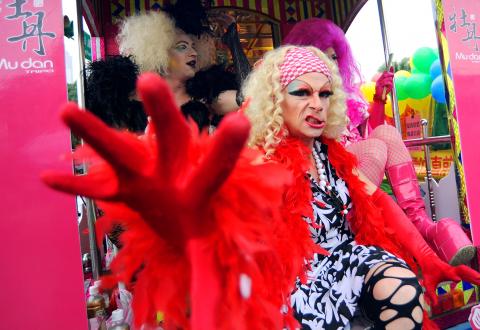 Photo: Taipei Times
Lai and Liu said that while claiming to be worried parents, Chen Ai Alliance comprises members of conservative Christian groups that have waged several anti-homosexual campaigns over the years, including an unsuccessful attempt in 2006 to obstruct an amendment to the Employment Service Act (就業服務法) that prohibits discrimination against an employee based on sexual orientation. In 2009, Christian groups held an anti-gay march one week before the LGBT parade took place.
"Knowing that their Christian beliefs may not gain a sympathetic response from citizens who are predominantly followers of Buddhism and Taoism, this year they were smart enough to conceal their religious background and succeeded in stirring up anxiety among parents who were told that their children would turn gay if teachers start teaching about homosexuality in schools," Lai said.
In light of the development, organizers are calling on children, teenagers and their parents to join tomorrow's parade.
"Education is the most important thing. If children don't learn to respect people who are different from themselves, they may grow up to be insensitive to others," Lai said.
HIV and AIDS-related issues are also part of this year's parade agenda, especially after an incident in August in which five patients received organs from an HIV-infected gay donor at National Taiwan University Hospital (台大醫院).
"It set off a panic, equating the disease with homosexuality," Liu said, adding that experts would address the parade.
On a more buoyant note, this year's parade will be made up of not one but two processions.
The colorful procession will set off from the Presidential Office on Ketagalan Boulevard (凱達格蘭大道) at 2pm and split into two. Participants on the western route will snake along Gongyuan Road (公園路), Zhonghua Road (中華路), Zhongxiao West Road (忠孝西路) and Changde Street (常德街), while the eastern course proceeds along Xinyi Road (信義路), Heping East Road (和平東路), Roosevelt Road (羅斯福路) and Zhongshan South Road (中山南路). Both processions finish on Ketagalan Boulevard, where speeches and performances will be given by activists and social groups, as well as three Rainbow Ambassadors selected for their vocal support of LGBT communities, including songstress Deserts Chang (張懸).
Parade organizers estimate a crowd of 50,000 attendees will participate in the event this year.
"There are simply too many people. Last year, we ended up having the front end of the parade returning to the boulevard while the rear end had yet to start moving. It was chaos," Liu explained. "Taipei has lots of traffic lights, and one extra red light can cause trouble, blocking and interrupting the procession."
Liu said logistics for the parade have grown colossal, involving 300 to 400 volunteers to help direct traffic alone.
The parade has also become more international, attracting groups from Hong Kong, Japan, South Korea, Malaysia and Singapore.
"Taipei has become a mecca, and each year people in neighboring Asian countries come to join the big event and celebrate who they are," Liu said.
Organizers encourage participants to meet in front of the Presidential Office at 1pm. The dual processions are scheduled to set off at 2pm and return to Ketagalan Boulevard at around 4:30pm. For more information and a route map, visit www.twpride.org.
Comments will be moderated. Keep comments relevant to the article. Remarks containing abusive and obscene language, personal attacks of any kind or promotion will be removed and the user banned. Final decision will be at the discretion of the Taipei Times.