Music on the mountain
Folk musicians and artists from Greenland, Finland, Tuva, Inner Mongolia and Taiwan perform today at Sinle Elementary School in Hsinchu County for the Gathering for Indigenous Peoples' Dance and Music
This afternoon, folk musicians and artists from Greenland, Finland, Tuva, Inner Mongolia and Taiwan will be congregating at a Taiwanese Aboriginal village in the mountains of Hsinchu County to perform at the Gathering for Indigenous Peoples' Dance and Music (音樂上山.部落樂舞會).
The free event, which is being organized by the Indigenous Peoples Cultural Foundation (原住民族文化事業基金會), a Taipei-based nonprofit group, and world music label Trees Music and Art (大大樹音樂圖像), aims to bring together indigenous artists and performers from across the globe.
The event was also conceived as venue for cultural exchange and a study opportunity for Atayal youths in Jianshih Township (尖石鄉), according to a press release from the organizers. The visiting performers have spent the past week living in the township, holding music and dance workshops for students of all ages at Sinle Elementary School (新樂國小), where today's performances will be held.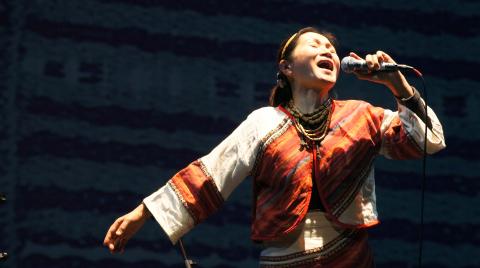 Atayal singer Inka Mbing will perform today as part of the Gathering for Indigenous Peoples' Dance and Music.
Photos courtesy of Trees Music and Art
Tuvan-style throat-singing was among the musical styles that the students got to try, and visitors at Sinle Village today will get to hear such music today when Yat-Kha takes to the stage as one of the headlining groups.
Led by singer Albert Kuvezin, Yat-Kha performs the folk music of its homeland, Tuva, an autonomous Russian state bordering Mongolia and Siberia. Kuvezin is known for combining throat-singing with heavy metal and hard rock, as well as avant-garde music.
Another pair of far-flung musicians, Ailo and Inger Biret Gaup of Norway, will perform traditional yoiks, an a cappella song form. The Gaups, a brother-sister duo, are Sami, an indigenous group that is spread across the Arctic regions of Finland, Sweden and Norway.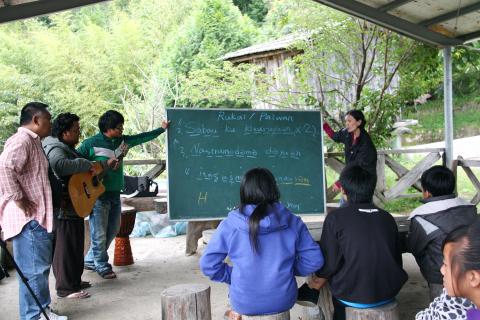 Paiwan Aboriginal singer Ngner-ngner, who will take to the stage at the Gathering for Indigenous Peoples' Dance and Music, teaches a workshop for Atayal youths earlier this week.
Photo courtesy of Trees Music and Art
There will also be a mask and dance performance by Norwegian actor Kristian Molgaard, who is of Inuit descent and was born in Greenland.
Rounding out the program are Mongolian female vocalist Urna Chahar-Tugchi and local Aboriginal performers, including Atayal singer Inka Mbing (雲力思), Paiwan vocalist Ngner-ngner (林廣財) and Amis indie-pop musician Suming (舒米恩).
The students who participated in this week's workshops also get to show off what they learned. Dubbed "the Atayal Youth Creativity Camp" (泰雅部落青少年), audiences can expect to hear Atayal youths performing Tuvan folk songs, Sami yoiks and Inuit dances, among the indigenous art styles featured this afternoon.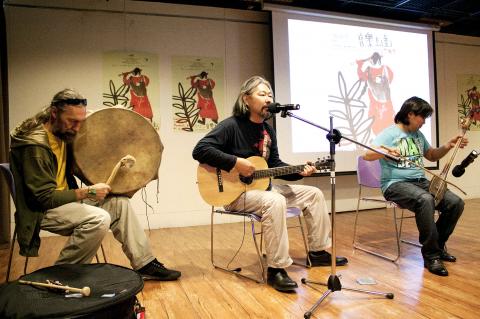 Yat-Kha, a traditional folk and rock band from the Tuva, will perform in Hsinchu County today as part of the Gathering for Indigenous Peoples' Dance and Music.
Photo courtesy of Trees Music and Art
Publication Notes
Event Notes
What: Gathering for Indigenous Peoples' Dance and Music
When: Today from 3pm to 7:30pm
Where: Sinle Elementary School Athletic Field (新樂國小操場), 10, Neighborhood 1, Sinle Village, Jianshih Township, Hsinchu County (新竹縣尖石鄉新樂村一鄰10號)
Admission: Free
Getting there:A free shuttle bus leaves from Neiwan Bridge (內灣橋頭), located next to a 7-Eleven near the Taiwan Railway Administration's Neiwan Train Station (內灣車站) every half hour between 12:30pm and 7:30pm. For more information on the event, call the Hsinchu County Jianshi Township Office at (03) 584-1001
Comments will be moderated. Keep comments relevant to the article. Remarks containing abusive and obscene language, personal attacks of any kind or promotion will be removed and the user banned. Final decision will be at the discretion of the Taipei Times.