Upcoming: Rock in Hose
Rock in Hose's nouveau-burlesque show is evolving. For two upcoming shows, on Oct. 9 and Oct. 16, at Revolver, the group is going cabaret with a performance of new material. The audience, which is limited to 50 people for each performance, will be seated for the group's original songs, dances and comedic skits. In addition to promoting women's and gay rights, and orgasms for all, the Hose also advocates safe sex and will donate part of the proceeds from the two shows to charity. The money will go to Spark! Circus, a charity that stages performances and holds workshops for Burmese refugees near Mae Sot at the Thai-Myanmar border. When describing what attendees can expect from Sunday's shows, Alita Rickards, troupe co-founder and performer as well as Taipei Times contributing reporter, said: "A visual and auditory feast that will tickle all senses." Guest acts include a belly dancer, an artist who produces erotic paintings to live music and Moshe Foster (front man of reggae band High Tide), who will debut a new song titled Undercover. The group was founded in 2009 when Rickards and Anja Whitehead joined forces with Kathleen Batchelor, Marika McTague and Tinus Stander.
■ Oct. 9 and Oct. 16. Doors open at 6:30pm and the show is from 7pm to 9pm
■ Revolver, 1 Roosevelt Rd Sec 1, Taipei City (台北市羅斯福路一段1-2號)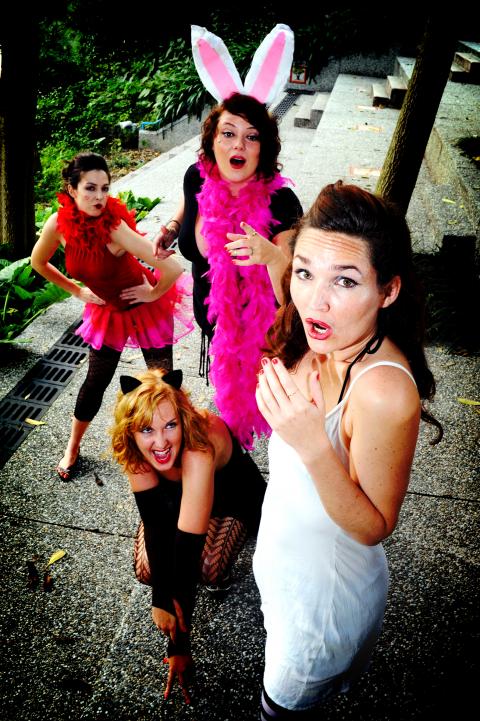 Rock in Hose will rock the house at Revolver on Oct. 9 and Oct. 16.
Photo courtesy of Steven Vigar
■ Tickets can be purchased at Revolver or at both Toasteria locations: 2, Ln 248, Zhongxiao E Rd Sec 4, Taipei City (台北市忠孝東路四段248巷2號) and 1, Alley 72, Yunhe St, Taipei City (台北市雲和街72巷1號). For more information call Onyx at 0976-517-044 or search for "Rock in Hose" on Facebook
Comments will be moderated. Keep comments relevant to the article. Remarks containing abusive and obscene language, personal attacks of any kind or promotion will be removed and the user banned. Final decision will be at the discretion of the Taipei Times.