The Vinyl Word
With more than two decades of turn-table experience, @L (aka Al Chen, Chen Yi-jun 陳逸駿) is one of the very few veteran DJs still actively involved in the scene. In 1992, the self-described "hedonist" founded BPM Production with his wife, Fion (李小燕), and he has been organizing dance events for as long as EDM (electronic dance music) has existed in Taiwan.
"We don't really have any ambitions. We lust for music and digital art," @L says. "BPM is all about hedonism. Making all kinds of fun parties to entertain others and ourselves is what we do."
For the past three years at Ho-Hai-Yan Rock Festival, @L and his crew have volunteered to organize free Together parties at Fulong Beach to represent the DJ community and dance music.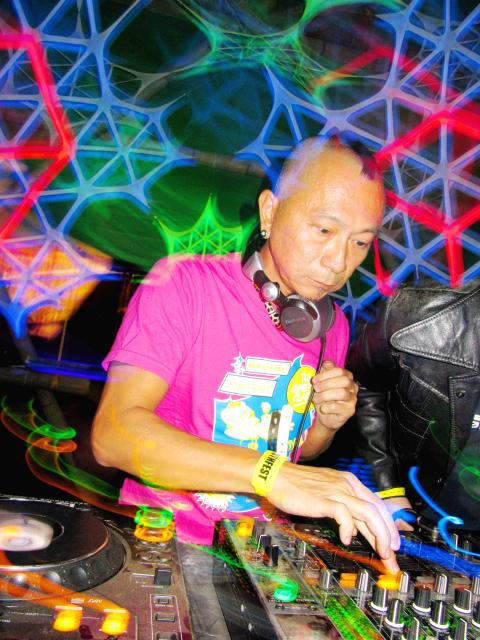 @L hits the tables at Cloud Party tomorrow.
Photo courtesy of BPM
"The greatest payoff is seeing more and more people coming to party with us every year, and the anticipation for the next Together is our biggest motivation."
Aside from the annual Fulong party, BPM's monthly E-Vogue night at Trio has been a haven for EDM lovers in Taoyuan as well. (More about BPM at www.digibpm.com.)
But @L is not just a hedonist — he's also an optimist who's willing to push the boundaries, trying things that less adventurous DJs might shy away from. Five years ago, he relocated to Hangzhou, China, to help launch a club; and before that he was a resident at the infamous Lion King in Taoyuan, where he had to play "night-market/Cantonese hard house" to thousands of drugged-out patrons six nights a week.
"In those clubs, I had to 100 percent accommodate to what they wanted to hear, but now that I'm not working at those commercial clubs anymore, I can play whatever I like, develop my own style, and experiment all kinds of new sounds … It's great!"
‧ @L spins tomorrow at Cloud Party (雲端派對) with Tiger, Cougar, Stanley, Renard, Bunjibeat, Jumper and Fokker. From 10pm to 4am at Twiice, 222 Jinshan S Rd Sec 2, Taipei City (台北市金山南路二段222號). The party will feature two rooms, one for tech house, and another for progressive. Tickets are NT$600.
Another hot event this weekend is ARC + Studio 193 = Good Fucking Music! in Tainan tonight. The name pretty much says it all.
"We're out to let you know that there's more to electronic music than the DJ top 100 list … All you need to do is stay open-minded and move when you feel the music, " says Studio 193's Mike Veldstra. "At this party we will share any styles with only one rule: it has to be fucking good! And to make it even better it's free!"
So if dance music is your cup of tea, whether it's drum 'n' bass, house, electro or indie dance, come one and come all.
‧ ARC + Studio 193 = Good Fucking Music! tonight from 10pm to 4am with Mic, Scheme-O, Naked, !ssue and Fake Drugs. at ARC Lounge Bar, 2F, 76-16, Minzu Rd Sec. 2, Tainan City (台南市民族路二段76之16號2樓). Admission is free
Ever wonder how someone like DJ Shadow (real name Joshua Paul Davis) would fare with the same crowd that adored Steve Aoki, whose rider included a case of bubbly strictly for audience members to engage in a champagne "bukkake" session, and cheered on every hip-swiveling moment of LMFAO's nearly naked set? Well you should have been at Luxy on Wednesday to find out.
"I came up in an era where DJs didn't need to take their shirts off and spray audiences with champagne," were Shadow's first words as he started an hour-and-a-half set to a packed Lady's Night in the Galleria Room.
Dressed in an inconspicuous hat and short-sleeved flannel shirt, he started off the night with an orchestral instrumental song that featured a sample repeating the line, "Does anyone remember who I am?"
This segued into Midnight in a Perfect World, one of the classic tunes from his first album, Entroducing …. On this remix — like many others throughout the night — the laidback hip-hop vibe was replaced with beats that were more hard-hitting.
From there, Shadow put the vocals of the always-pleasing Pharcyde classic Passin' Me By over drum 'n' bass, and the crowd was eating out of his CDJ-scratching hands.
Shadow then went even harder, dropping dubstep remixes of his tunes. It seemed as though half the crowd was going crazy for it and the other half was just confused by the noise coming from the speakers.
No matter how different the beats were, all of his big songs — Walkie Talkie, This Time, and Organ Donor — were met with big cheers. Shadow closed the night by showing off his scratching skills on some mid-tempo tracks from his new album, The Less You Know, the Better.
The album title is a perfect way to describe the evening: If you didn't know much about Shadow and were open to all kinds of music, then you had a blast at the show. But if you liked Shadow's work from back in the day, then his experimental style might have made you feel a bit left on the sidelines.
Comments will be moderated. Keep comments relevant to the article. Remarks containing abusive and obscene language, personal attacks of any kind or promotion will be removed and the user banned. Final decision will be at the discretion of the Taipei Times.