Theater: You say, they do
What happens at the Comedy Club tomorrow night is anyone's guess, say members of Taichung Improv, who will perform a two-hour show there featuring more than a dozen games inspired by prompts from the audience.
"I'll give you a secret about improv," said Matt Bronsil, who temporarily took over the reins from Taichung Improv founder Josh Myers after Myers suffered a recent illness. "Our goal is not to be funny. Our goal is to make a story. When we focus on being funny, we look for a funny line or silly thing … It gets a quick laugh, but that is all … When we lose focus and do not build an entertaining story, the scene dies. When we do build a story, it's full of laughter."
To create the "stories," the players build upon ideas elicited from audience members. An interpreter explains the rules in Mandarin before the game but doesn't translate the dialog, which is all in English. Some acts focus on narration or storytelling; others are elimination or guessing games in which one person is sent out of the room while the others set a scene. The latter works very well, said Myers, as "the audience loves it when they're in on the secret."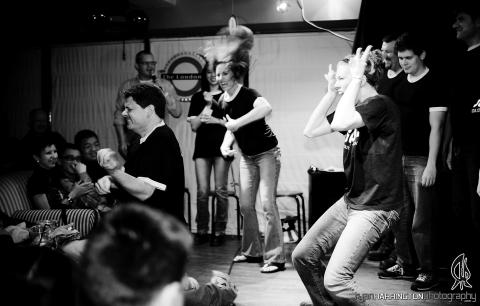 Members of Taichung Improv get in the zone.
Photo Courtersy of Ryan Harrington
The troupe uses a lot of physical comedy, said Myers, "because it is visual and with a bunch of different actors from all over the world, and an audience that has Taiwanese, but also people from all over the world — they all have different frames of reference, but we find common ground in slapstick."
Katie Partlow, who has been with the troupe since its creation in 2009, encourages audience participants to "think out of the box — not everything has to be about sex and/or body fluids, much as some people may wish it was!"
Partlow, currently finishing a master of fine arts degree in theater performance at Taipei National University of the Arts, is also involved with Taipei Players and numerous other local theater groups and the Taipei Fringe. Myers describes her as "larger than life. She's a fearless woman who just jumps in and we all follow."
Her large-eyed, awkward yet eager stage presence is reminiscent of a young, female version of Steve Buscemi.
The cast of seven includes actress, vocalist, and musician Sarah Zittrer (co-founder of Taipei Players), actor Thomas van Niekerk and guest performer Brandon Thompson (also in Taipei Players), and newcomer Quenntis Ashby, who trained originally in speech and drama, then in contemporary dance and classical ballet, dancing professionally, and winning several awards before he had to retire after a performance of Cats: The Musical because of an injury.
Cast member Quenntis Ashby, an experienced actor and dancer who is relatively new to this kind of theater, said, "When improv works, it's magical, and that happens when everyone is in the zone of comfortable alertness, or being completely in the now, the present."
Publication Notes
Performance Notes
WHAT: Taichung Improv, A Night in Taipei
WHEN: Tomorrow from 10pm to midnight
WHERE: Comedy Club, 20, Ln 553, Zhongxiao E Rd. Sec 4, Taipei City (台北市忠孝東路四段553巷20號)
ADMISSION: NT$350, which includes a drink. Contact the Comedy Club to reserve seats send an e-mail to social@comedy.com.tw or call (02) 2764-5529
On the Net: for the Comedy Club visit www.comedy.com.tw or for more information about Taichung Improv go to www.taichungimprov.net
Comments will be moderated. Keep comments relevant to the article. Remarks containing abusive and obscene language, personal attacks of any kind or promotion will be removed and the user banned. Final decision will be at the discretion of the Taipei Times.