This last one's for you, dad
In celebration of its 25th anniversary, Ping-Fong Acting Troupe (屏風表演班) is reviving its 1996 production Apocalypse of Beijing Opera (京劇啟示錄), one of the group's most acclaimed works.
The production, which starts tomorrow and runs through Jan. 1 in Taichung, Chiayi, Tainan, Hsinchu, Kaohsiung, Taoyuan and Taipei, stars Beijing opera veteran Chu Lu-hao (朱陸豪) and TV comedy actress Phoebe Huang (黃嘉千) as the leads.
The concluding chapter to the troupe's Fong Ping Trilogy (風屏三部曲), Apocalypse of Beijing Opera is Ping-Fong artistic director and playwright Hugh Lee's (李國修) heartfelt homage to the memory of his father. The first installment, The Half-Mile Great Wall (半里長城), was staged in 1989, followed by the second, Shamlet (莎姆雷特), in 1992.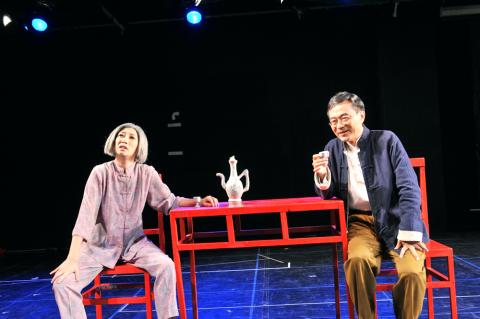 Hugh Lee (right) as a theater troupe director and Phoebe Huang as his second wife.
Photo courtesy of Ping-Fong Acting Troupe
"Lee's father wanted him to study Beijing opera when he was young, but he avoided it and only ended up coming back to the theater later on," the revival's director Huang Chih-kai (黃致凱) told the Taipei Times in a phone interview last week. "Lee put his name on the map as a comic star when he was young, and this play is his tribute and apology to his father."
The story employs a drama-within-drama structure by depicting a group named Fong Ping Theater (風屏劇團) rehearsing the story of The Liangs Theater Company (梁家班).
Echoing the life of Lee's father, an old master insists on making theater shoes by hand and witnesses the rise and collapse of a Beijing opera theater troupe in the 1940s.
Before the premier of The Liangs, the members of Fong Ping Theater get involved in a series of mishaps, including a romantic break-up and unexpected pregnancy, which prompt the director to announce the disbanding of the troupe.
"At the heart of this story is the father-son relationship," Huang said. "In Chinese families, love is often unexpressed. Lee has turned his unsaid thank-you to his father into this play."
Performance Notes
WHAT: Apocalypse of Beijing Opera (京劇啟示錄)
WHEN and WHERE: Tomorrow and Thursday at 7:30pm at Taichung Chungshan Hall (台中市中山堂), 98 Syueshih Rd, Greater Taichung (台中市學士路98號); Oct. 14 at 7:30pm at Chiayi Performing Arts Center (嘉義縣表演藝術中心演藝廳), 265, Jianguo Rd Sec 2, Minsyong Township, Chiayi County (嘉義縣民雄鄉建國路二段265號); Oct. 22 at 7:30pm and Oct. 23 at 2:30pm at Tainan Municipal Cultural Center Performance Hall (台南市立文化中心演藝廳), 332 Jhonghua E Rd Sec 3, Greater Tainan (台南市中華東路三段332號); Oct. 29 at 7:30pm and Oct. 30 at 2:30pm at Performance Hall of the Hsinchu County Cultural Affairs Bureau (新竹縣文化局演藝廳), 146 Siancheng 9th Rd, Jhubei City, Hsinchu County (新竹縣竹北市縣政九路146號); Nov. 12 at 2:30pm and 7:30pm at Kaohsiung Cultural Center's Chihteh Hall (高雄市立文化中心至德堂), 67 Wufu 1st Rd, Greater Kaohsiung, (高雄市五福一路67號); Nov. 26 at 7:30pm at Taoyuan Multipurpose Culture Park (桃園縣多功能藝文園區), 21 Sianfu Rd, Taoyuan County (桃園市縣府路21號); Dec. 23 and Dec. 30 at 7:30pm, Dec. 24 and Dec. 25 at 2:30pm and at 7:30pm, Dec. 31 at 2:30pm and 9:30pm and Jan. 1 at 2:30pm, at Metropolitan Hall (城市舞台), 25, Bade Rd Sec 3, Taipei City (台北市八德路三段25號)
ADMISSION: Tickets are NT$600 to NT$3,000, available through NTCH ticketing or online at www.artsticket.com.tw and 7-Eleven ibon kiosks
ON THE NET: www.pingfong.com.tw
Comments will be moderated. Keep comments relevant to the article. Remarks containing abusive and obscene language, personal attacks of any kind or promotion will be removed and the user banned. Final decision will be at the discretion of the Taipei Times.