Neither here nor there
This year's Migration Music Festival is built around the theme of 'home and away' and features performances by musicians from as far away as Poland
The world music scene comes alive in Taipei tonight for the second weekend of the 2011 Migration Music Festival (流浪之歌音樂節). This year's program is built around the theme of "home and away," and features musicians who represent peoples who have had to adapt to new environments or are under pressure to migrate for political, economic or other reasons. The concerts will be held in both the Zhongzheng (中正廳) and Guangfu (光復廳) auditoriums of Taipei's Zhongshan Hall (台北市中山堂).
Last weekend, the festival hosted a series of seminars and film screenings that highlighted the forces that have led to both voluntary and forced migration of peoples around the world and the kinds of music that this cultural transposition has created. As people move, their culture, their art and their music travel with them. Musicians, like artists in other mediums, face questions about their identity and their roots as they seek to establish themselves in a new environment.
The concert series will open today at 7pm in the Zhongzheng Auditorium with the Polish klezmer group Kroke. Klezmer is a music that originated among Ashkenazic Jews in Eastern Europe and traveled with them to the US where it soaked up jazz influences. A new generation of klezmer musicians like Kroke are returning to the roots of the music, while also striking out into experimental music based on the traditional foundations. The group has collaborated with musicians such as Peter Gabriel and Nigel Kennedy, and its music has been used in a number of films, including David Lynch's Inland Empire. Kroke was invited to the Migration Music Festival 10 years ago when the festival was inaugurated, and the invitation has stood for a decade. This is first time the group has been able to accept.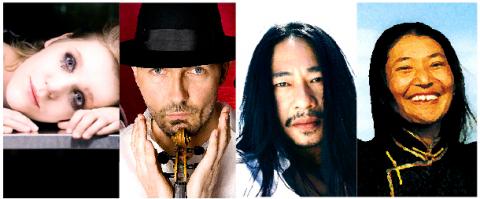 Photos courtesy of Trees Music and Art
Kroke will be followed tonight by the ever-popular Urna Chahar-Tugchi from Inner Mongolia, who has been a regular participant in the festival. This year, Urna will perform some of her most recent work. Following her concert there will be a screening of The Two Horses of Genghis Khan, a film that documents Urna's exploration of her past — including the tumult of the Cultural Revolution that resulted in a catastrophic loss of Mongolian cultural heritage — and a search for lost verses of a traditional melody.
Another minority group from China is represented by Mamuer Rayeskan from the Xinjiang Uygur Autonomous Region. Rayeskan, a self-confessed fan of Yes, Pink Floyd and King Crimson, blends these Western influences into traditional Xinjiang music, swapping between guitar, piano and traditional instruments like the dombra, a kind of lute. His performance, tomorrow at 4pm, will be preceded by that of the blind Chinese poet/singer Zhou Yunpeng (周雲蓬), which begins at 2pm.
Tomorrow evening, Taiwan Aboriginal singer Ngner-ngner (林廣財) — a member of the group Flying Fish and Cloud Panther (飛魚雲豹音樂工團) — will open at 7:30pm, followed by Polish singer/song writer Gabriela Kulka, whose mix of classical music, rock and pop has proved popular enough to win her a release through EMI.
Sunday will see two very different local artists perform, with composer and pianist Hsieh Chieh-ting (謝杰廷) opening proceedings at 2pm. He will be joined by Japanese guitarist Ken Ohtake, bassist Toru Hayakawa and erhu player Huang Si-nung (黃思農). Hsieh will be followed at 3pm by A-hsiang (阿翔), best known as the frontman for Luantan (亂彈), a leading underground band of the 1990s. He now has a successful solo career, mesmerizing fans "by his intensity and a unique voice that strikes at the heart of desolation and bleakness," according to publicity material.
The festival will close with a concert by Thai folk rock group Caravan at 4:30pm. Its "songs for life" were closely identified with that country's democracy movement of the 1970s. Caravan will also perform at the Chiayi Performing Arts Center (嘉義縣表演藝術中心演藝廳) at 3pm tomorrow. Thai nationals will be given a discount, with tickets available for NT$100 for both concerts with an accompanying stub from the Thai-language version of the 4-Way Voice newspaper. For the second concert of the evening, Rayeskan will perform with the Kazakh Iz Band. The style of the performance, according to organizers Tree Music and Arts, will be very different from Rayeskan's solo show tomorrow.
Publication Notes
Festival Notes
What: 2011 Migration Music Festival (concerts)
When: Today, tomorrow and Sunday
Where: Zhongshan Hall (台北市中山堂), 98 Yanping S Rd, Taipei City (台北市延平南路98號)
ADMISSION: Tickets are NT$500 for a single performance, NT$900 for a one-day pass and NT$1,500 for a festival pass, available through NTCH ticketing or online at www.artsticket.com
On the Net: www.treesmusic.com/festival/2011mmf
Comments will be moderated. Keep comments relevant to the article. Remarks containing abusive and obscene language, personal attacks of any kind or promotion will be removed and the user banned. Final decision will be at the discretion of the Taipei Times.