Planet Pop
British singer Elton John, 64, is in talks to make a film about his life, his spokesman said on Friday in response to media reports about a planned biopic called Rocketman.
Newspapers and Web sites said that Rocketman would be produced by John's partner David Furnish and Steve Hamilton Shaw and executive produced by the singer himself.
Playwright Lee Hall will provide the script.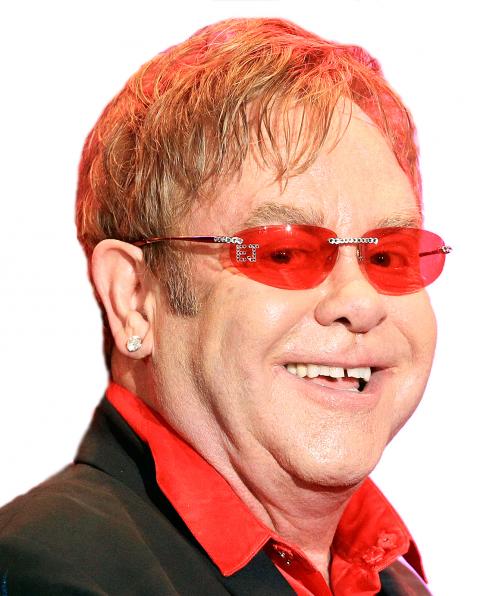 It's a bird... it's a plane... it's Rocketman.
Photo: Reuters
Asked to comment on the reports, John's London spokesman replied only: "Just discussions."
He did not expand on whether anyone had been singled out to play the lead in the movie, although the Sun tabloid said Scottish actor James McAvoy had been tipped for the role.
John and Hall have worked together before on the hit musical adaptation of the dance movie Billy Elliot.
"Rocketman will be a radically different kind of biopic," Shaw told Hollywood entertainment Web site Deadline, adding that it would be
"non-linear and hyper-visual."
Also spilling the beans about his life is Arnold Schwarzenegger, the former bodybuilder and governor of California, who has decided to title his just-announced new memoir
Total Recall: My Unbelievably True Life Story.
Acquired by Simon & Schuster for publication around the world in October next year, the memoir, which the publisher is calling "one of the most anticipated autobiographies of this generation," will trace Schwarzenegger's life from his journey to the US from Austria as a young bodybuilder through his career as an actor to his appointment as California governor. Simon & Schuster promised "a larger-than-life portrait of his illustrious, controversial and ever-entertaining life in and out of the public eye," but did not reveal whether Schwarzenegger's total recall would cover the news earlier this summer that his wife, Maria Shriver, had filed for divorce following revelations that the actor had fathered a child with their former housekeeper.
Schwarzenegger, already the author of two books about bodybuilding, is working on the autobiography with Peter Petre, who has cowritten memoirs by Alan Greenspan and Norman Schwarzkopf. He has also signed on to film Expendables 2 and is filming the western The Last Stand this autumn.
Over in Asia, South Korean pop star Rain announced a new engagement Friday — national military service of around two years starting next month.
Rain, whose real name is Jung Ji-Hoon, said on his Web page that he would undergo basic training at Uijeongbu north of Seoul before starting the 22-month-long mandatory military service.
"I will be serving in the army... the date was finalized this morning," he wrote on his Web site, adding he does not yet know where he will serve. "I thank you all for supporting me for the past 10 years."
Before joining the military, Rain will stage a farewell concert in Seoul on Oct. 9. The 29-year-old is one of South Korea's biggest celebrities and has a big following across Asia.
South Korea, which has remained technically at war with North Korea since their 1950-1953 conflict, requires all eligible men to serve in the military, although service can be deferred.
In other celebrity news, Brad Pitt is seeking again to distance himself from apparently negative remarks about his marriage to Hollywood sweetheart Jennifer Aniston, calling his ex-wife a "dear friend" and a "valuable person."
Pitt is out in public promoting his new baseball movie Moneyball. But he spent much of a TV interview on morning talk show Today trying to explain an earlier remark that suggested he found his five-year marriage to Aniston boring, and that he is now a "satisfied man" in his relationship with Angelina Jolie.
"All I know is that my point was, the best thing I'd done as a father is be sure that my kids have a good mother," Pitt told Matt Lauer in an interview that was broadcast on Today on Thursday.
"That's all I was, or am, trying to say. It has no reference to the past. And I think it's a shame that I can't say something nice about Angie without Jen being drug in. You know, she doesn't deserve it," Pitt said.
Pitt issued a statement last week saying his remarks to Parade magazine about not living an "interesting life" with Aniston, whom he divorced in 2005, had been misinterpreted.
Comments will be moderated. Keep comments relevant to the article. Remarks containing abusive and obscene language, personal attacks of any kind or promotion will be removed and the user banned. Final decision will be at the discretion of the Taipei Times.