Shining a light on a dark past
The Formosa Aboriginal Song and Dance Troupe is celebrating its 20th anniversary with a new production about an Aboriginal hero who fell victim to the White Terror
The Formosa Aboriginal Song and Dance Troupe (原舞者) is celebrating its 20th anniversary by revising its most controversial work, Memories of Azalea Mountain (杜鵑山的回憶), which traces the life of Uyongu Yatauyungana, also known as Gao Yi-sen (高一生), a Tsou Aborigine who became a teacher, activist and politician — and some would say Aboriginal martyr. The new show, titled Dreaming of Azalea Mountain (迴夢Lalaksu), will be performed at Huashan 1914 Creative Park, starting Saturday night, as part of the Huashan Living Arts Festival (華山藝術生活節).
In an interview earlier this month, Watan Tusi, the director of the company, and Faidaw Fagod, the artistic director, and choreographer Bulareyaung Pagarlava talked about the show and Gao's legacy.
The troupe, now based in Hualien, was founded by a group of friends living in Kaohsiung in May 1991 after they had been asked to perform some traditional Aboriginal dances for a government function, Fagod said. They had so much fun working together they wanted to continue.
The Formosa Aboriginal Song and Dance Troupe will give 10 performances of Dreaming of Azalea Mountain at Huashan 1914 Creative Park in Taipei starting Oct. 1.
Photo Courtesy of the Formosa Aboriginal Song and Dance Troupe
The company is known for its research efforts to revive and preserve the traditional songs and dances of Taiwan's Aboriginal tribes. It has adopted almost an anthropological approach, with troupe members, sometimes joined by university researchers, visiting village elders to learn and record how they speak, dance and other traditions of the various villages and tribes, including such non-performance activities as cloth-making, basket weaving and harvest rituals.
So it was somewhat surprising that the troupe should decide to mark such a key anniversary by revising a production that not only was a departure from its usual song and dance routines — by adding dialogue — but one that upset people in the Aboriginal community, not least of all some of Gao's family members.
Gao, born in 1908, was among the first Aborigines to go to university, graduating from Tainan Normal University, before returning to Alishan to become a teacher and policeman. He eventually became mayor of the Tsou Aboriginal township of Wufong (吳鳳), now known as Alishan Township (阿里山), and a promoter of Aboriginal autonomy. However, he was also a musician who wrote many songs, some based on the traditional mythology of the Tsou and others influenced by popular Japanese music of the day.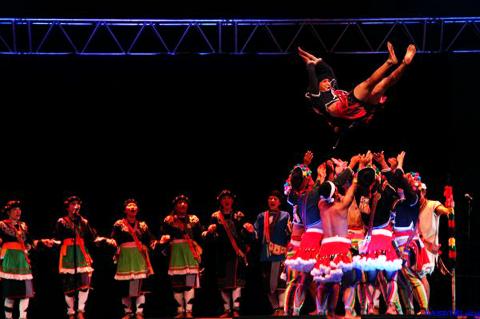 The Formosa Aboriginal Song and Dance Troupe will give 10 performances of Dreaming of Azalea Mountain at Huashan 1914 Creative Park in Taipei starting Oct. 1.
Photo Courtesy of the Formosa Aboriginal Song and Dance Troupe
After the 228 Incident in 1947, he rallied the Tsou to join Chiayi residents fighting Chinese Nationalist (KMT) troops at the Chiayi airport. The KMT later accused him of sheltering the governor of Tainan County, Yuen Kuo-chin (袁國欽), whom the government had labeled a communist spy. After being jailed for several years, Gao was executed in 1954.
During the White Terror and Martial Law Era, his name was hardly mentioned and his children and grandchildren have said they were bullied or harassed at school and in the village because Gao had been labeled "an enemy of the state."
In 2007, the Council of Cultural Affairs published a biography of Gao that included his musical works. It became the inspiration for the Formosa Aboriginal Song and Dance Troupe's first production about him that year. Lalaksu is the Tsou term for azalea mountain. The show told of Gao's life, his death and the struggles of his family in the aftermath of his execution.
Faidaw said he still finds it hard to believe that the company has made it to the 20-year mark, given its constant struggle to find funding. He is very proud of the fact that the company is one of only two full-time dance troupes in the country, the other being Cloud Gate Dance Theatre (雲門舞集), meaning it's full-time members don't have to find other jobs to support themselves.
The company supports eight full-time members; several part-timers are funded by a variety of grants and then additional performers are brought in as needed for a production, Faidaw said.
A fine balance
Tusi said the company revived the show about Gao for its 20th anniversary because the group's members thought it was vital to present such an important story and to show that the troupe is more than just a song and dance troupe.
"Before, we were always trying to find a way to say we [Aborigines] are different, we're not the same as you, but now trying to say we're the same as you — we cry, we laugh," he said. "It's very had to find balance between preserving culture and working with the outside world."
Tusi, who in addition to writing the script, stars in the show as Gao as a young man, said the new production is lighter, more peaceful, more romantic, not so much about the politics, but about the letters Gao wrote to his wife from jail and his songs.
"Productions about indigenous people are always too heavy. We can't make them too heavy or people won't come. The story can almost create a wall, a barrier between indigenous and non-indigenous. I was trying to find a way around the wall, so this time I made it the decision to make it lighter," Tusi said.
Tusi said he received a lot of help from Gao's family.
"His children know the whole story. One of his uncles organized all the letters, all the material and gave it to me," he said. "It's like the movie Seediq Bale (賽德克.巴萊), telling people to find their own path to building up the nation, the community. In the show, Gao and his wife tell audience they have to look to themselves to find their traditions, to find the strength to survive."
Pagarlava, who along with famed director Li Shao-ping (李小平) was brought in to help polish the show, said he found it very emotional to be involved in the production.
"The first production was very angry. This one is more peaceful. I went to Alishan to Gao's grave, I couldn't stop crying. I heard the whole story from his son," Pagarlava said.
Of the 22 cast members about half were in the first production, and about half are new, including some members of Gao's family. The show portrays Gao as a boy, as a young man (Tusi) and an adult, who will be played by Gao's son. Gao's granddaughter will play his daughter, who sang in US military servicemen's clubs in Kaoshiung to help support the family.
"His family were against the 2007 production — they had problems with it. This time Gau's son, who is in the play, was the key to communicating with the family and company," Pagarlava said. "The family doesn't talk much about this. When they were young, the whole village pointed fingers at them, in school telling them 'you are enemies of the state,' but now they are not afraid of stirring up old feelings again."
Since the troupe members come from different tribes, they had to learn to speak Tsou, as well as sing in Japanese.
"When they sing, you can tell this one is Ami, this is Paiwan, so they have to learn different styles. They started voice training five months ago," Pagarlava said. "It has been difficult for me because they have to move, they have to sing together. It's difficult for them to sing while dancing, so I may have to cut some movements because the singing is so beautiful I don't want to cut the singing."
"It's hard for me with my Western [modern dance] technique to find a way to work with traditional forms" he said. "When I listen to the songs, they are very sad ... they make me cry even though I don't really understand them because they are in Japanese."
"I hope to do more with the company. I think I should learn from them. I feel more like myself when I'm with them," said Pagarlava, who is a Paiwan.
Dreaming of Azalea Mountain will run from Oct. 1 to Oct. 10.
Publication Notes
Performance Notes
WHAT: Formosa Aboriginal Song and Dance Troupe's Dreaming of Azalea Mountain (迴夢Lalaksu)
WHEN: Oct. 1 to Oct. 10 at 7:30pm, and Oct. 2, Oct. 9 and Oct. 10 at 2:30pm
WHERE: Huashan 1914 Creative Park (華山1914), East Two Hall (東二館), 1, Bade Rd Sec 1, Taipei City (台北市八德路一段1號)
ADMISSION: Tickets are NT$400, NT$600, NT$800, available at the NTCH box office or online at www.artsticket.com.tw
Comments will be moderated. Keep comments relevant to the article. Remarks containing abusive and obscene language, personal attacks of any kind or promotion will be removed and the user banned. Final decision will be at the discretion of the Taipei Times.