The good, the bad and the ugly
It may be rough-and-ready, but if you know where to look Dasi Fishing Harbor offers lovers of seafood excellent quality at very good prices
The northern coast of Yilan County offers many attractions for tourists, and now that the Hsuehshan Tunnel (雪山隧道) has cut travel time from the capital to less than an hour, it is an ideal location for a day trip, especially on weekdays, though be prepared for heavy traffic. The inviting autumn weather called me forth on just such a venture, and I set my sights on Dasi Fishing Harbor (大溪漁港), a small port much talked about among seafood lovers, that has, as yet, escaped the attentions of Taiwan's tourism authorities.
On a previous visit to the area I had stopped at Wushih Harbor (烏石港), well known as a seafood haven, only to find that its fish market and associated restaurants were undergoing extensive renovations. I feared for its fate as the Wushih Harbor Visitors Center (烏石港遊客服務中心), a modern structure of glass and steel with about as much atmosphere as a disused bus terminal, had recently been completed. The bored staff offering trips to Turtle Island (龜山島) and the video about the harbor playing on eternal loop may well serve a purpose, but they did not make the blood quicken in anticipation of a wonderful adventure.
Dasi Fishing Harbor, located about 10km further north, is quite a different proposition. I had heard much about Dasi, primarily in the context of surfing. I had, therefore, never felt inclined to visit. But when people started waxing lyrical about the freshness of the shrimp and squid available at the fishing harbor nearby, my response was much more positive. I got in the car and headed east along the National Highway No 5, hung a left at the Toucheng Interchange, and a 20-minute drive along the Binhai Coast Road (濱海公路) later, I was working my way between stalls selling marinated sea snails and deep-fried squid to a parking spot at the entrance of the ramshackle little harbor.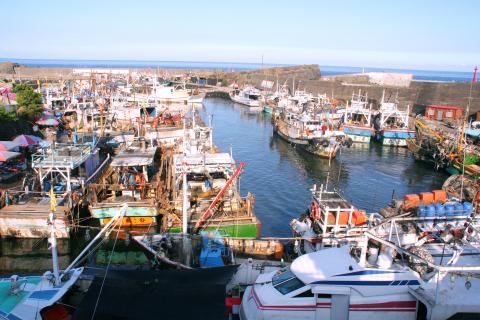 Fishing boats are moored at the dock of Dasi Fishing Harbor.
Photo: Ian Bartholomew, Taipei Times
Although a new and spacious parking lot off the coast road has recently been completed, this old fishing harbor has yet to acquire the veneer of a full-blown tourist destination. Past the small harbormaster's office, stairways in various states of disrepair lead down to the docks. A high concrete embankment is covered in weeds, made all the more unappealing by the paper and plastic wrappings thrown there from above, where a row of food stalls hawk seafood snacks.
My visit to Dasi Fishing Harbor had been carefully timed. I had been told that boats start coming in at around 2pm, and when I arrived, punctual to the minute, I found that this was indeed the case — the very first boats were coming in. But the market at the bottom of the embankment would not actually hit its stride until closer to 3pm. This left time to explore some of the cooked food options before I ventured down to the dock.
On the trip up from Taipei I had stopped off at one of the many seafood restaurants located along the Binhai Coast Road, only to discover that most catered primarily to larger groups. I was made the tempting offer of some steamed whole perch, but backed off when I was told that the price of that dish alone would be around NT$1,000. High quality fish served at restaurants here sells from NT$70 for 30g, with a preponderance of larger fish suited to groups of four or more.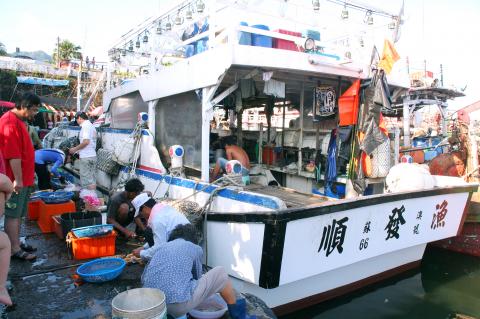 Vendors set up shop beside their fishing boats.
Photo: Ian Bartholomew, Taipei Times
At the entrance to the fishing port, I picked up a paper bag of mixed deep-fried crab, sardines and squid for NT$100. The crustacean was described as "one-mouthful crab" (一口蟹), diminutive little creatures about the size of a thumbnail, fried, shell and all, to an explosive crispness. The squid was so tender that it couldn't have been anything other than fresh and was much more tender than calamari rings eaten in restaurants claiming higher aspirations.
After enjoying these fried delicacies, it was time to explore the docks. The safest looking set of stairs down the steep embankment has a sign restricting its use to authorized personnel. Nobody, including many people clearly up from town on fish buying trips, seemed to pay it any heed.
The docks themselves are of rough concrete, the surface covered with puddles of dirty water. Against the embankment there are some bigger stalls sporting a wide variety of seafood, presented as they might be at a traditional market stall in the city. Besides the water are smaller outfits, often with just four or five kinds of fish, stacked up in plastic baskets. As I was buying fish, new stock was being unloaded from the boats. The mood is one of well-regulated chaos, as huge buckets of fish are hauled onshore from the boats, and then piled up for sale.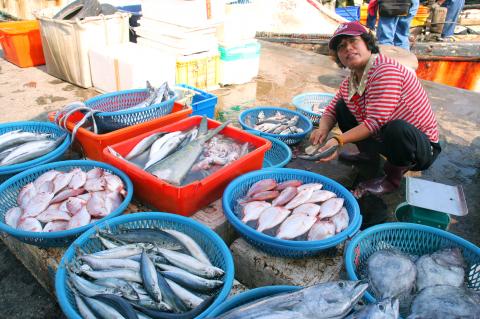 Fish big and small are displayed in buckets and baskets along the harbor front.
Photo: Ian Bartholomew, Taipei Times
Piecemeal retail is just one part of the business conducted here; bigger money changes hands beneath a steel awning at one end of the dock, where fish are auctioned to wholesalers. There is a sign restricting access to authorized personnel, and this prohibition is enforced and curious visitors are shooed away.
Prices even in the retail section are much lower than what you would expect to pay in Taipei, and while the unloading of fish from the boats gives the impression that all the produce offered is equally fresh, this is not necessarily the case. One stall owner warned that some seafood might have been kept on ice from the previous day, and careful inspection suggests that this may indeed be the case in some instances, with second-rate produce being sold off to unwary tourists as a real bargain. With a little care though, you can get excellent quality at very good prices.
The smell of diesel motors, the cascades of fish viscera dumped on the dock and the rough-and-tumble of the docks themselves might not be everyone's idea of a good time. And while the sight of all the seafood on display, everything from tiny white bait to huge silver marlin, is likely to get any serious foodie salivating, the environmental impact of commercial fishing is not hidden either. The sight of a baby hammerhead tossed away as unwanted by-catch could not but be a little distressing. To take a philosophical perspective, there is a refreshing lack of hypocrisy in the life of Dasi Fishing Harbor.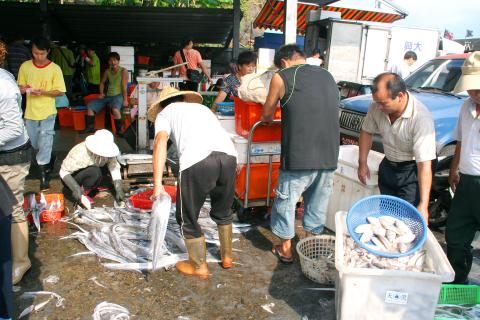 The auction area is strictly for people with the appropriate credentials.
Photo: Ian Bartholomew, Taipei Times
There is beauty and brutality in every minute of the few hours between mid-afternoon and sunset when the market is in full swing, and no one with a serious love of food is likely to depart without a plastic bag or three, heavy with fruits of the sea. For anyone who gets carried away, polystyrene coolers of various sizes are available from the local mom-and-pop convenience store from NT$45.
Dasi Fishing Port is located about 1km from the Dasi Railway Station and about 18km from the Toucheng Interchange of the National Highway No 5 on the Binhai Coast Road.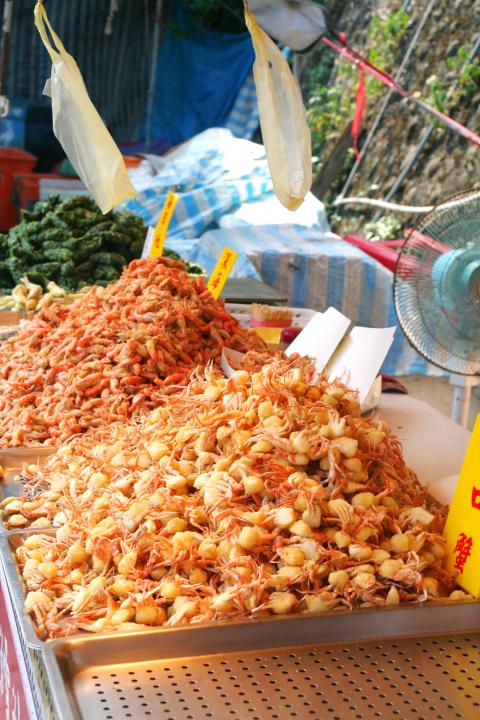 Crab and shrimp are piled up ready to be deep-fried.
Photo: Ian Bartholomew, Taipei Times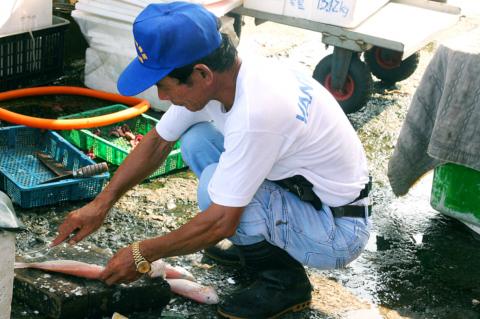 The service at Dasi Fishing Harbor is of the no-frills variety.
Photo: Ian Bartholomew, Taipei Times
Comments will be moderated. Keep comments relevant to the article. Remarks containing abusive and obscene language, personal attacks of any kind or promotion will be removed and the user banned. Final decision will be at the discretion of the Taipei Times.