Restaurant review: Lutetia L'Espirit Cafe(露特西亞)
The ambiance of tiny French cafe Lutetia (露特西亞) is like the food: simple, unassuming, and fresh. Outdoor tables and a curving bar around the prep area enhance the European feeling. The interior is orange and white, with glass-topped tables and gray floors that match the gray tile of the outdoor area, giving the restaurant some continuity as it spills onto the sidewalk.
On my first visit, a friendly barista offered to let me come behind the counter and wash my hands after seeing me load dusty boxes into a friend's car. It's small things like this that make privately owned, independent cafes so different from chains, where everything has to be by the book.
I started with a very basic, crisp salad of lettuce, sprouts, carrot, tomato and cucumber with a light vinaigrette (NT$50). Nothing to write home about, but clean and fresh.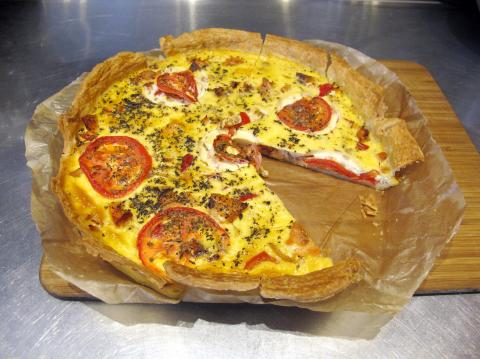 The salmon quiche, straight out of the oven.
Photo: Alita Rickards
A quiche was just coming out of the oven and smelled divine. My companion ordered a slice of salmon quiche (NT$80) and we were both pleased with the results: big chunks of fish surrounded by tender and savory egg and cheese, with tomato slices on the top.
I ordered a slice of the bacon and mushroom, and declined to have it heated. The "bacon" turned out to be layers of ham imported from a company called Swiss Fine Foods, and was of a superior flavor and consistency, similar to Black Forest ham from a good deli. The thin crust is crisp when served cold, and becomes tender when heated, whether it's fresh from the oven or reheated upon ordering.
The two quiches are permanent fixtures on the menu, and a third vegetarian flavor varies from day to day. On another visit I tried the potato and cheese and was pleasantly surprised by the creamy, firm texture of the potato.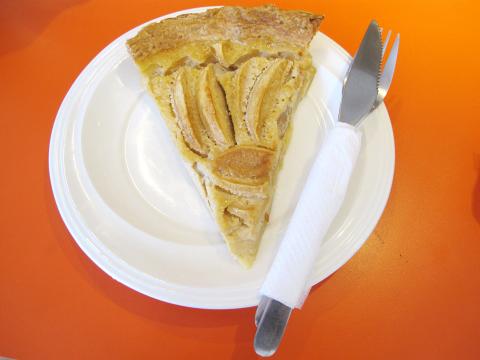 Sweet simplicity: a slice of Lutetia's apple pie, sans frills.
The small menu also contains savory and sweet crepes (NT$70), panini (NT$130), baguettes (NT$55), lasagna (NT$140), and an array of standard cafe cakes: Black Forest, tiramisu and chocolate layer.
It's the homemade French-style apple tart that makes Lutetia newsworthy though, and it alone is worth a visit. Instead of American-style apple pie with an overly sweet canned filling, dessert lovers are treated to layers of crisp apple slices arranged in concentric circles on a bed of creamy custard (NT$60).
It's better cold, which is rare when it comes to pie, but the crisp, al dente apple and the cold custard are divine, especially on a hot day.
The brownies are decadently rich, with a melt-in-your-mouth, chocolate-fudge consistency (NT$50).
Lutetia serves beers including Hoegaarden, Heineken, Corona and 1664 Blanc (NT$100 to NT$150), and liqueurs, including Ballantine's, pastis, Kahlua and cassis.
Other beverages include cappuccino and latte drinks, a range of organic and herbal teas, and juice (NT$60 to NT$70).
Publication Notes
Lutetia L'Espirit Cafe (露特西亞)
Address: 446, Zhongshan N Rd Sec 6, Taipei City (台北市中山北路6段446號) across from the Taipei American School
Telephone: (02) 2875-6977
Open: Mondays through Fridays from 6:30am to 10:30pm, weekends from 7am to 10:30pm, weekend brunch from 10am to 2pm
Average meal: NT$130 to NT$200
Details: Chinese and English menu, credit cards not accepted
On the Net: www.facebook.com/lutetia.cafe
Comments will be moderated. Keep comments relevant to the article. Remarks containing abusive and obscene language, personal attacks of any kind or promotion will be removed and the user banned. Final decision will be at the discretion of the Taipei Times.