Restaurant review: Kouhsiangting(口香亭)
Kouhsiangting (口香亭) is a second-generation restaurant serving up Yilan specialties within walking distance of the Yilan City train station. Run by "Mouth" (Chen Ching-chou, 陳慶洲, nicknamed after the first Chinese character in the restaurant's name, kou, 口) and his wife Yang Mei-chen (楊美珍), Kouhsiangting offers up authentic Yilan cuisine and hospitality.
Founded 30 years ago, Kouhsiangting originally served only local dishes, but under Mouth's stewardship the menu has expanded to include Japanese cuisine. Before taking over the family business, Mouth spent two years working in the Japanese enclave of Taipei's Santiaotong area (三條通) to learn the art of Japanese cooking, but it is clear from his creative use of local ingredients and styles that his heart and soul are in Yilan.
The restaurant does a good rendition of a must-try Yilan specialty — gaozha (糕渣, NT$120). Based on gelatinous chicken soup, Kouhsiangting's golden-fried gaozha nuggets are crispy on the outside with a comforting custardy filling inside. Gaozha is said to represent the spirit of the Yilan people — lukewarm on the outside but boiling hot within. And if the warm welcome my husband and I received at Kouhsiangting was anything to go by, this axiom certainly holds true.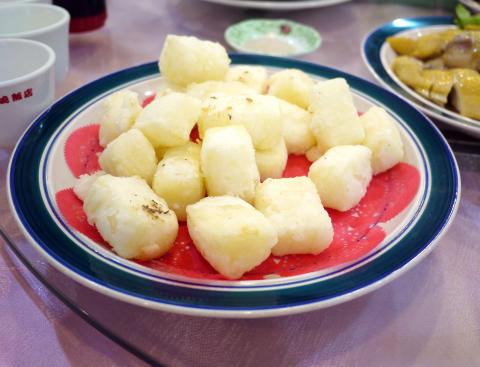 The hospitality of Yilan comes to life in Kouhsiang-ting, a second-generation restaurant serving locally influenced Taiwanese and Japanese-style food.
Photo: S.J. Huang
Kouhsiangting specializes in fresh seafood, which is displayed in a glass case near the entrance to tempt patrons. We tried local red-headed silver carp (煎紅目鰱, seasonal price), which was steamed, garnished with soy sauce and decorated with fresh chilies and shallots that accentuated the natural sweetness of the fish. We also sampled a lightly flavored octopus rice vermicelli soup (小卷米粉, NT$150), topped with shaved bonito and packed with tender baby octopus and flecks of pastel-colored fishcake.
By far the most impressive dish was the teppanyaki-style pepper beef steak (西魯肉, NT$120), which was rushed to the table with flourish in a silver cloche. The bulging beef chunks and mountain mushrooms were coated in a thick, rich sauce and served next to crunchy strips of bell pepper.
I also enjoyed the sliced cold chicken (白斬雞, NT$200). Cleaved into large pieces, the yellow-skinned bird was unadorned and tasted the way you imagine real chicken did before the advent of mass production. (The yellow skin indicates the chicken was free-range.)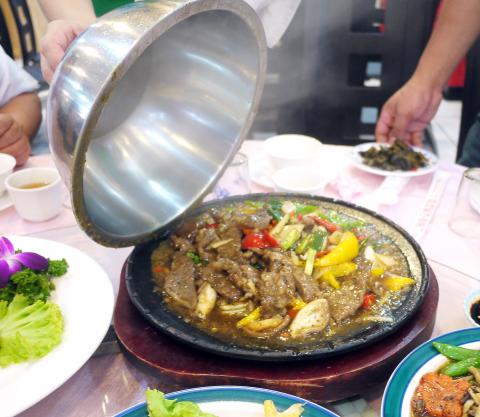 The hospitality of Yilan comes to life in Kouhsiang-ting, a second-generation restaurant serving locally influenced Taiwanese and Japanese-style food.
Photo: S.J. Huang
Vegetable dishes were not overlooked. I especially liked the robust stir-fried sugar-peas and mushrooms with pepper sauce (甜豆珍菇, NT$100), which reminded me of a vegetable version of the teppanyaki steak.
Publication Notes
Kouhsiangting(口香亭)
Address: 251, Yising Rd Sec 1, Yilan City (宜蘭市宜興路一段251號), 300m from Yilan Train Station
Telephone: (03) 935-3838
Open: 11am to 2pm and 5pm to 9pm daily
Average meal: Most dishes range from NT$100 to NT$380
Details: Menu in Chinese, major credit cards accepted, reservations recommended on weekends
On the Net: 039353838.emmm.tw
Comments will be moderated. Keep comments relevant to the article. Remarks containing abusive and obscene language, personal attacks of any kind or promotion will be removed and the user banned. Final decision will be at the discretion of the Taipei Times.