Dance: A tale of two lovers
Dance Forum Taipei (舞蹈空間舞蹈團) is premiering its newest production, Eastern Tale (風云), tonight before taking it to Amsterdam next week, where it will open the Tropentheater's Taipei Today Festival.
Eastern Tale is a collaborative effort on many levels. Dance Forum will be performing with members of the Taipei Chinese Orchestra (台北市立國樂團) as part of the Taipei Arts Festival, but there has also been some input from the Dutch programmers at the Tropentheater as well.
Victoria Wang (王文儀), director of the Taipei Arts Festival, said the show builds on one of the event's most popular productions, a joint performance by the orchestra and Cloud Gate 2 (雲門2).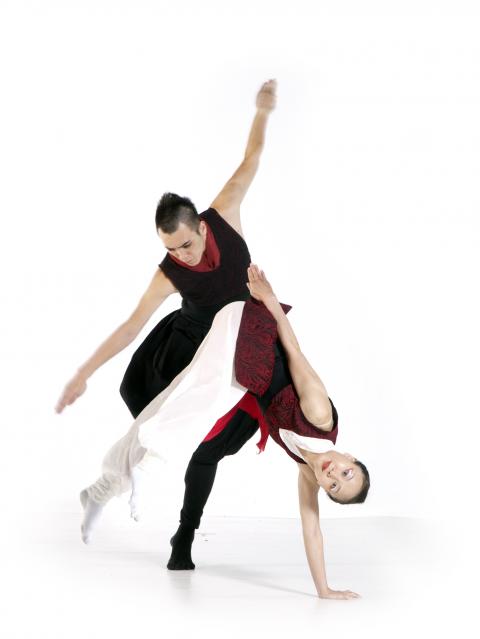 Members of Dance Forum Taipei rehearse Eastern Tale, which will have its world premiere tonight at Zhongshan Hall in Taipei.
Photo courtesy of Hsu Pin and Hantz Yen
"Two years ago Mr Chung [Yiu-kwang (鍾耀光)] invited Cloud Gate 2 to collaborate, and it was very successful, so we thought it would be a good idea to use the traditional Chinese orchestra again," she told a press conference back in May, when several people from the Tropentheater were in town.
Chung composed the traditional Chinese music portions of the score that Taiwanese choreographer Yang Ming-lung (楊銘隆), Dance Forum's former artistic director, used for the show, which was inspired by the great classical Chinese romance between famed general Xiang Yu (項羽) and his favorite concubine, Yu Ji (虞姬) — a tale that has inspired countless operas, plays, poems, stories and films.
However, Yang has concentrated his tale on Yu Ji, who committed suicide to prove her devotion to Xiang before the battle at Gai Xia (垓下) — but with a twist. Yang asks what if she hadn't killed herself, but joined Xiang in battle, where they both died. Or perhaps they fled Liu Bang's (劉邦) armies together and survived. Each of the options is explored before returning to the same point in the battle.
Musicians playing the guqin (古琴), pipa (琵琶) and erhu (二胡) will be on stage with the dancers, while the battle sequences will use more modern electronic music. Yang has incorporated martial arts, acrobatics and Chinese opera elements alongside his signature blend of Western modern dance with Chinese and other Asian dance and theater techniques.
Company founder Ping Heng (平珩) recently said the 65-minute Eastern Tale is Yang's best work.
"He really reached a transition point with this," she said.
Amsterdam audiences will be able to compare a different genre's take on Yu Ji's story if they see Eastern Tale next weekend and then Farewell My Concubine by the National Guoguang Opera Company (國光劇團) the following weekend.
Rien Vrijenhoek, director of the Tropentheater, was in Taipei in May to see previews of the pieces that will be performed in the Taipei Today series.
In an interview, Vrijenhoek explained that the Tropentheater is a very special theater because it features all different genres of theater and dance, but always by non-Western artists and companies.
"We are always searching for developing companies combined with traditional arts. We have 'ambassadors' all over the world that point out things for us," he said. "Dance Forum has visited before, danced at the theater three or four times. Three or four years ago, the head of our programming visited Taiwan. Dance Forum helped pick some out some of the other groups [for our festival, and the] director of programming suggested some others."
He said the timing of the Taipei Today festival was appropriate, since his theater celebrated its 100th anniversary last year and the Republic of China is celebrating its 100th this year.
However, given the scale of both Dance Forum and Guoguang's shows, his team is moving them into the Light Hall of the Tropenmuseum next door because the Tropentheater's two venues are two small — one seats 200 people and the other 450.
The rest of the festival will be in the smaller theaters: Taiyuan Puppet Theatre Company's (台原偶戲團) The Wedding of Mice from Oct. 19 to Oct. 23, a retrospective of the late Taiwanese director Edward Yang's (楊德昌) films, and the experimental kun opera group 1/2 Q Theatre's (二分之一Q劇場) Boat Fantasy, which is also being co-produced by the Tropentheater, on Dec. 16 and Dec. 17.
Comments will be moderated. Keep comments relevant to the article. Remarks containing abusive and obscene language, personal attacks of any kind or promotion will be removed and the user banned. Final decision will be at the discretion of the Taipei Times.