You too can be an art collector
This year's Art Taipei presents a series of lectures, film screenings and discussions that underscore the idea that anyone can collect art
Collecting art for the love of it is the main theme of this year's Art Taipei, Taiwan's largest art fair, which begins on Friday at the Taipei World Trade Center.
Though often viewed as the preserve of the well-to-do, many of today's art collectors are just average folks. And as the organizers of Art Taipei would have us believe, anyone can be passionate about fine art.
"Art fairs are typically about buying art as an investment," Eva Lin (林怡華), Art Taipei's planning director, told the Taipei Times last week. "But the original desire to collect art was because people really loved it and the artists who created it. That's what we want people to focus on — the desire for art and loving art."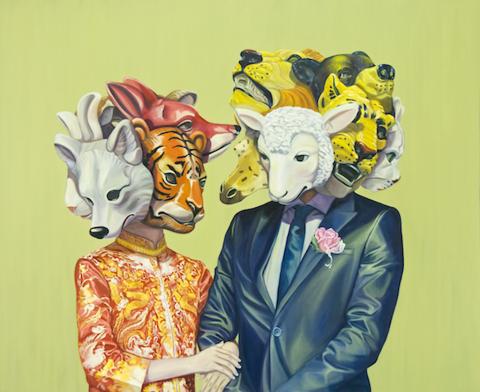 David Chan, Rites of Marriage (2011).
Photo Courtesy of Art Taipei
For the 18th edition of Art Taipei, 124 galleries from around the world will set up in the World Trade Center for four days of buying, selling and schmoozing.
The organizers will hold lectures, discussions and a film screening to underscore the idea that collecting art is not just for the wealthy.
Take American collectors Dorothy and Herbert Vogel for example. Before retirement he was a postal clerk and she was a librarian. They look and talk like regular folks — until, that is, you ask them about the art collection they have put together over the past four decades.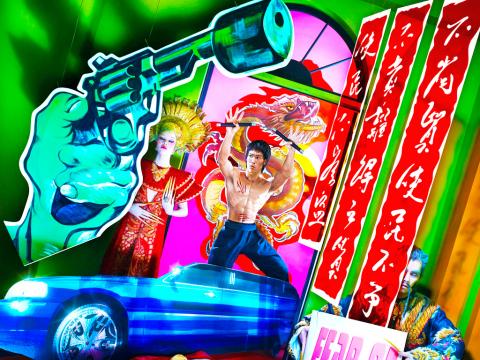 David LaChapelle, Fear of Dragon (2010).
Photo Courtesy of Art Taipei
Dorothy's salary went to pay the bills. Herbert's paycheck went to collecting art — a collection that has grown to more than 4,700 objects by Takashi Murakami, Robert Mangold, Joseph Beuys and Roy Lichtenstein, to name but a few of the hundreds of conceptual, minimalist and post-minimalist artists they have collected.
Herb & Dorothy, an award-winning documentary about the couple, will be screened on Friday, Saturday and Sunday at 5pm, followed by a discussion.
Since 1991, the Vogels have donated 832 works from their collection to the National Gallery of Art in Washington, and another 268 are promised gifts, according to the gallery's Web site.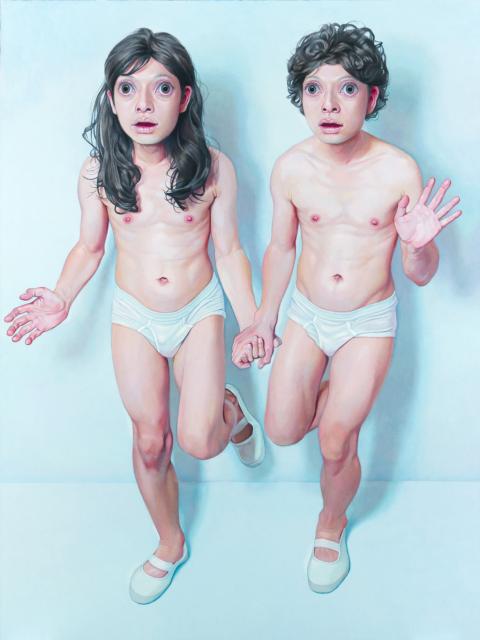 Korehiko Hino, Two Running (2010).
Photo Courtesy of Art Taipei
"We like the idea of giving works to the National Gallery because they do not deaccession or sell from their collection," Dorothy Vogel says in the documentary. "We like the idea that [the gallery is] free, that anyone can go in there and also because we both worked for the government. We are giving [the artwork] back to the people of the United States."
In 2008, the Vogels donated an additional 2,500 works to 50 art institutions throughout the US.
A lecture titled About Herb & Dorothy will be delivered by renowned curator Victoria Lu (陸蓉之) and talk-show host Mickey Huang (黃子佼) on Friday from 2:30pm to 4:30pm, while a conversation with Herb & Dorothy's director and producer, Megumi Sasaki, will take place on Sunday from 2:30pm to 4:30pm.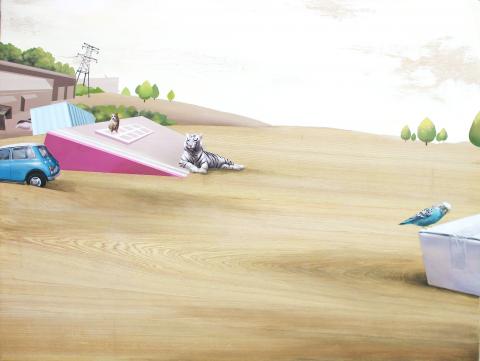 Tseng Sheng-hui, When All Stopping — Leisure Afternoon (2011).
Photo Courtesy of Art Taipei
The lectures, discussions and film screening, free to those who have purchased Art Taipei tickets, illustrate the importance for collectors of developing personal relationships with artists, curators and galleries.
Like the Vogels, Daisuke Miyatsu is an avid art collector. The Japanese salaryman began buying art in 1994 and now has more than 300 objects, including installation, painting and sculpture.
Miyatsu is passionate about gallery openings and art happenings, conceptual art and minimalism. He took a second job to support his obsession for collecting and learned English so he could communicate with international artists, some of whom designed and decorated his dream home, a "work in progress" located in a Tokyo suburb.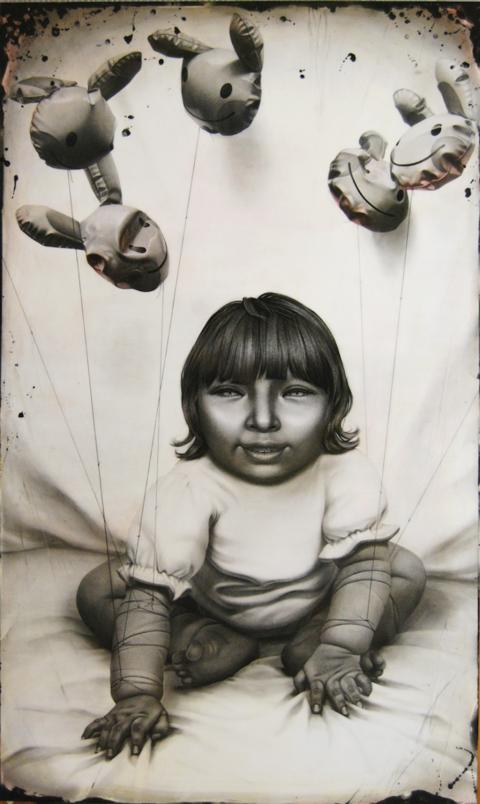 Naritaka Satoh, Pleasure in a Palm (2011).
Photo Courtesy of Art Taipei
But what makes Miyatsu particularly relevant to this year's Art Taipei is his growing fascination with new media art, something that the fair's organizers are actively promoting to nascent collectors.
"Digital media in Taiwan is well developed. But most veteran collectors prefer to buy paintings and sculpture," said Natasha Lo (羅健毓), curator of Invisibleness is Visibleness: International Contemporary Art Collection of a Salaryman — Daisuke Miyatsu (癮行者-宮津大輔:一位工薪族的當代藝術收藏展), which is currently on view at Taipei's Museum of Contemporary Art (MOCA, Taipei).
Lo said Miyatsu's novel approach to collecting video, performance and installation art involves acquiring "certificates" of authentication, or documents that serve as avatars for these works of art. These certificates state that the ownership of an idea rests with Miyatsu, who can call on the artist to perform or arrange an installation.
El Anatsui, Eco Map (2010).
Photo Courtesy of Art Taipei
"If you want artists to continue to be experimental and creative, you have to offer them this kind of support," Lo said.
Miyatsu will deliver a talk titled No Art, No Life! The World According to Art on Saturday from 2:30pm to 4:30pm.
The thread that links the Vogels and Miyatsu is a willingness to collect younger, experimental artists working in genres and mediums that haven't yet become popular.
Art Taipei has allocated a considerable amount of its space to encourage this kind of collecting. Made in Taiwan — New Artists Discovery (MIT), for example, showcases eight emerging Taiwanese artists (chosen from 144 submissions) who will be on-site for the entire four-day exhibition. The project gives visitors the opportunity to talk to the artists, gain a deeper understanding of their work and perhaps do a little bartering. Installation, video art and photography will be the primary mediums exhibited in this section.
Located across from the Made in Taiwan section is Global Spotlight, for which Art Taipei invited five new media artists from Japan, South Korea, Germany and the US to display their works and discuss their concepts with visitors. As its title implies, the "new media" section contains 16 booths devoted solely to video, sound and installation art as well as avant-garde photography.
For those with limited budgets, all participating galleries will exhibit at least three works of art that cost under US$2,000. Complete floor plan details can be found at the Art Taipei Web site.
The exhibition also includes Art Forum, which will present five lectures and talks by art industry professionals on Saturday and Sunday. The topics range from conserving new media, the state of new media in the contemporary art market and how technology influences participation in the arts. Tickets for the forum are NT$3,500 for both days.
As the focus of this year's Art Taipei is on first-time collectors, I asked Lin if she was concerned that mainstream art collectors and investors — an art fair's bread and butter — might give Art Taipei a miss.
"It's a problem I have to face. But of the 200 collectors we've invited, 150 have already RSVP'd," which is double last year's figure, she said.
And have collectors and investors in Taiwan expressed an interest in a certain type of art — video installation, perhaps, or performance art?
"Not really. They just want to know what the next big thing is and how to make money," Lin said.
Publication Notes
Exhibition Notes
What: Art Taipei 2011 (台北國際藝術博覽會)
When: Friday to Monday. Open daily from 11am to 7pm, closes at 6pm on Monday
Where: Taipei World Trade Center Hall 1, Area A and Area D (台北世界貿易中心展覽大樓A, D區), 5, Xinyi Rd Sec 5, Taipei City (台北市信義路五段5號)
Admission: NT$200 (concession price is NT$150)
On the Net: www.art-taipei.com (English and Chinese)
Comments will be moderated. Keep comments relevant to the article. Remarks containing abusive and obscene language, personal attacks of any kind or promotion will be removed and the user banned. Final decision will be at the discretion of the Taipei Times.