Several sizes too small
Hollywood tweens have become the latest style-world idols. Is there a point where we should draw the line?
In Vogue's August "age issue," editors gush about the style proclivities of the teenage Fanning sisters, Dakota and Elle, who appear in a full-page photograph turned out in puff-sleeved glad rags from Louis Vuitton.
Elle, who described her look that day as "'Virgin Suicides' meets Twiggy," is "remarkably sartorially erudite for a 13-year-old," it was noted. She, you may recall, has been showcased in Marc Jacobs' advertising campaigns since she was 11. She also has appeared in short films by Laura and Kate Mulleavy of Rodarte.
She has plenty of company. Hailee Steinfeld, 14, who was nominated for an Oscar for her role in True Grit, was zipped into a Prada mermaid dress for her star turn on the red carpet. The sartorial whims of the tweenage "it" girls Chloe Moretz, 14, and the 10-year-old pop star Willow Smith are avidly charted by the fashion flock.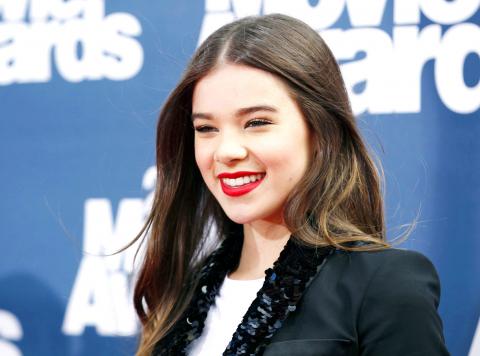 Hailee Steinfeld.
Photo: Reuters
The list goes on, prompting one to wonder where it all will end. Hollywood tweens are, after all, but the latest style-world idols. Members of the Play-Doh and Nickelodeon set are sprouting up fast alongside them, dotting a landscape in which, it would seem, one can never be too groovy — or too young.
Pint-size fashion pundits are hailed as muses and cast in major ad campaigns. They can be spied in the front rows at fashion shows, preening on the red carpet or posing coyly on the Web.
Consider Milo Munshin, the towheaded 11-year-old creator of Purple, purpleblog.blogspot.com (not to be confused with Purple, the hyper-sexualized fashion magazine). In a recent post, Milo modeled a Louis Vuitton monogram kerchief, looping it around his waist, at his throat and, to ward off ennui, perhaps, tying it bandanna-style around his head. Milo has rubbed shoulders with Kelly Ripa. He has met Zac Posen.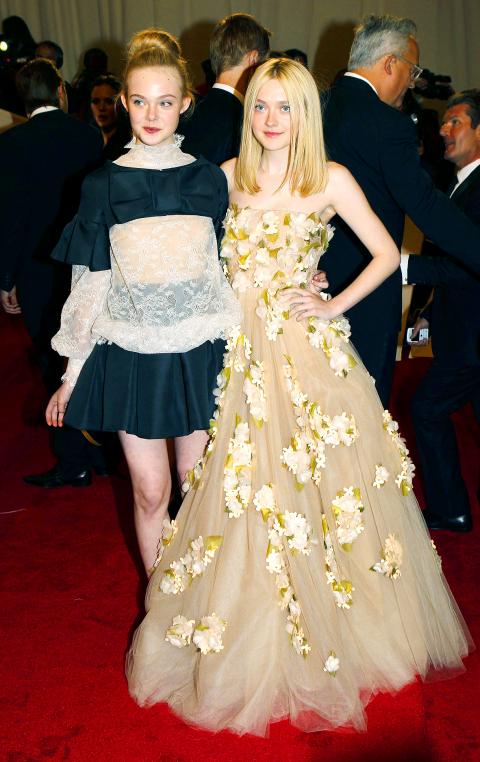 Elle Fanning, left, and Dakota Fanning pose on arrival at the Metropolitan Museum of Art Costume Institute Benefit.
Photo: Reuters
Precocious he may be, but he has nothing on Maple, a preternaturally hip 3-year-old and the inspiration behind likethetreeblog.blogspot.com. Maple's stamp-size variations on kiddie couture are lavishly documented by Grace Damien, her mom, who snaps her, with Maple's seemingly gleeful assent, cavorting on the beach in a miniaturized two-piece swimsuit, stringing beads or posing in a pink sunhat and petticoat.
Milo and Maple are not the first wee fashion prodigies, nor will they likely be the last (think Tavi), to be coaxed — make that thrust — into the spotlight by a doting parent or scribe. "I hope you will take a look at the blog," Damien wrote in an e-mail to the New York Times last month, sounding very like a stage mom on Toddlers and Tiaras.
"Any additional exposure is always good," she wrote.
Certainly, some people think so.
In a discussion of the latest spate of middle school-age Hollywood style-setters, Jane Keltner de Valle, Teen Vogue's fashion news director, assured the Daily Beast, "What Michelle Obama did for first ladies, these girls have the potential to do for tween stars."
"They're making themselves viable fashion forces," she said, "and they're getting people excited about fashion again."
Do tell.
Comments will be moderated. Keep comments relevant to the article. Remarks containing abusive and obscene language, personal attacks of any kind or promotion will be removed and the user banned. Final decision will be at the discretion of the Taipei Times.