Planet Pop
Superstar singer and actress Jennifer Lopez will split with her musician and actor husband, Marc Anthony, after seven years of marriage, the couple revealed to People magazine in a joint statement Friday.
"This was a very difficult decision. We have come to an amicable conclusion on all matters," they said in the statement.
The couple had dated briefly in the 1990s and then rekindled their romance in 2004. They were married in a June 2004 secret ceremony at Lopez's Beverly Hills home.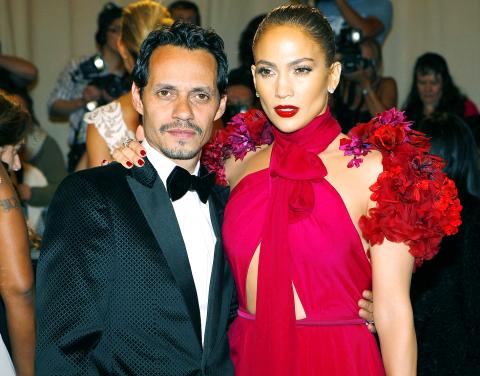 Marc Anthony, left, and Jennifer Lopez are bidding each other adieu.
Photo: Reuters
They are parents to 3-year-old twins Max and Emme, who were born in February 2008.
"It is a painful time for all
involved, and we appreciate the respect of our privacy at this time," the statement added.
It was the third marriage for Lopez and the second for Anthony, 42.
While Lopez and Anthony's family disintegrates, David and Victoria Beckham's is growing. The couple welcomed a new baby girl into the world yesterday, adding a daughter to the three sons they already have. "I am so proud and excited to announce the birth of our daughter Harper Seven Beckham," Beckham posted on his Facebook page. "She weighed a healthy 7 pounds 10 ounces (3.5kg) and arrived at 7.55 this morning, here in LA. Victoria is doing really well and her brothers are delighted to have a baby sister."
Over in England, the son of Pink Floyd guitarist David Gilmour was jailed for 16 months on Friday for an alcohol and drugs-fuelled attack on Prince Charles' convoy during a student protest in London last year.
Charlie Gilmour, 21, had pleaded guilty to violent disorder in May but was granted bail until Friday's hearing at Kingston Crown Court in southwest London in order to complete his exams at Cambridge University.
The former model was found to have hurled a bin at Charles' car and was also accused of smashing a window at a high street store, and was photographed hanging from the Cenotaph war memorial in London during the riot on Dec. 9.
Judge Nicholas Price, passing sentence, said: "It would, in my view, be wrong for me to ignore who the occupants of the three cars were."
The judge said Gilmour would spend half the sentence in jail.
David Gilmour adopted Charlie Gilmour when he married his mother Polly Samson. The couple watched from the public gallery as he was sentenced.
The court heard Gilmour had turned to drink and drugs after being rejected by his biological father, the writer Heathcote Williams, and had taken LSD and valium in the hours leading up to the violence.
In other celebrity news, German former media mogul Leo Kirch died on Thursday at the age of 84, closing the book on the spectacular rise and fall of a man who helped create commercial German television.
"He died this morning in Munich," southern Germany, a spokesman said, indicating that the long-time diabetes sufferer had simply died of old age.
The spokesman declined to give details on the passing of Kirch, a feared media mogul who built a vast empire before declaring a thunderous bankruptcy in April 2002.
Since then, Kirch kept dreaming
of rebuilding his media group and
was quoted as saying: "You can fall seven times, as long as you get up an eighth time."
Starting from scratch in the mid 1950s, Kirch launched his group at the age of 29 with a loan from family members by acquiring the German rights to the film La Strada, a masterpiece by Italian filmmaker Federico Fellini.
By the end of 1959, Kirch owned the German rights to around 400 US films he had bought from the major studios United Artists and Warner Brothers.
Tens of thousands of films and television program are now stocked in a climate-controlled safe near Munich.
The KirchMedia group grew to include TV broadcaster ProSiebenSat1 and pay channel Premiere, but Kirch was finally overwhelmed by massive debts and his empire crumbled in April 2002.
Kirch, who had controlled broadcast rights to Bundesliga football matches, two World Cups and Formula 1 auto races, also held at one point 40 percent of the media group Axel Springer, which publishes Germany's popular daily Bild.
He tried to stage a comeback in 2007 by negotiating a US$4.3 billion deal to buy the Bundesliga rights again but was rejected by the national competition watchdog authority.
Up to the end, Kirch cut a figure as an old-fashioned wheeler-dealer, with slicked back hair and piercing eyes, a throwback to the movie star looks of his youth.
Comments will be moderated. Keep comments relevant to the article. Remarks containing abusive and obscene language, personal attacks of any kind or promotion will be removed and the user banned. Final decision will be at the discretion of the Taipei Times.