Restaurant review: Mango ChaCha (芒果恰恰)
Summer is in full swing, and there are few better ways to cool down than with a plate of mango shaved ice, and I'm not just talking about the immensely popular Yong Kang 15 (永康15), which occupies the spot that the legendary Ice Monster (冰館) once did. For those who have grown weary of waiting in the long queue outside that shaved ice shop on Yongkang Street (永康街), Mango ChaCha (芒果恰恰) is an equally good, if not better, alternative.
Walk into the brightly decorated shop and the scent of mangos wafts through the air, with the luscious fruit invitingly displayed in paper cartons and containers.
Proprietor Chang Chih-min (張智閩) knows the fruit well. His mangos reportedly come from orchards that produce top-grade varieties for export to Japan and South Korea.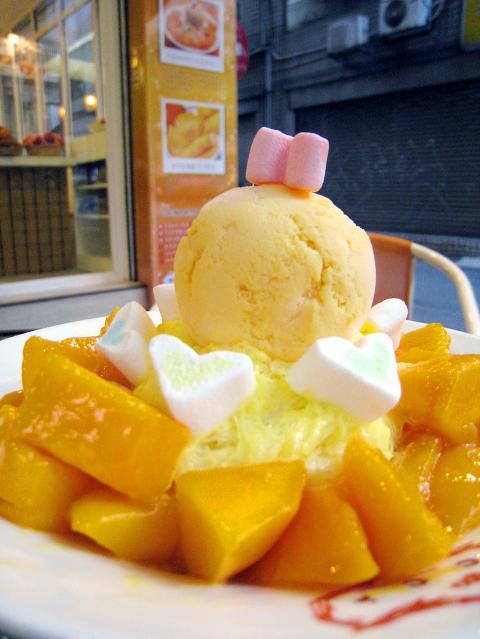 Mango ChaCha's mango snowflake ice is one of the restaurant's best-selling desserts.
Photo: Ho Yi, Taipei Times
But premium ingredients mean higher prices. The cheapest shaved ice item on the menu is the NT$140 mango chacha brown sugar shaved ice (芒果恰恰黑糖剉冰), which blends diced mango with a homemade brown sugar syrup.
A mango maniac's dream come true, the mango chacha snowflake ice (芒果恰恰雪花冰, NT$200) is made from a thick layer of "snowflake ice" — a frozen concoction made from milk and the fruit that is topped with diced mango, condensed milk and a scoop of handmade mango ice cream.
This mango extravagance is delicately fragrant but isn't cloying. And like the rest of the shop's frozen desserts, it includes a plenteous serving of fruit.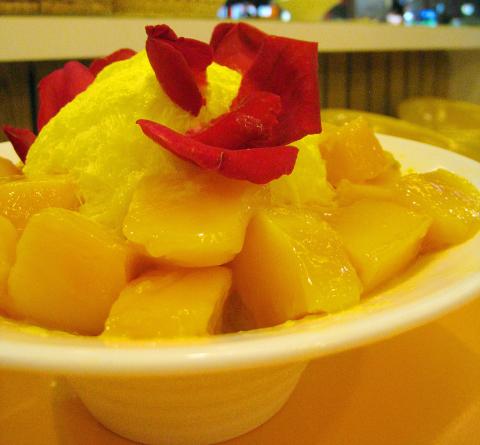 Photo: Ho Yi, Taipei Times
Rose lover (風花雪月, NT$280), the shop's most expensive menu option, spreads rose petals on a bed of snowflake ice and diced mango. The innovative dish is gorgeous to look at, but the petals' aroma and flowery taste do not go well with the fruit.
Icy desserts aside, the ambitious shop has developed a whole range of mango products including mango milkshake (NT$80), mango slush (NT$100), mango jam (NT$230 and NT$380), dried mango slices (NT$60 and NT$40) and mango cake (芒果酥, NT$42 each). For tipplers, there's mango liqueur (14 percent alcohol by volume, NT$580), which has a pleasantly sweet and smooth taste, and a mango spirit (41 percent abv) will hit the store shelf soon.
Mango ChaCha is a five-minute walk from the intersection of Guangfu South Road (光復南路) and Xinyi Road (信義路).
Publication Notes
Mango ChaCha (芒果恰恰)
Address: 562 Guangfu S Rd, Taipei City (台北市光復南路562號)
Telephone: (02) 2702-9506
Open: Daily from 11am to 11pm
Average meal: NT$200
Details: Menu in Chinese, English and Japanese, credit cards accepted if the bill exceeds NT$1,000
Comments will be moderated. Keep comments relevant to the article. Remarks containing abusive and obscene language, personal attacks of any kind or promotion will be removed and the user banned. Final decision will be at the discretion of the Taipei Times.