Dance: The next big thing?
Next week sees the start of an ambitious dance project at Huashan 1914 Creative Park as Taiwanese dancer/choreographer Chou Shu-yi (周書毅) adds another title to his resume — executive producer/nurturer.
Chou has launched a choreographic collective called the 2011 Next Choreography Project I (下一個編舞計畫 I), which will present two programs over the next two weeks under the theme "Seeing the next dance generation." The first weekend will feature six female dancer/choreographers performing their own solos, and the second weekend eight dance students will present six solos and two duets.
The impetus of the program has been two questions that Chou has been asking himself — and his friends — for several years: What is choreography and why do we choreograph in Taiwan?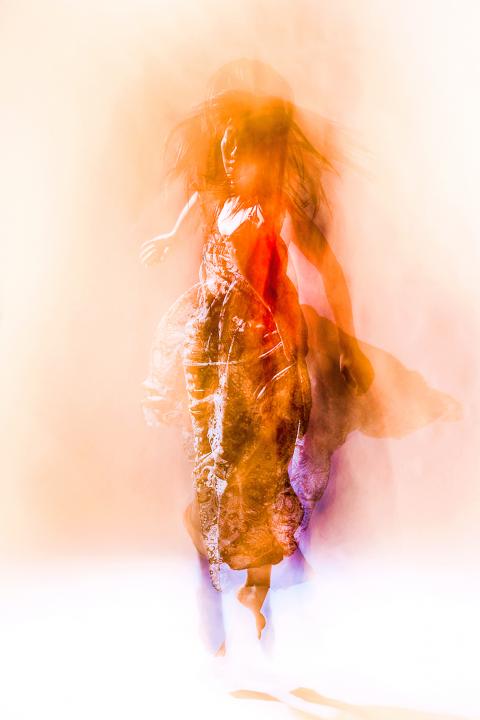 Lin Yu-ju is one of six young female choreographers whose work will be featured in the Next Choreography Project I at Huashan 1914 Creative Park in Taipei next weekend.
Photo Courtesy of Chen Chang-chih
Basically, it boils down to the issue of whether there is such a thing as a "Taiwanese choreographer" identity for Chou's generation, the way Cloud Gate (雲門舞集) founder Lin Hwai-min (林懷民) came to define his generation.
Most of the people Chou has debated these questions with are graduates or students at the nation's two premier performing arts institutes: his own alma mater, National Taiwan University of Arts (國立臺灣藝術大學) in Banciao, or Taipei National University of the Arts (國立臺北藝術大學) in Beitou. No matter where they went to school, they felt they didn't get much training in creation, and instead ended up learning as they went along, through collaborations and discussions with other dancers and artists.
Chou told the Taipei Times in an interview in January last year, after he won the first Sadler's Wells Global Dance Contest, that the main reason he chose to go to the Banciao school was because it had a student choreography contest. Even before he graduated seven years ago, he had begun building a list of works, for himself and later for companies such as MDans (now Horse, 驫舞劇場) and the Scarecrow Contemporary Dance Company (稻草人舞團), and taken part in several competitions. Now, having gained a reputation both at home and abroad, he wants to help others find ways to make their mark.
The six women featured in next week's show (starting Thursday night), titled To Create — the Next Landscape (創造︰下一個風景), will be familiar to fans of Taipei's contemporary dance world, either as dancers with various companies or choreographers or both: Yu Yen-fang (余彥芳), Lin Yu-ju (林祐如), Kuo Chiu-miao (郭秋妙), Yeh Ming-hwa (葉名樺), Liao Yi-ching (廖苡晴) and Tien Hsiao-tzu (田孝慈). Some are old friends of Chou's, like Lin and Yeh, others he met only recently.
"Yen-fang, I never worked with her before. I saw her piece at the American Dance Festival; she's worked in Germany and with the Bebe Miller Company, so I asked her if she wanted to work with us," he said in a telephone interview this week.
The eight students whose work will be performed in the second stage the following week, in a program titled Discovery — Fresh Creative People (發現︰創作新鮮人), were selected from 30 students in dance programs around the country who auditioned through an open call in April, sending Chou DVDs of their work.
Both groups were challenged to think about "what's next," whether in terms of choreography and dance in Taiwan or their own life. Each choreographer could pick their own collaborators for sound, costume and visual art; then they came together as a group to discuss their work and the programs. One thing Chou hasn't had to worry too much about for a while with his own work has been ticket sales. As Next Choreography Project producer, it's a big concern. The first weekend is selling well, he said, because the six women already have something of name in Taiwan's dance world. It's the second weekend he's worried about, admitting sales have been slow.
"When I did my first piece I was still a student. It's very important to give students a chance, because you never know who will be the next 'great,'" he said.
Publication Notes
Performance Notes
WHAT: 2011 Next Choreography Project I (2011下一個編舞計畫 I)
WHEN: Thursday and July 22 at 7:30pm, July 23 at 2:30pm and 7:30pm, July 24 at 2:30pm
WHERE: Building A-3, Huashan 1914 Creative Park (華山1914中四館A-3), 1, Bade Rd Sec 1, Taipei City (台北市八德路一段1號)
ADMISSION: Tickets are NT$350, available at NTCH box office or online at www.artsticket.com.tw
ADDITIONAL INFORMATION: The second half of the project, Discovered — Fresh Creative People (發現︰創作新鮮人) will be performed in the same space (and for the same price) the following week: July 28 and July 29 at 7:30pm, July 30 at 2:30pm and 7:30pm, July 31 at 2:30pm
Comments will be moderated. Keep comments relevant to the article. Remarks containing abusive and obscene language, personal attacks of any kind or promotion will be removed and the user banned. Final decision will be at the discretion of the Taipei Times.