Planet Pop
Supermodel Kate Moss married rocker Jamie Hince in a celebrity-packed ceremony on Friday, in a quiet English village with an army of photographers kept far away.
For one of the world's most-photographed women, the 37-year-old was remarkably camera-shy as she married The Kills guitarist Hince in the Cotswolds, a picturesque chain of rolling hills in southwest England.
The wedding took over the village of Southrop, with roads closed and a large police presence.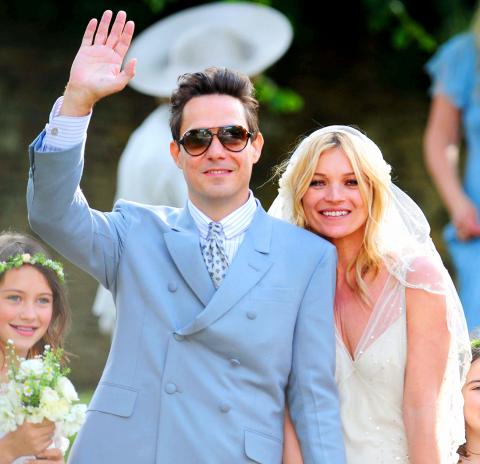 British model Kate Moss, right, poses with her husband British guitarist Jamie Hince after their wedding at St Peter's Church in the village of Southrop, England.
Photo: EPA
Moss wore a sleeveless ivory dress, a long veil and a floral headband, while Hince wore a gray suit.
Moss was nearly upstaged by fellow south London supermodel Naomi Campbell, who arrived just after the bride and had to rush to overtake her, according to a local resident.
The newlyweds were cheered on by locals as they left the church for pictures outside. Mario Testino, who took the engagement shots for Prince William and his wife, was in charge of the photography.
With the Rolling Stones blaring from the sound system, the couple were driven away in a Rolls-Royce to her nearby home, where a marquee has been set up.
Guests included actors Jude Law and Sadie Frost, designer Stella McCartney, Topshop chain store boss Philip Green and Mick Jones from punk band The Clash.
On the other side of the world, Maria Shriver, the wife of actor and former California governor Arnold Schwarzenegger, has filed for divorce, according to documents filed Friday in Superior Court in Los Angeles.
Shriver, 55, cited "irreconcilable differences" with her husband, whom she met in 1977 and married in 1986.
Schwarzenegger, 63, admitted in May that he had fathered a child with the family's long-time housekeeper, Mildred Baena, and announced the couple's separation.
The niece of former US president John F. Kennedy, Shriver has asked the court for joint custody of their two younger children — Patrick, 17, and Christopher, 13 — and payment of her legal fees and alimony.
The couple has two other children: Katherine, 21, and Christina, 19.
Moving on to China, Radiohead has taken a tentative step into the communist country's censored cyberspace, even though the British rock band has been critical of Beijing's human rights record.
Radiohead recently launched a page on the Weibo (微博) site of leading Chinese Internet portal Sina.com. "Weibo," which translates as "microblog," is the Chinese-equivalent of Twitter.
But the band has only posted a single message on Friday. It says "testing the Weibo." Sina.com checks the authenticity of celebrity Weibo accounts has certified the Radiohead once as genuine.
The move comes despite Radiohead's activism against Chinese government policies. The rock group has performed at Free Tibet concerts and in December, posted a note on its official Web site urging fans to campaign for the release of Chinese dissident Liu Xiaobo (劉曉波), who won the Nobel Peace Prize last year. "You know it makes sense," the band said.
Such comments will be unthinkable on Radiohead's Sina microblog. The Chinese government screens Internet content for material it deems politically sensitive, such as calls for greater autonomy in Tibet and commentary on the 1989 Tiananmen Square crackdown. Foreign social media sites such as YouTube, Facebook and Twitter are blocked.
In other news from China, actress Bai Ling (白靈) said she is confronting a dark chapter from her past: sexual abuse she suffered as a teenager at the hands of Chinese army officers.
Bai, 44, who was a soldier in a People's Liberation Army performance troupe from age 14 to 17, told the Associated Press in a recent interview that she was "opening a wound that was very secret to myself, that even my parents don't know." Therapy she received during a US reality TV series helped her understand what she endured in the 1980s and the psychological marks it left on her, Bai said.
She was pressed to have sex with her superiors, with one encounter leading to pregnancy and an abortion under an assumed name, Bai said, adding that other women serving with her in Tibet were also forced into sex and regularly plied with alcohol.
Bai stressed that she blames individual officers and not the Chinese government for events that have haunted her life and work.
The actress said she worries about how her revelations on VH1's Celebrity Rehab With Dr Drew will be received. The show, which aired yesterday, is in its fifth season.
"The only comfort is that I'm using this platform to help others. I know that my story is so powerful and honest and so simple,'' Bai said. "Even if I can help one child and make them feel they haven't been forgotten, that's the only comfort I have."
Comments will be moderated. Keep comments relevant to the article. Remarks containing abusive and obscene language, personal attacks of any kind or promotion will be removed and the user banned. Final decision will be at the discretion of the Taipei Times.