Vernacular spectacular
'The Legend of Deer Hunting' is the first time that themes from Taiwan's Aboriginal culture have been expressed through Western-style opera
Celebrations for the centennial of the founding of the Republic of China have given impetus to a host of cultural activities. Of these, one of the more unusual projects is the production of The Legend of Deer Hunting (逐鹿傳說), a Western-style opera that draws inspiration from the legends of Taiwan's Aborigines.
Created by a resident artist at National Taitung University (國立台東大學) and produced with the assistance of staff, students and the local community, The Legend premiered at the Cultural Affairs Bureau of Taitung County Government Performance Hall (台東縣政府文化局演藝廳) at the end of last month and will be performed at the National Theater in Taipei City from today through Saturday.
In 2009 Tsai Sheng-tung (蔡盛通), a resident artist at the university, was inspired by work done by the university's Department of Chinese Language and Literature on Taitung place names, many of which include a reference to deer, suggesting that the animal was once plentiful in the area. But by 1969, the native Formosan sika deer was declared extinct in Taitung County.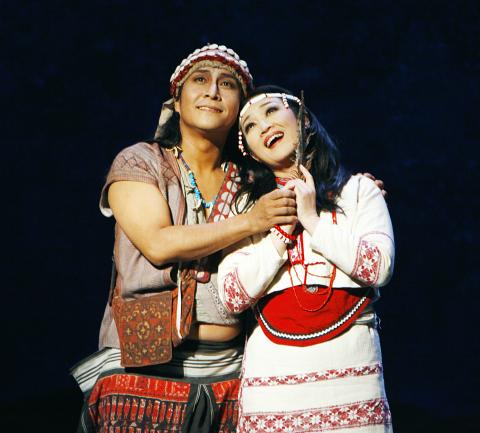 The Legend of Deer Hunting.
Photo Courtesy of National Taitung University
Tsai felt there was a powerful story to be told in the disappearance of this animal from Taitung, and set out to write an opera that expressed sadness at its demise and what that might mean for Aboriginal culture.
Tsai recruited Tung Shu-ming (董恕明), an assistant professor at the Department of Chinese Language and Literature, to write the story and lyrics. In a telephone interview with the Taipei Times last week, Tung said that the production did not aim to represent or recreate actual Aboriginal culture, especially music, but rather to be an original operatic work that expressed Tsai's feelings for Taitung.
For the dance numbers, Tsai worked with Puyuma choreographer Lin Hui-ying (林蕙瑛), but asked her explicitly to break away from conventional elements of Aboriginal dance and find new points of departure.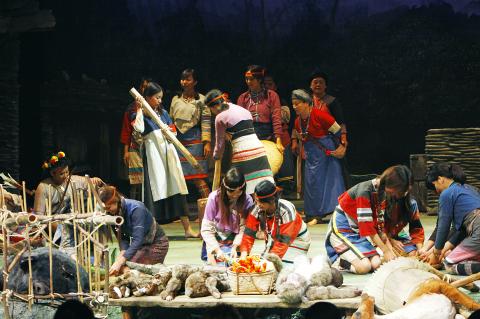 The Legend of Deer Hunting.
Photo Courtesy of National Taitung University
"There are other groups, such as the Formosa Aboriginal Song and Dance Troupe (原舞者), that specialize in researching old traditions and reviving them on stage," Tung said. "They have been doing it for years and we cannot hope to rival them in this kind of authentic representation. This was about creating a work of imaginative art."
Tsai composed the whole score, and the singing is in Mandarin, though a few words from various Aboriginal languages are used. Tung said these were selected on the basis that they were used by two or more tribes and would be widely understood. The creative team is not particularly linked with indigenous culture through ancestry or cultural heritage.
On the other hand, most of the leading cast members have ancestral ties to Aboriginal culture. These include some of Taiwan's top operatic talents, such as soprano Mewas Lin (林惠珍) and Wu Bai Yu-Hsi (巫白玉璽), both of Atayal descent.
"Many members of various tribes where happy to take part in the production," Tung said, including those of the Pinaski branch of the Puyuma. "We have everyone from infants to 80-year-olds taking part," she said. "It's a unique kind of interaction with the community."
The Legend of Deer Hunting is based loosely on a fable, titled Ihkaribush a qnuwan, from the Thao people who inhabit the region around Sun Moon Lake in Central Taiwan. It also takes in elements from the mythology of other indigenous peoples. The story concerns the accidental killing of a sacred deer, which brings disaster in the form of landslides and floods to the village. This is tied up with a love triangle between a hunter, his best friend and a beautiful woman. Selfless sacrifice and true love bring the world back into harmony. Through this simple story, the creators hope to deal with some of the issues faced by indigenous people.
The production organizers, who have worked with local artists through companies such as the Yuanai Textile Workshop (原愛布工坊), Nine Burning Birds Ceramics (九鳥陶燒), and the Taitung Indigenous Handiwork Museum (原社手創生活館) to create a range of merchandising tie-ins with the show, aim to help Taiwan's indigenous people.
This is not the first time that a Western opera has been composed to be sung in Chinese, but it is the first time that themes from Taiwan's Aboriginal culture have been expressed through this medium.
But can the temple of high musical art accommodate Aboriginal themes? Dreadful memories of Mackay: The Black Bearded Bible Man (黑鬚馬偕) in 2008 linger as an example of what can go wrong when artistic fusion and a politicized cultural agenda come together.
Publication Notes
Performance Notes
What: The Legend of Deer Hunting (逐鹿傳說)
When: Today and tomorrow at 7pm and Saturday at 2pm
Where: National Theater, Taipei City
Tickets: NT$300 to NT$1,700, available through NTCH ticketing or online at www.artsticket.com.tw
Comments will be moderated. Keep comments relevant to the article. Remarks containing abusive and obscene language, personal attacks of any kind or promotion will be removed and the user banned. Final decision will be at the discretion of the Taipei Times.