Planet Pop
Playboy is making a last-minute addition to the cover of its July issue after founder Hugh Hefner's fiancee called off their wedding.
Chicago-based Playboy says it is affixing red and yellow stickers over the cover image of 24-year-old Crystal Harris. The stickers say, "Runaway Bride in this issue!" The 85-year-old Hefner announced last Tuesday that the pair will not wed.
Harris appears on the July cover wearing a sailor hat with the headline "America's Princess introducing Mrs Crystal Hefner." The pair were to be married on Saturday at the Playboy Mansion in Los Angeles.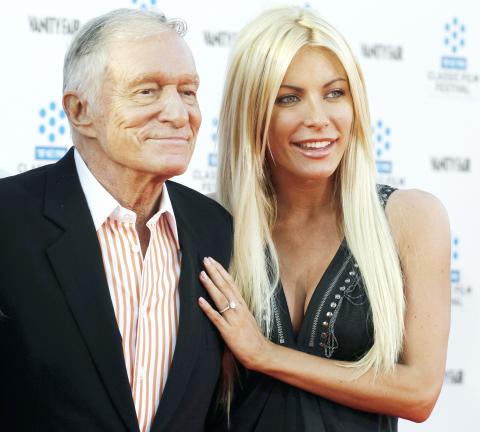 Hef stuck it to his runaway bride.
Photo: Reuters
Hefner tweeted on Wednesday that "recent events call for a special sticker on the July cover." A Playboy spokeswoman says the magazine is adding stickers to as many issues as possible.
In more bad news for self-styled ladies' men, Charlie Sheen may not get quite the audience he wanted for his US$100 million lawsuit over his firing from Two and a Half Men: A judge on Wednesday ruled that an arbitrator should determine whether the case is handled privately or in a public courtroom. Sheen's contract with Warner Bros Television has a valid clause requiring the private arbitrator to decide how the case proceeds, Los Angeles Superior Court Judge Allan Goodman wrote in a 21-page ruling. The decision will likely dampen publicity about the case in the short-term, although Sheen's attorney said he will still argue the case should be heard publicly.
Sheen sued Warner Bros and Men executive producer Chuck Lorre on March 10, days after Sheen was fired from his starring role on television's top-rated comedy.
Goodman ruled that Lorre also has a valid clause in his contract with Warner Bros to have disputes handled through arbitration. Warner Bros and Lorre both want the case handled privately. Sheen opposed those efforts in court filings and an all-day hearing on the issue in April.
Attorney Marty Singer, who is representing Sheen, said the ruling does not decide whether the case will be heard privately and he will argue that it should be handled in the public court system. He said Sheen had valid claims in his lawsuit and the studio was holding back at least US$10 million in royalties on reruns and sales of the show. Warner Bros and Lorre's attorney welcomed the ruling Wednesday and said it was the correct one given Sheen's contract.
"This matter will now proceed in an orderly fashion as the parties agreed to," Lorre's attorney Howard Weitzman wrote in an e-mail.
"We're very gratified by the court's ruling enforcing the parties' arbitration agreement," Warner Bros said in a statement released to the press.
Sheen sued in March, claiming they breached his contract and halted work on Two and a Half Men to punish Sheen for a pair of hospitalizations and comments in which he attacked Lorre personally in a series of highly publicized interviews. He also claimed the studio was trying to cut him out of royalties he is owed for the broadcast of reruns and DVD sales.
Two and a Half Men, which debuted in 2003, starred Sheen as womanizing bachelor Charlie Harper, who creates an ad hoc family with his neurotic brother, the divorced Alan (Jon Cryer) and Alan's son, Jake (Angus T. Jones).
It has been television's top-rated comedy and reruns frequently air, although the long-term prospects of the show are unclear. Goodman has asked the parties to update him on the status of arbitration by Nov. 30.
Meanwhile, two men charged with plotting to rob and assault British soul singer Joss Stone had a samurai sword in their car when they were arrested, a lawyer said on Thursday.
Junior Bradshaw, 30, and 33-year-old Kevin Liverpool were arrested last Monday morning near Stone's house in the town of Cullompton, 280km southwest of London, after residents reported a suspicious-looking vehicle.
They appeared on Thursday at Exeter Magistrates' Court in southwest England on charges of conspiracy to rob and conspiracy to commit grievous bodily harm.
Prosecutor Ann Hampshire told the court that items including the sword and notes relating to Stone had been found in the suspects' car.
The defendants spoke only to confirm their identities and were ordered detained until their next hearing on July 1. No members of Stone's family were in court.
The 24-year-old singer, who is due to start a European tour next month, said in a statement that she was "absolutely fine and getting on with life as normal."
In better news from the UK, Scottish singer Susan Boyle, who shot to stardom in 2009 when her performance on a television singing contest became an Internet hit, will see her life portrayed on stage in a new musical.
I Dreamed a Dream, named after the title of the song she sang that made her an overnight celebrity, will tour internationally from next year after premiering at Theatre Royal in Newcastle, England, on March 23.
"I never thought my life story would end up on the stage but a lot has happened in two years and it is a very exciting prospect," Boyle said.
"I hope everyone enjoys the show and I promise there will be a few surprises along the way," she added in a statement.
Boyle will be played by actress Elaine Smith, best known for her role in the British comedy series Rab C Nesbitt and a favorite of the singer.
Comments will be moderated. Keep comments relevant to the article. Remarks containing abusive and obscene language, personal attacks of any kind or promotion will be removed and the user banned. Final decision will be at the discretion of the Taipei Times.