Restaurant review: 1010 Hunan Cuisine (湘辣料理)
1010 Hunan Cuisine (1010湘辣料理), an undertaking by the Tai Tong Food & Beverage Group (瓦城泰統集團), which already has two successful chain restaurants — Thai Town (瓦城) and Very Thai (非常泰) — under its belt, shares many similarities with its Thai-inspired counterparts. Located on the sixth floor of the Eslite Bookstore Xinyi Branch (信義誠品書店), it boasts a clean-cut interior, a family-friendly atmosphere and a menu that alters traditional recipes to cater to the popular palate.
I was unable to book a table one day before a planned meal on a recent Sunday evening. Sensing my disappointment over the phone, the staff person suggested that my group come before 6pm to avoid a long wait. One hour after arriving, our six-person party was seated in a brightly lit dining area featuring a soothing color scheme of light wood brown and pastel white.
The menu begins with the restaurant's top 10 dishes, which could be seen on many of the dining tables. The fried pork ribs with chili and fennel spices (神仙孜然肋排骨, NT$130 per rib) was a mouthwatering highlight. First marinated with dozens of spices and then deep-fried to a crisp golden brown with different types of chili, the ribs burst with meaty juiciness, while a thin, fried layer of cumin added a delightful crunchiness.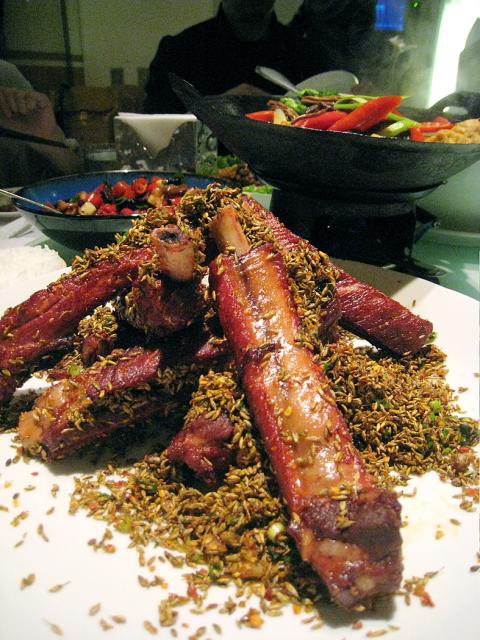 Fried pork ribs with chili and fennel spices.
Photo: Ho Yi, Taipei Times
The restaurant's rendition of hot pot of preserved tofu and pork intestine (臭豆腐肥腸干鍋, NT$380) is a standard mixture of chunks of congealed pig blood, intestines and tofu that absorb the savory broth, which is flavored with lashings of chili and chopped scallion. However, when the fried chicken meat, heart and gizzards Hunan style (鄉巴佬炒雞, NT$280) and fried chicken with red chili (辣子尋雞丁, NT$280) arrived, the heaps of chilies started to lose their novelty value, and a few of my dining companions complained that the chili was too mild and had been toned down to suit popular tastes.
Among the disappointments on our table was the fish ball and spinach soup (菠菜魚丸湯, NT$250 or NT$320), which was as insipid as it sounds.
Another highlight of the meal, buns with condensed milk (金銀饅頭, NT$120 for six buns), available steamed or deep-fried, offered a brief escape from the bombardment of flavors.
The restaurant has a small vegetarian menu that includes sauteed shredded potato with vinegar (醋溜土豆絲, NT$180), which has a pleasant tartness and makes a good appetizer.
For a group of three to six, a selection from the set menu, which features many of the restaurant's signature dishes, costs NT$450 per person plus a 10 percent service charge.
1010 Hunan Cuisine operates two other venues in Taipei and two in Taichung. For more information, visit the restaurant's Web site at www.1010restaurant.com.
Publication Notes
1010 Hunan Cuisine (1010湘辣料理)
Address: 6F, 11 Songgao Rd, Taipei City (台北市松高路11號6樓)
Telephone: (02) 2722-0583
Open: Weekdays from 11am to 3:30pm and 5pm to 10pm, weekends from 11am to 11pm
Average meal: NT$500 to NT$700
Details: Menu in Chinese, English and Japanese, credit cards accepted
Comments will be moderated. Keep comments relevant to the article. Remarks containing abusive and obscene language, personal attacks of any kind or promotion will be removed and the user banned. Final decision will be at the discretion of the Taipei Times.