Movie review: Sucker Punch
Zack Snyder has proved himself capable of bringing graphic novels to the screen, but with 'Sucker Punch' he has given an original motion picture the retro feel of a comic book
Zack Snyder, the man who brought us the graphic novel adaptation 300 (2006), is back with Sucker Punch, in which he substitutes the beefcake of Gerard Butler and Dominic West for the cheesecake of Emily Browning and Abbie Cornish. If you're a guy, what's not too like?
Quite a lot. Sucker Punch walks a line that, depending on your views about the objectification of women, pretentious music videos, video game violence, pop mysticism and revamped rock music, will make you love it or hate it. While there is much that might be construed as distasteful, or at least crassly exploitative, one thing is abundantly clear: Snyder knows exactly what he is doing, and his brash assurance carries the film through.
The opening sequence of Sucker Punch plays out like an extended music video to a dreamy Cocteau Twins-inflected cover of the Eurythmics' Sweet Dreams. It is an effective cover sung by leading lady Browning (Baby Doll), who is also on-screen in a nightmarish sequence in which her stepfather kills her sister, frames her for the murder and has her institutionalized. There is no dialogue, but the theme of sexual violence is raised, with a singular lack of subtlety, and is never really allowed to drop. There may be an element of cynicism in this (the paying public likes a bit of the rough stuff), but as a piece of music theater, it is also remarkably effective.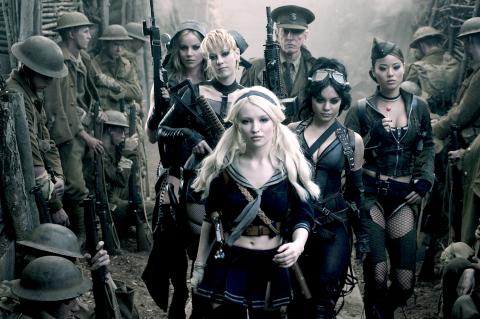 Photo courtesy of Warner Bros.
Baby Doll is sent into a Gothic horror palace version of a mental institution and her stepfather seeks to have her lobotomized. Peeling paint, rusting metal doors with heavy bolts, and psychopathic orderlies in blood-stained whites build up a Grand Guignol that is only a tad more real than the alternative reality that Baby Doll envisions to cope with the terrors that she faces. From this alternative reality, a fin de siecle bordello, Baby Doll enters a series of further alternative universes, together with a number of attractive comrades (played by Abbie Cornish, Jena Malone, Vanessa Hudgens and Jamie Chung), under the guidance of a wise man (Scott Glenn). These scenarios are video game-like missions to obtain objects required to procure her ultimate freedom.
The missions themselves, framed in a kind of Gothic steampunk world, wander between medieval swords and sorcery, through Nazi occult fantasy, to trains filled with mechanized soldiers who seem to have been borrowed from Will Smith's I, Robot. The violent imagery is not particularly original, but the way it is melded together against music — most notably Bjork's Army of Me and a cover of The Stooges Search and Destroy by Skunk Anansie — can really get the blood pumping. The linking together of teenage angst against a world they can't control, some great rock music lyrics and the sexed-up violence of computer games is a remarkably clever manipulation of contemporary pop iconography that plays off against what is already happening in the computer games industry. The fashion connections with Cosplay characters are likely to add an additional level of appeal for young local audiences.
Superficially, the violence, the fantasy world and the pretty girls might seem to make this a very guy kind of movie, but walking out of the media and industry screening earlier this week, a woman behind me announced to her friends and everyone in earshot: "I was so into that, it was like the best computer game ever." They were clearly picking up on the sororal vibe that helped Baby Doll and her friends Sweet Pea, Rocket, Blondie, and Amber destroy hordes of largely male adversaries. At the same time, the very names of these characters are suggestive of all kinds of pervy Web sites where boys can get their jollies.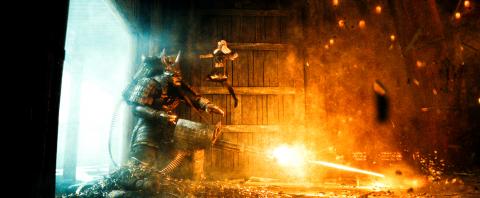 Photo courtesy of Warner Bros.
The use of popular music generates a great deal of resonance in this movie, with interesting covers of Jefferson Airplane (the song White Rabbit gives a clue to the whole structure of the film, but audiences need to work that out for themselves) to Roxy Music, Queen and The Smiths. The choice of music, or at least the way it is covered, is heavily inflected with an emo rock vibe, and images, lyrics and sounds are woven into a complex tapestry. It's music video and violent role-playing game (RPG) rolled into one.
The performances have a staccato rhythm to them that do not even aspire to naturalism, and this somehow manages to work as well. You can almost see the speech bubble when the characters talk. Snyder is no stranger to adapting graphic novels to the screen, but with Sucker Punch he has given an original motion picture the retro feel of a comic book. As a formal exercise, this is interesting, and his mix of pop culture smarts and a willingness to push against good taste give this exploitation movie a kind of art house attitude that is, well, kinda cool.
It should be added that this is a film that, though not in 3D, should be seen in a high-end cinema, preferably one showing the film in IMAX, if you want to get the most out of its percussive visuals and soundtrack.
Publication Notes
Film Notes:
Sucker Punch
DIRECTED BY: Zack Snyder
STARRING: Emily Browning (Baby Doll), Abbie Cornish (Sweet Pea), Jena Malone (Rocket), Vanessa Hudgens (Blondie), Jamie Chung (Amber), Carla Gugino (Dr. Vera Gorski), Oscar Isaac (Blue Jones), Jon Hamm (High Roller / Doctor), Scott Glenn (Wise Man)
RUNNING TIME: 110 minutes
TAIWAN RELEASE: Today
Comments will be moderated. Keep comments relevant to the article. Remarks containing abusive and obscene language, personal attacks of any kind or promotion will be removed and the user banned. Final decision will be at the discretion of the Taipei Times.