MUSIC: Art house
First-time visitors to TheCube Project Space (立方計畫空間) could be forgiven for being a bit confused. Hidden in an old apartment building on a bustling alley next to the Shuiyuan Market (水源市場), the independent art space looks like a private apartment. But the gallery inside has already held several exhibitions and lectures since opening in April last year.
Founded and run by art curator Amy Cheng (鄭慧華) and music critic Jeph Lo (羅悅全), TheCube is mostly a platform for contemporary art and underground music, but it keeps itself open to possibilities.
"Cheng has always been in the field of contemporary art, and I have been involved in Taiwan's underground music scene. So the place sort of combines our interests," Lo told the Taipei Times.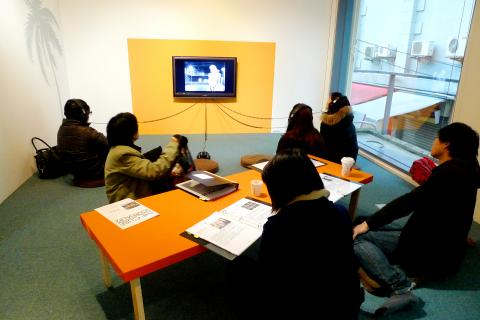 Project 35 is currently on display at TheCube.
Photo courtesy of TheCube Project Space
The venue's accomplishments include a live performance by musician Lim Giong (林強) on the second-floor balcony that drew a crowd big enough to jam the alley and draw attention from the police.
Cheng says independent art spaces like TheCube are unhampered by bureaucracy or commercial aims, allowing for more flexibility and unfettered creativity than large museums and commercial galleries.
"We want to build a long-term relationship with artists, not just for one single exhibition. It is about connecting with others and exploring new ideas together. It doesn't have to lead to a finished work or an exhibition," Cheng said.
The duo's effort to connect people from different fields led to an evolving series of lectures and talks given by musicians, sound artists and critics. Past participants include experimental sound artist Lin Chi-wei (林其蔚), DJ Fish (whose real name is Huang Kai-yu (黃凱宇) and Chen Po-wei (陳柏偉) from Black Hand Nakasi (黑手那卡西), a labor activist band.
The venue is currently housing Project 35, a traveling exhibition of video art works selected by 35 international curators at the invitation of the New York-based Independent Curators International (www.ici-exhibitions.org). The works explore video as a contemporary art medium, recalling the organization's very first exhibition, a pioneering survey of video art in the US held 35 years ago. Chen Chieh-jen's (陳界仁) The Route (路徑圖) was selected by Cheng as part of the program, which has traveled to more than 20 cities around the globe. The exhibition in Taipei runs through Sunday.
TheCube Project Space is located at 2F, 13, Alley 1, Ln 136, Roosevelt Rd Sec 4, Taipei City (台北市羅斯福路四段136巷1弄13號2樓). Tel: (02) 2368-9418. For more information, visit the gallery's Web site at thecubespace.com.
Comments will be moderated. Keep comments relevant to the article. Remarks containing abusive and obscene language, personal attacks of any kind or promotion will be removed and the user banned. Final decision will be at the discretion of the Taipei Times.