Restaurant review: Rong Rong Yuan
浙寧榮榮園
Located near the intersection of Xinyi Road (信義路) and Fuxing South Road (復興南路), Rong Rong Yuan (浙寧榮榮園) is one of Taipei's most popular Zhejiang cuisine restaurants.
Rong Rong Yuan's signature dish is braised spare ribs (烤排骨, NT$400), which is wrapped in tin foil and slow-cooked. The process ensures that the meat is succulent and so tender that it slips off the bone. Make sure to order plenty of guangbing (光餅) to stuff the pork into. The savory, flaky buns are covered with crunchy sesame seeds and soak up the rich, smoky-tasting gravy.
Ningbo cuisine's emphasis on fresh seafood is reflected by Rong Rong Yuan's expansive menu, which features an aquarium of creatures including crabs, scallops, eel, fish, and 15 shrimp dishes. Overwhelmed by the selection, I asked a waitress for a recommendation. She suggested tilefish (馬頭魚, or "horse-head fish" in Mandarin) with stir-fried tofu, which was not on the menu (price varies by season and weight). Like the braised spare ribs, the fish had a mellow and sweet flavor, but the dish was enhanced with a mound of chopped scallion and cloves of garlic that had been cooked until buttery in texture. The slices of tofu were firm but silky and worked very well with the delicate taste of the fish.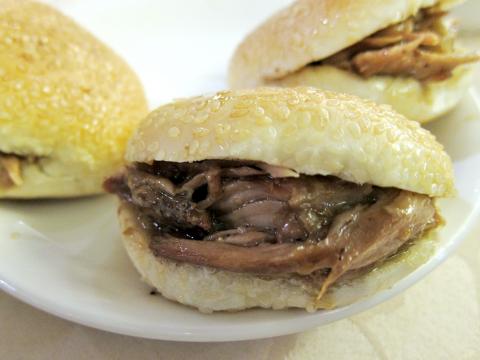 Rong Rong Yuan's braised spare ribs are a can't-miss dish.
Photo: Catherine Shu, Taipei Times
Our waitress also suggested the sauteed pea shoots and bamboo (清炒豆苗冬筍, NT$268) and stinky tofu (臭豆腐, NT$120). Rong Rong Yuan's version of the odorous classic is fermented using a special technique for extra pungency and served with plenty of diced chili peppers. The vegetables were light, but surprisingly delicious for such a basic dish. The pea shoots were a good palate cleanser after our flavorful entrees.
Our complimentary dessert consisted of fried yuanxiao, or balls made of glutinous rice flour and stuffed with sweet black sesame paste, deep-fried and then coated with a light sprinkling of peanut powder.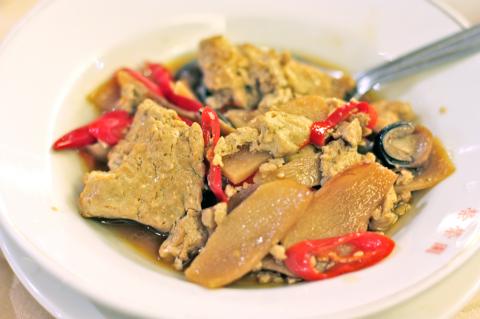 Rong Rong Yuan's braised spare ribs are a can't-miss dish.
Photo: Catherine Shu, Taipei Times
Publication Notes
Rong Rong Yuan
浙寧榮榮園
Address: 2F, 25, Xinyi Rd Sec 4, Taipei City (台北市信義路四段25號2樓)
Telephone: (02) 2703-8822
Open: 11:30am to 2pm and 5:30pm to 9:30pm
Average meal: NT$500 to NT$600
Details: Chinese and English menu, credit cards accepted
Comments will be moderated. Keep comments relevant to the article. Remarks containing abusive and obscene language, personal attacks of any kind or promotion will be removed and the user banned. Final decision will be at the discretion of the Taipei Times.