Music: 'A matter of pretentiousness'
When alternative band Aurora first hit the scene at Spring Scream last year it was obvious that the young lead singer, 26-year-old Alan McIvor from Edinburgh, Scotland, was going somewhere. His sweet voice, polished guitar riffs, and emo good looks had the crowd transfixed and the girls swooning.
A year later the band, which plays at 89K tonight, has branched into darker, harder, heavier territory. The music often takes audiences on a journey that begins with a pop-emo "this is nice" feel and ends with crowds open-mouthed and panting from dancing to the primal crescendo of one of the band's raging climaxes.
"The reason it's gotten harder is because when you're playing live and you get the reaction from the crowd, you want to get them jumping," McIvor told the Taipei Times. "Screaming during a live performance is the most powerful release I've ever felt."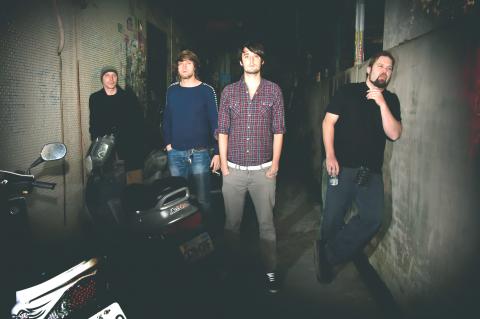 Out of the darkness comes Aurora.
Photo Courtesy of Aurora
The band he has put together includes some of Taiwan's most influential veteran musicians: Wade Davis, cofounder of Spring Scream, on bass; Pete Holmes, one of the most prolific and engaging drummers in the indie music scene (both Davis and Holmes are in Point 22); and Sean Luo, who in addition to playing in numerous bands also produces, on electric banjo.
McIvor says Luo initially blew him off: "I said, 'Hey, I play guitar and sing,' … and I suspect he dismissed me. Every foreigner is a DJ, or plays guitar."
But after seeing McIvor play at an open mic night, Luo changed his tune and invited him over to jam. "We formed the band within five minutes," McIvor said. "Sean and I click like brothers when it comes to writing songs. We complement each other fantastically."
The music they create ranges from soft and gentle to a mad, post-rock freak-out with a mishmash of genres folded into the mix.
"For me it is a matter of pretentiousness," McIvor said. "I aspire to be one of the best songwriters of my generation, and I think my songs stand amongst anything I've heard from any other artist. Writing songs that contain elements of different genres is how I keep Aurora's music interesting and appealing to everybody, and myself. I like every type of music and believe my songwriting reflects this. So far we have songs that contain rock, pop, hard-core, emo, dance, reggae, country, acoustic, folk, metal, electronic, Middle Eastern, rap, R 'n' B, a cappella, blues, salsa."
The group self-produced its first indie album, Blacka Rose, which will be released online. Cards carrying a code that enables purchasers to download the album will be sold at upcoming shows. "I think it's the future of music," McIvor said. "My generation is an iPod and MP3 generation — we need to cater our album release to this new trend."
The 14-song, fully mastered album is partially an account of the love story between McIvor and his girlfriend. His first song to her has the line, "I hope I haven't freaked you out by writing this song," but later lyrics are more confident: "Being forced to play that game, when all I really want is to share a name."
McIvor says he's recently found another source for meaningful lyrics: "I've been writing a lot of songs about my atheism, something which I feel very strongly about ... I would love to become a voice for a new generation of atheists."
Publication Notes
Performance Notes:
What: Aurora, Point 22, and Dr Reniculous Lipz and the Skallyunz with DJ Subtle
When: Tonight from 10pm to 4am
Where: 89K, 21 Daguan Rd, Nantun Dist, Greater Taichung (台中市南屯區大觀路21號)
Admission: NT$300 for men (includes one drink), free for women
On the Net: www.facebook.com/home.php#!/event.php?eid=140940155973364
Comments will be moderated. Keep comments relevant to the article. Remarks containing abusive and obscene language, personal attacks of any kind or promotion will be removed and the user banned. Final decision will be at the discretion of the Taipei Times.