Like the first time, every time
Guitar virtuoso and 1960s rock legend Carlos Santana, who makes his first appearance in Taiwan on Wednesday, says he and his band strive to make every show feel like the 'first time'
Next week is an exciting time for classic rock fans in Taiwan, as Taipei prepares to host debut appearances from two enduring legends: Bob Dylan, who plays on April 3, and guitarist Carlos Santana, who appears at the Taipei World Trade Center Nangang Exhibition Hall (台北世界貿易中心南港展覽館) on Wednesday.
Santana, 63, is bringing an 11-piece band for his concert in Taipei, which will conclude a monthlong tour of Asia and Australia. Fans can expect to hear both classics and new songs from the Mexican American guitar virtuoso, who came of age in San Francisco's rock scene in the 1960s and continues to be known for putting on epic jam-rock concerts.
Though he hasn't strayed far from the formula that brought him success — recasting pop material into a unique blend of rock, Afro-Cuban and Latin jazz grooves — Santana's albums of recent years have aimed more directly for commercial appeal. He enjoyed multi-platinum, Grammy-winning success for his 1999 album Supernatural, which boasted songwriting collaborations with big-name pop artists of the day such as Dave Matthews and Lauryn Hill.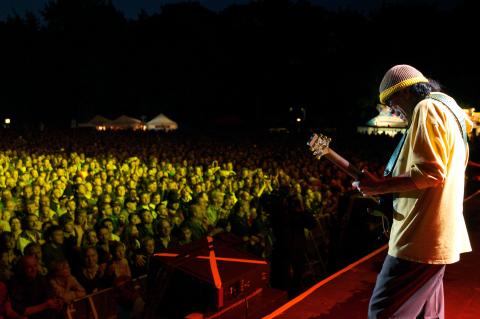 Recent shots of Santana on tour.
Photo by Gary Rashid, Courtesy of Santana/DaDa Arts
Santana's newest album, Guitar Heaven (2010), was produced in a similar mold, with appearances by Joe Cocker, Chester Bennington of Linkin Park and Yo-Yo Ma (馬友友). But instead of original songs, the material is made up of familiar rock staples such as Little Wing, While My Guitar Gently Weeps and Riders on the Storm.
Santana spoke to the Taipei Times and its sister paper the Liberty Times in an interview last week while on tour in Australia. On the phone, he spoke with a hippie-ish charm and enthusiasm on topics ranging from his new album to how the music scene has changed since the 1960s, and how his band strives to make every show feel like a "first French kiss."
Taipei Times: You've worked with an endless list of artists that includes Rob Thomas, Lauryn Hill and Eric Clapton. What have been your most memorable collaborations and why?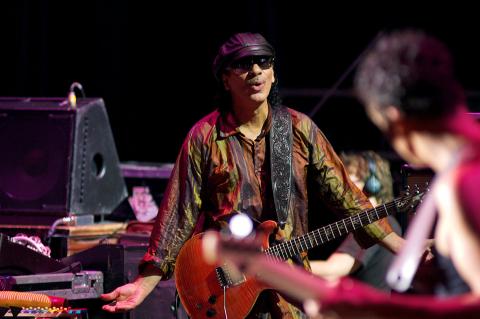 Recent shots of Santana on tour.
Photo by Gary Rashid, Courtesy of Santana/DaDa Arts
Carlos Santana: I would say Miles Davis and Wayne Shorter and Herbie Hancock. Why? Because they are the Stravinskys, the Picassos, and the Leonardo Da Vincis [of today].
TT: What was the inspiration behind Guitar Heaven and how did you choose the songs for the album?
CS: Well, this was an idea, it was put forward by Clive Davis [the album's producer] and I was very reluctant at first. I was very scared to go out because when I play songs — all of those songs — as I've said before, they're like females, Mona Lisas. Each one is an icon. I wasn't afraid to take on one, but to take on 14 at the same time was a little daunting. But once I put the fear aside, and this is something I recommend to anyone and everyone: Fun is getting past the fear.
TT: Was there anything specific you did to get past that fear? Each song seems like a different animal.
CS: Well, yes, I think that the main thing that I work on, or at least that I focus and concentrate on is the groove. Because, like Michael Jackson, to me, it's important that the females dance and that the tempo has to be correct, the mood has to be right and the feel has to be sensational. So, the main thing that I changed in all of those songs was the bed. I put in a different bed and feel and groove. Sunshine of Your Love, While My Guitar Gently Weeps, Back in Black — they all have a 2011 kind of groove, you know. There's grooves for 1969 and there's grooves for 1967, 1968.
TT: Speaking of Back in Black, that track stands out in particular for your collaboration with hip-hop artist Nas.
CS: Well, I've always thought that rap was the music of today. If you go to Beijing, if you go to the Taliban — they're rapping too. It's the music of today. However, putting rap with some serious hard metal and funk — then it's another thing. I love Nas, he's probably the best at what he does now, bringing that energy.
TT: You were named one of the greatest guitarists of all time by Rolling Stone magazine. What are your thoughts on this?
CS: I think to be accurate, I'm probably one of 100 people you recognize in one note. And that's a compliment in itself. I think if Jimi Hendrix was alive, and if you ask him who was the best he would say Buddy Guy. If you asked Buddy Guy, he would say Muddy Waters. If you asked Muddy Waters, he would say Robert Johnson. If you asked Robert Johnson, he would probably say Django Reinhardt. You never know. It's subjective — it just goes around.
TT: You started out in what many consider the golden age of rock, with the San Francisco scene, Bill Graham, the Grateful Dead. How is performing music today different than in the 1960s?
CS: My son asked me that question. He said, 'What did you have back then that we don't have now, and what do we have now that you didn't have back then?' And I said, 'Well you have [stage] monitors now, you have headphones, you have computers.' What we had back then that you don't have so much today, it's called imagination. Because we didn't have those things. We had to use our imagination more. Now we rely too much on computers and so it's not as powerful.
TT: The album as a format, or even as an art form, appears to be on the decline. Do you have any reservations about the digital age, or do you embrace new technology?
CS: My take on this is that music is a delicious food and the plates don't matter. The plates can be made out of plastic or porcelain or china. You know digital, or record, or cassette, or CD, or eight-track — that don't matter, as long as it sounds and feels good. So to me, music is food and it's a delicious food. The plate on which you serve it, as long as it's clean and it's honest, then it don't matter.
TT: Can you describe your live show, and what you've been playing lately?
CS: We play yesterday, today and tomorrow. We make up songs on the spot, and because we play close to three hours. We make everything feel like the first time ever. So we do our best, with intensity, to make every time we play the songs people want to hear — Black Magic Woman, Oye Como Va or Smooth or Maria Maria — we make it a point for it to feel like your first French kiss. It's very personal. When you get your first French kiss by a beautiful lady, you're present, your mind is not wandering everywhere. You're right there in the moment. And that's how it should be.
TT: Can you give us an idea of your set list for your Taipei concert?
CS: Well, it's different every night. We change the intros every night. And some days, it sounds like the Salvation Army on LSD [laughs]. Other times it sounds like electric jungle music, other times it sounds like a carnival festival from Brazil. We bring a lot of energy. We don't walk around like senior citizens like they're ready to be retired because we're bored and tired and spent. We don't carry ourselves like that nor do we sound like that. We sound like lions who are very hungry.
TT: What do you want to do next, artistically? Do you have any future collaborations in the works?
CS: Artistically, I want to play music that's very very filthy, like nasty swamp, which is music that a lot of musicians don't want to necessarily touch because it's too nasty and filthy and funky, you know. It's like eating chicken with your fingers, you know. No fork or knife. We're possibly going to share music — Cindy [Blackman, Santana's wife and jazz drummer who also performs in his band] and I — with Sharon Isbin, this classical guitar player, and hopefully in the future with Andrea Bocelli (Italian tenor and opera singer) and Sting. And also, you know, with sisters and brothers in Taipei, different parts of the world. I am open to people who are practicing right now in the garage or in the classroom with a guitar. Not just well-known musicians, but anyone who brings songs from their heart. We're open.
This interview was edited and condensed.
Publication Notes
Performance Notes:
What: Santana, live in concert
When: Wednesday at 8pm
Where: Taipei World Trade Center Nangang Exhibition Hall (台北世界貿易中心南港展覽館), 1 Jingmao 2nd Rd, Taipei City (台北市經貿二路1號)
Admission: NT$1,600 to NT$8,600, tickets available through ERA ticketing outlets or online through www.ticket.com.tw or at 7-Eleven
ibon kiosks
On the Net: santana.com and www.dadaarts.net
Comments will be moderated. Keep comments relevant to the article. Remarks containing abusive and obscene language, personal attacks of any kind or promotion will be removed and the user banned. Final decision will be at the discretion of the Taipei Times.