Film awards: Votes of confidence
Now in its 33rd year, the Golden Harvest Awards for Outstanding Short Films is at the vanguard of a nascent renaissance in Taiwanese cinema
Taiwanese cinema is experiencing a revival. University film courses are expanding and becoming more popular and young filmmakers are making their presence felt. In another sign of an emerging cinematic renaissance, entries to the Golden Harvest Awards (金穗獎) have risen from 115 in 2008 to 215 this year.
"The Golden Harvest has grown from a small event to an arena of competition between filmmakers," said film critic Tien Kuo-ping (田國平), who is also known as Pin Chiung Nan (貧窮男).
Fifty selected films will compete in five categories (fiction, animation, documentary, experimental and student films) for a total of NT$3 million in prize money at this year's Golden Harvest Awards.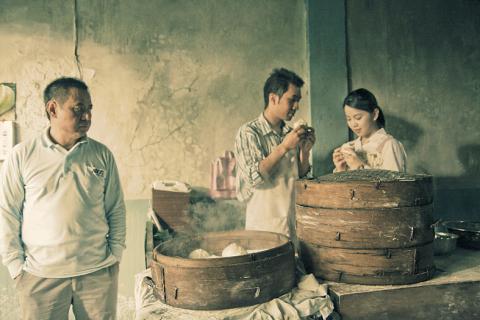 Crossing the sentiMENtal Desert (焉知水粉).
Photo Courtesy of Chinese Taipei Film Archive
The awards ceremony will take place at the Plum Wine Factory (烏梅酒廠), Huashan 1914 Creative Park (華山1914), on March 25.
As well as more entrees than previous editions, the quality of the films has risen, said Tien. Animation in particular continues to grow more mature and polished in terms of technique and styles, eclipsing contenders in the feature, documentary and experimental sections, said Tien, though he added that the role of storytelling often takes a back seat.
Covering a gamut of topics from history and Aboriginal culture to the environment and biography, the documentary category nominees are diverse in subject matter but offer few surprises and lack developed viewpoints, according to Tien.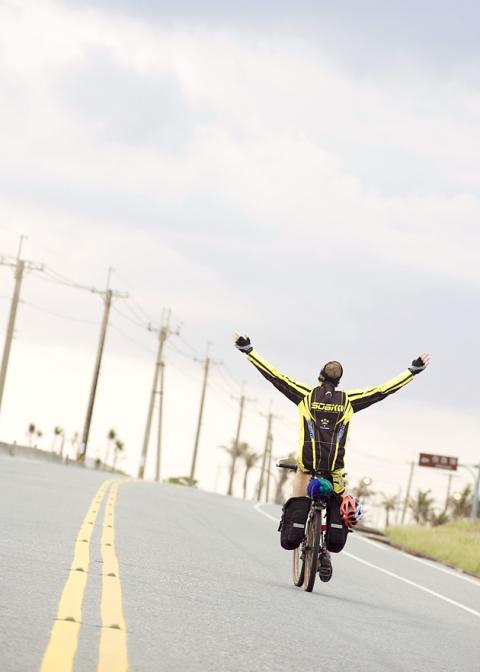 Magabahai (馬嘎巴海).
Photo Courtesy of Chinese Taipei Film Archive
Experimental cinema, as usual, occupies an obscure corner of the annual competition, whose jury members are mostly film professionals and scholars who may not be familiar with experimental filmmaking techniques.
The festival runs until March 27, after which it will tour the rest of the country until May 13. For more information, visit the event's Web site at www.movieseeds.com.tw or its blog at gha33.pixnet.net/blog.
Awards highlights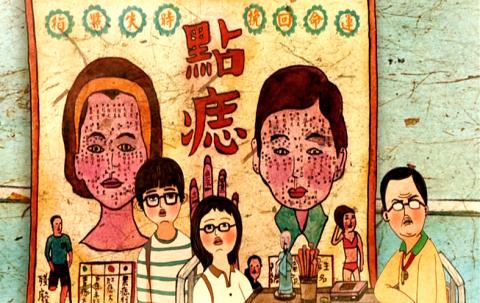 The Other Side.
Photo Courtesy of Chinese Taipei Film Archive
Crossing the sentiMENtal Desert (焉知水粉)
Who says a student film can't boast a top-notch cast? This graduation project, by Chang Teng-yuan (張騰元) from Shih Hsin University (世新大學), stars celebrated thespian Tsai Chen-nan (蔡振南) and polished film and theater actor Huang Jian-wei (黃健瑋) as a father (Tsai) and son (Huang) who become estranged after a young Vietnamese woman is hired to help out at the parent's steamed bun shop.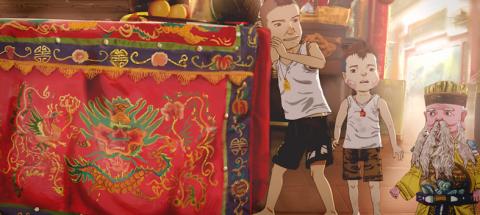 Time of Cherry Blossoms (櫻時).
Photo Courtesy of Chinese Taipei Film Archive
Magabahai (馬嘎巴海)
Music and the sounds of Nature are the biggest draws of this feel-good movie about friendship between an Amis tribe elder and an American cyclist. The fact that director Patrick Tu (杜均堂) is the son of renowned recording artist Tu Duu-chih (杜篤之) explains why the sound track is of such high quality. The film won the Best Short Film Golden Horse Award last year, which should be an inspiration to budding filmmakers.
The Other Side
Time Lapse (時代照相館).
Photo Courtesy of Chinese Taipei Film Archive
In this whimsically dark animation, female director Chen Chiu-ling (陳秋苓) paints a brooding portrait of one woman's experience of growing up, breaking free from her domineering mother and escaping to the "other side" of the ghostly town in which she lives.
Time of Cherry Blossoms (櫻時)
Taiwan's folk beliefs come to life in this well-crafted animation, which tells the tale of a boy who is accompanied on an adventure by celestial beings. The film shows a surprisingly mature style reminiscent of late Japanese animator Satoshi Kon's works and is regarded as one of the strongest contenders in the Golden Harvest Awards' best animation category.
Time Lapse (時代照相館)
This 30-minute film touches on the themes of life, death and memory through a bittersweet tale about an aging photographer, played by veteran actor Ting Chiang (丁強), and four teenage boys. Blessed with a polished script, smooth cinematography and emotive performances, Time Lapse has got off to a good start at this year's Golden Harvest by winning a recommendation award, which is judged by bloggers and was introduced to the festival in 2007.
Publication Notes
Awards Notes
What: The 33rd Golden Harvest Awards for Outstanding Short Films (第33屆金穗獎)
When: Today to March 27
Where: Auditorium at Eslite bookstore Dunnan branch (誠品敦南店), B2, 245, Dunhua S Rd Sec 1, Taipei City (台北市敦化南路一段245號B2), Socrates Chamber at GIS NTU Convention Center (台大集思會議中心), B1, 85, Roosevelt Rd Sec 4, Taipei City (台北市羅斯福路四段85號B1)
Admission: All festival activities and screenings are free
On the net: www.movieseeds.com.tw and gha33.pixnet.net/blog
Comments will be moderated. Keep comments relevant to the article. Remarks containing abusive and obscene language, personal attacks of any kind or promotion will be removed and the user banned. Final decision will be at the discretion of the Taipei Times.