Movie review: Rabbit Hole
Despite nuanced performances and a fine script, the emotional turmoil in 'Rabbit Hole' doesn't translate well
Rabbit Hole, a film about a couple coping with the death of their four-year old son, is a finely crafted drama that manages to deal with emotional turmoil in all its multidimensional complexity. The movie balances the abyss of grief against the consoling banalities of everyday life through outstanding performances by leads Nicole Kidman and Aaron Eckhart.
Becca (Kidman) and Howie (Eckhart) search for some semblance of meaning and sense of purpose in their lives eight months after their young son is killed by a car as he ran into the road after the family dog. Kidman has made a specialty of playing brittle women holding whirlwinds of passion within immaculately groomed exteriors, and one of the qualities of Rabbit Hole is that it gives us a glimpse under the surface.
The conversation with her husband about where they are after eight months of grief is mediated through the language of therapy.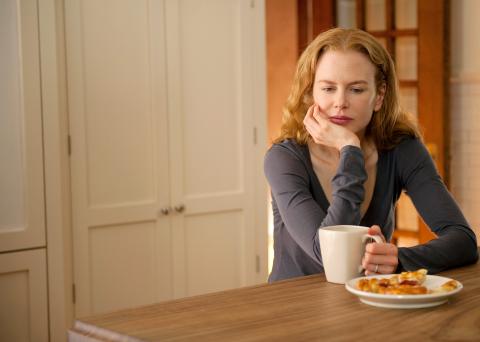 Photo Courtesy of CatchPlay
The pair go to weekly group sessions at which couples coping with grief indulge in an orgy of self-indulgent venting. Becca, a tough-minded and goal-oriented professional, whatever her emotional state, finally loses her patience with the conventions of sympathy and discontinues group therapy to find her own path back to normality. These therapy sessions provide some of the most amusing moments in the movie, which is not without humor throughout, despite its melancholy subject matter.
Becca's sister Izzy (Tammy Blanchard) and her mother Nat (Dianne Wiest) are strong supporting roles that help bring out the multifaceted nature of grief. Izzy is about to have a child and Nat still mourns the death of a son who died aged 30 of a drug overdose. Becca tries to be the caring sister to Izzy, not always successfully controlling her resentment of the imminent birth, and a good daughter, though liable to be infuriated by any comparison between her son and her drug addict brother. Grief is not pretty, and director John Cameron Mitchell is careful to show the different guises and expressions of Becca's agony.
While the acting is admirable, it would be nice if it were possible to like Becca just a little bit more; as it is, while we might sympathize, we are not entirely engaged with her predicament.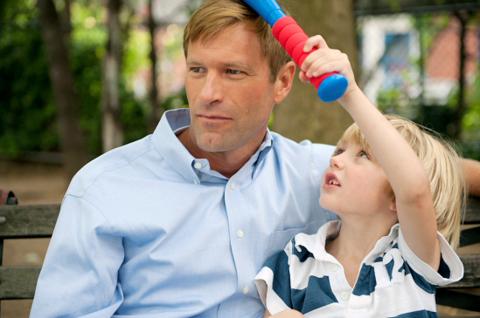 Photo Courtesy of CatchPlay
Grief puts Becca's marriage under strain, and when Howie teeters on the brink of an affair with Gaby (an engaging role played by Sandra Oh), a woman from group therapy who provides some moments of pot-assisted consolation as they laugh about the absurdity of their predicament, it is hard to find fault. It might be easier if each finds his or her own kind of consolation. But this isn't the route that Rabbit Hole chooses to go down, and the story's insistence that the road of forgiveness is the only way, however painful the journey, provides a genuine sense of uplift.
If there are faults in Rabbit Hole, they are mostly associated with its good points.
The whole production is so well balanced that there are no rough edges to provide traction, and the characters emerge as finely honed tools for the expression of many finely calibrated nuances of grief.
Unlike the director's other works, gender-bending rock opera Hedwig and the Angry Inch and sex drama Shortbus, Rabbit Hole doesn't venture into the world of fantasy other than a few tantalizing images from a handmade comic that becomes a medium through which Becca establishes an uneasy dialog with the young man (Miles Teller) who drove the car that killed her son. This resolute insistence on the mundane setting of domestic drama gives Rabbit Hole a televisual quality that might make it more suitable for the living room than the cinema.
For all its fine qualities, Rabbit Hole never quite manages to become a fun time at the cinema, or even a deep and thoughtful one. Life goes on, it tells us, and when we leave the cinema, we do just that. We get on with life, and the trauma we have witnessed remains resolutely someone else's tragedy.
Publication Notes
Film Notes:
Rabbit Hole
DIRECTED BY:
John Cameron Mitchell
STARRING:
Nicole Kidman (Becca), Aaron Eckhart (Howie), Dianne Wiest (Nat), Miles Teller (Jason), Tammy Blanchard (Izzy), Sandra Oh (Gaby)
RUNNING TIME: 91 MINUTES
TAIWAN RELEASE: TODAY
Comments will be moderated. Keep comments relevant to the article. Remarks containing abusive and obscene language, personal attacks of any kind or promotion will be removed and the user banned. Final decision will be at the discretion of the Taipei Times.