Upcoming: Golden Horse Fantastic Film Festival (金馬奇幻影展)
The Golden Horse Fantastic Film Festival (金馬奇幻影展) is all set for its second edition with a lineup of 43 B movies, genre flicks and cult films. Nearly half of the tickets for the fledgling festival were snapped up the first day they went on sale.
Festival highlights include Sam Raimi's revered horror trilogy Evil Dead, and celebrated titles from Japan's gonzo gore cinema, including Gothic and Lolita Psycho, which is about a high school girl who turns herself into a human weapon to avenge her mother's murder, and Helldriver, in which teenager Kika is tasked by the fascist government of a zombie-ridden Japan to destroy her evil mother, who rules over the undead.
Art house films on the bill include a digitally restored version of The Leopard, by Luchino Visconti.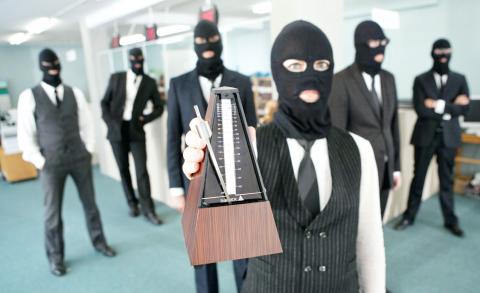 Sound of Noise is the Golden Horse Fantastic Film Festival's closing film.
Photo Courtesy of Golden Horse Fantastic Film Festival
■ The festival runs from April 1 to April 10 at the Shin Kong Cineplex (新光影城), 4F, 36 Xining S Rd, Taipei City (台北市西寧南路36號4樓), and April 8 to April 17 at the Image Museum of Hsinchu City (新竹市影像博物館), 65 Zhongzheng Rd, Hsinchu City (新竹市中正路65號)
■ Tickets are NT$160 per screening (NT$699 for a book of five) in Taipei, and NT$100 per screening in Hsinchu, available at the door or from 7-Eleven ibon kiosks. For more information, visit the event's bilingual Web site at www.ghfff.org.tw
Comments will be moderated. Keep comments relevant to the article. Remarks containing abusive and obscene language, personal attacks of any kind or promotion will be removed and the user banned. Final decision will be at the discretion of the Taipei Times.