The Vinyl Word
Tomorrow @llen (aka Chen Wen-hong, 陳文宏), the "godfather of Taiwan's dance music," will spin a retro set of rock music with Mitch at Inhouse.
@llen is one of several Taiwanese DJs who have relocated to China.
"Beijing has been growing really fast these years and dance music and night life are no exceptions,"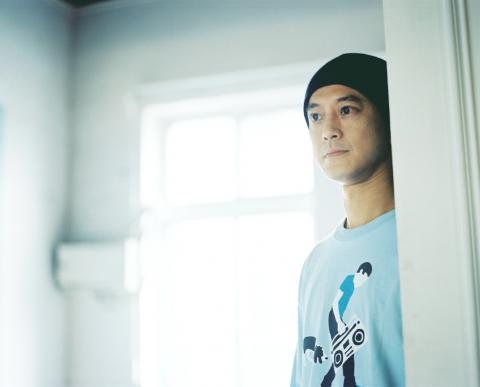 @llen is ready to rock out.
Photo Courtesy of @llen
@llen said. "Though the majority of supporters of underground parties are expats, there are so many of them in Beijing that they have become influential. And Chinese people have started throwing events, so the numbers of DJs and nightclubs are growing very quickly."
After moving to China in 2006, @llen became the owner of the The Boat, touted as Beijing's only nightclub on water, but was forced to close it last year because of noise complaints.
He then spent a six weeks touring nine cities in China before returning to Taiwan for a break.
Is China still the land of milk and honey for Taiwanese DJs that it once was? "Because of the advance of the Internet, we don't really have the upper hand there anymore,"
@llen said. "It's not like 10 years ago when there used to be a lack of new information. Right now Beijing and Shanghai are bigger and more international than Taipei. They can absorb and digest Western cultures more easily. As far as I know, there are four to five large-scale events with 40,000 plus people in Beijing each year ... and the international guest DJs they invite are diverse and not only limited to DJ Magazine's top 100. You can always discover underground clubs there, where as in Taiwan underground music doesn't really seem to stand a chance in dance clubs."
■ @llen and Mitch at Inhouse, 90 Songren Rd, Taipei City (台北市松仁路90號), tomorrow from 10pm to 3am. Admission is free
A couple of interesting daytime events are taking place tomorrow. At Ximending Cinema Park (西門町電影公園) there will be a small flea market from 3pm to 5pm. Vicar will be mixing funky jazzy and old-school hip-hop and one of the stalls will sell secondhand vinyl.
■ Ximending Cinema Park (西門町電影公園), 19 Kangding Rd, Taipei City (台北市康定路19號)
The other event is a "warehouse" party from 4pm to 10pm organized by the Organik crew. The venue, once used to store bank documents, is located on Bade Road. "It's a big and cool warehouse space, and it's on the third floor," said Gregory Huang (黃柏翰) of Organik. "We're not going to put any shades on the windows." The party's playlist includes techno, tech house and experimental music by Kenneth C, Yoshi, Iouxuan, and Dan Dan.
■ Organik warehouse party, tomorrow from 4pm to 10pm, 3F, 34, Bade Rd Sec 1, Taipei City (台北市八德路一段34號3樓). Admission is NT$600
Meanwhile, renowned Australian DJ/producer Mark Pritchard makes his debut appearance in Taiwan tomorrow at The Wall (這牆).
A pioneer on the Australian underground scene, Pritchard is also a long-standing lecturer for the Red Bull Music Academy. He'll be on hand to answer questions about the Red Bull Music Academy 2011 in Tokyo, and music production in general. The academy session takes place in the afternoon, but is only open to people who have registered online. For more information, visit www.redbullmusicacademy.com.
■ Mark Pritchard at The Wall (這牆), B1, 200, Roosevelt Rd Sec 4, Taipei City (台北市羅斯福路四段200號B1), tel: (02) 2930-0162. Tomorrow from 8pm to 11pm. Admission is NT$300
Comments will be moderated. Keep comments relevant to the article. Remarks containing abusive and obscene language, personal attacks of any kind or promotion will be removed and the user banned. Final decision will be at the discretion of the Taipei Times.