Music: Around the world
Jazz fusion group Orbit Folks, which performs tonight and tomorrow in Tainan and Kaohsiung, takes its musical cues from Central Asian, Jewish and Balkan and Indian folk music
As the leader of Orbit Folks, which fuses world music with jazz, Martijn Vanbuel thought performing a cover of Caravan would be too cliched.
"It has an Arabic feeling, so I thought it would be too obvious for us to play the song," says Belgium-born Vanbuel. "But then I came up with an interesting arrangement that I liked, so I thought 'why not another version of Caravan?'"
Orbit Folks will perform the song during their shows in Tainan's Eslite flagship store tonight and Kaohsiung's Dream Mall (夢時代購物中心) branch of Eslite tomorrow (another performance will take place March 27 at the Dream City Carnival in the mall). Though many interpretations of Caravan have a fast tempo, Vanbuel slowed it down, changed the meter to 15/8 and arranged darker voicings for the piano. "I want to make it sound a little bit more dark and a bit more like a central Asian song," says Vanbuel.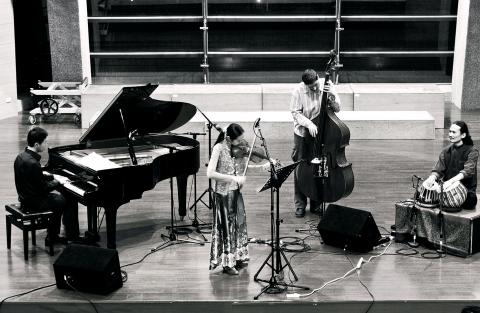 Orbit Folks play jazz with a world beat.
Photo Courtesy of Orbit Folks
Unusual meters are a signature of Orbit Folks' original compositions and interpretations of Central Asian, Jewish and Balkan folk music. Members of the group, which released its first CD, The Missing Link, in December, represent a mix of nationalities and musical traditions. Japanese percussionist Toshihiro Wakaike, known as "Waka," studied northern Indian classical music and plays the tabla. Violinist Janelle Chang (張宜蓁) specializes in Central Asian music, while jazz pianist, Mike Tseng (曾增譯), like Vanbuel, trained in Belgium. Vanbuel plays the bass during performances.
Traditional Jewish music inspires many of Vanbuel's compositions, including Sibboleth Bassadeh from The Missing Link. Vanbuel was first exposed to the music as a young boy through his aunt and grandmother's folk dance group. The group will also play a folk song from Xinjiang, China, where Chang studied Uighur music.
Vanbuel keeps an ear out while listening to different musicians from around the world for elements he can incorporate into his own work. His current favorites include Tunisian oud player Anouar Brahem (whose songs Orbit Folks cover), Pakistani Nusrat Fateh Ali Khan, Israeli jazz bassist Avishai Cohen and the late Malian singer and guitarist Ali Farka Toure. Vanbuel, who is a member of the Chinese jazz-fusion group Sizhukong (絲竹空), also speaks highly of Hakka musician Hsu Mu-chen (徐木珍). He hopes audience members will leave Orbit Folks' performances wanting to learn more about its musical roots.
"People might think 'oh wow, where does this come from?' and be inspired to listen to traditional music, even music from their own culture," says Vanbuel.
Publication Notes
PERFORMANCE NOTES:
WHAT: Orbit Folks jazz quartet at Eslite Bookstore, Tainan (台南誠品書店) and Kaohsiung's Dream Mall (夢時代購物中心) branch of Eslite
WHEN: Tonight at 10pm (Tainan), tomorrow at 8pm (Kaohsiung) and March 27 at 4pm and 7pm in the Dream Mall's eighth floor performance space
WHERE: Eslite Bookstore, Tainan, B1, 181-183, Changrong Rd Sec 1, Greater Tainan (台南市長榮路一段181-183號B1), tel: (06) 208-3977; Dream Mall Eslite, 3F, 789Jhonghua 5th Rd, Greater Kaohsiung (高雄市中華五路789號3F), tel: (07) 812-9808
ADMISSION: Free
ON THE NET: www.orbitfolks.com
Comments will be moderated. Keep comments relevant to the article. Remarks containing abusive and obscene language, personal attacks of any kind or promotion will be removed and the user banned. Final decision will be at the discretion of the Taipei Times.