A full house for bands and fans at SXSW
The music industry may be struggling, but South by Southwest is going from strength to strength
Music still has fans. That's the annual affirmation at the South by Southwest Music Festival, known as SXSW, a music conference and staging ground for some 1,900 acts that brings platoons of clubgoers downtown here every spring — some paying up to US$695 for an official registration badge, others freeloading at the many unofficial parties and showcases that give bands multiple chances to perform during the festival's four most frenetic days.
While CD sales topple, and major and indie labels struggle, at this year's 23rd annual SXSW people have been turned away from packed clubs where they are clamoring to see bands that are far from household names: Grizzly Bear, Peter Bjorn and John, St Vincent. Full houses chanted along to indie hip-hop and pondered broken hearts and God to the picking of Americana bands. Those musicians draw their audiences from people who chase down music in the news media, in blogs and on noncommercial radio stations — or maybe from a friend's recommendation or a giveaway on a music downloading site.
Although the conference does not release attendance figures until after it's over, its managing director, Roland Swenson, has said that there are fewer paid registrations this year.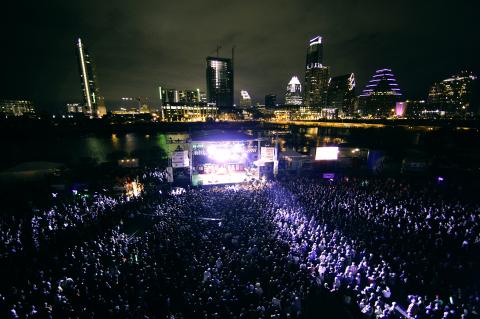 Concertgoers listen to a band play at SXSW's Auditorium Shores Stage on Lady Bird Lake in downtown Austin, Texas.
Photo courtesy of SkyHigh Photography
One factor is the general economic downturn and, in particular, the dwindling of record-company expense accounts as labels continue to cut costs and shed jobs, although recordings are only part of a music business that also involves touring, merchandising, publishing, sponsorships and licensing.
Any dip has been imperceptible among the throngs on East Sixth Street or Red River, the two main strips of clubs in downtown Austin. At SXSW, the music business reminds itself that people do actually care enough about music to seek it out. The clubs are crowded, partly because the festival sells passes that cover all the showcases, encouraging an all-you-can-hear approach. (Labels and publishers have resisted a similar subscription model for selling recordings, although there are online subscription services for streaming playback.)
Many of the fans in the clubs have most likely heard their chosen bands via free downloads, legal or illegal; there are legal ones for many of the SXSW bands at www.sxsw.com. But as the music business is coming to understand, the ancient model of the touring troubadour may turn out to be the 21st-century model for a working musician's livelihood.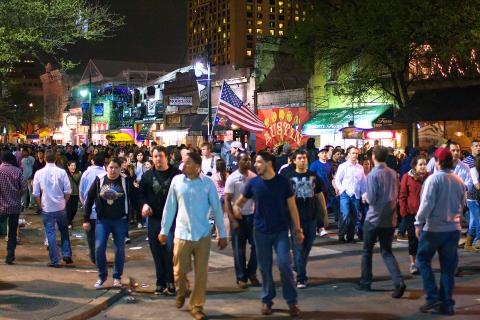 Festivalgoers throng Sixth Street in Austin, Texas, during SXSW.
Photo courtesy of Heather Kennedy
And there are plenty of bands still ready to jump in a van, sleep on couches, set up their own equipment and play three shows a day for a chance to be noticed. They no longer expect to be handed "the standard rich-and-famous contract," as one musician put it, but perhaps they'll find a booking agent, an impromptu interview or a new fan with a clever idea for a T-shirt design.
SXSW isn't just for unknowns and lesser-knowns. It pulls older bands out of mothballs; this year the lineup includes the Sonics, Devo, Echo and the Bunnymen, Primal Scream and the Memphis soul band the Bar-Kays. Meanwhile, with just about every media organization that covers music in town, well-known current bands are eager to use SXSW as a marketing springboard. The multimillion-selling Metallica, promoting its tie-in with the video game Guitar Hero, was due to play a not-so-secret show on Friday night at Stubb's BBQ.
On Wednesday, the music festival's opening night, the Decemberists introduced their new album, The Hazards of Love (Capitol) — an hourlong, uninterrupted rock opera and fable about love and murder— by playing it from start to finish for a full house at Stubb's and an NPR Web cast that can be downloaded free from npr.org.
The music segued from delicate, Celtic-folk-rooted ballads to stomping, 1970s-flavored riff-rock and back, as the Decemberists' songwriter, Colin Meloy, portrayed both the album's romantic hero and its sociopathic villain. Becky Stark from Lavender Diamond and Shara Worden of My Brightest Diamond sang the female characters. Parts of the music were too delicate for the boisterous SXSW crowd, but the music held up as a coherent structure, with passages that grew stronger each time they recurred.
Grizzly Bear, whose album Veckatimest (Warp) is due for release on May 26, had an ideal place — the resonant Central Presbyterian Church — to perform its new songs on Thursday night. They are otherworldly meditations that dissolve from a handful of pensive, open-ended lyrics into wordless, rapturous vocal harmonies that floated through the hushed room.
Another superb New York band, Dirty Projectors, introduced songs from its next album, Bitte Orca (Domino), due in June, including the dizzying, pointillistic vocal mesh of a song called Remade Horizon that can be heard at npr.org.
Big Boi, half of the Atlanta hip-hop duo OutKast, was less generous with new material in his quick-rhyming, upbeat set on Thursday night. His long-delayed first solo album, Sir Luscious Left Foot, is now due for release in June or July, he announced. But he devoted most of the set to OutKast songs, only unveiling one new track, Backup Plan, and his verses of a song that also has other rappers on it, Royal Flush, which was just leaked online.
SXSW has positioned itself as a one-stop opportunity to make contacts across the American music business, and it has had a steadily increasing presence for bands from abroad. This year there were 594 international acts at official showcases.
One startling British import was Micachu and the Shapes, a trio of former music school students who love bare-bones structures. Mica Levi's terse, choppy songs for the group use dissonant guitar chords, hardheaded lyrics, a swinging drumbeat, perky keyboard hooks and contrapuntal cowbells, among other things, for songs with the ebullience of a skiffle band and the hardheadedness of hip-hop.
Other international arrivals included Blk Jks (pronounced Black Jacks), a South African band that mingles brisk, triplet-driven, African-rooted rhythms with eruptions of neo-psychedelic guitar and echoey vocals, reminiscent of American progressive rock bands like the Mars Volta. Oh Land, a Danish trio suggesting Bjork leading the Pointer Sisters, sang about frostbite and earthquakes with synchronized moves and odd hats.
Not that American bands were scarce, whether they were playing revved-up, post-punk Minimalism, like Abe Vigoda, from Los Angeles, or Dylanesque Americana, like Elvis Perkins in Dearland (leaning toward rockabilly and gospel) and the Portland band Blitzen Trapper (applying new-wave concision to the sound of the Band). Groups like those can look forward, if they're lucky, to careers on the road, perhaps with an occasional windfall from placing a song in a soundtrack or a commercial. But on a beery Austin night in a packed club, that can sound like enough.
Comments will be moderated. Keep comments relevant to the article. Remarks containing abusive and obscene language, personal attacks of any kind or promotion will be removed and the user banned. Final decision will be at the discretion of the Taipei Times.