Movie review: Winter's Bone
'Winter's Bone' internalizes the harsh environment of a Missouri winter, making it part of the people who populate the story
Winter's Bone was a big favorite at Sundance last year, and has done well at numerous independent film festivals since then, but it failed to hit the spot at the Oscars. This probably says more about the nature of the Academy Awards than it does about the film, which features some brilliant performances from little-known actors and a style that spans both art house noir and mainstream thriller.
The story of Winter's Bone is deceptively simple, and the setting initially does not promise much.
Social realism from the backwoods of Missouri's Ozark mountains, with hard scrabble families eking out a living from unpromising soil, subsidized by a culture of crime — mainly the cooking up of methamphetamine in isolated locations of a highland region — could easily prove a real downer.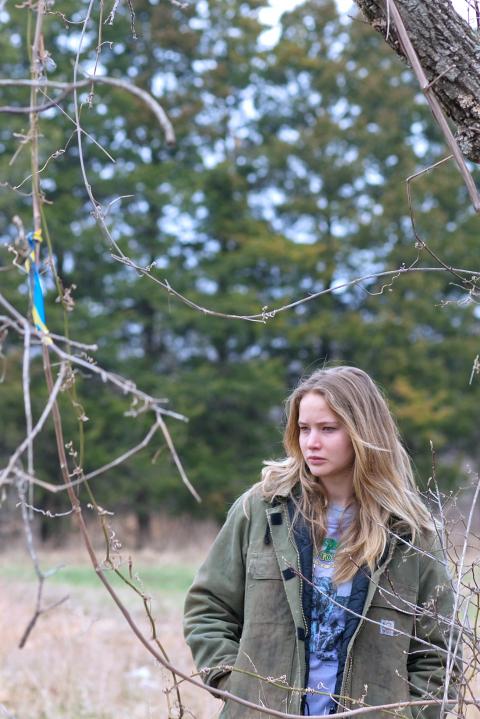 Winter's Bone, directed by Debra Granik.
Photo courtesy of CatchPlay
The setting in the depth of the Missouri winter brings to mind the Canadian film Frozen River, which was given a small release in Taipei in June last year. The cold, and chilly fingers of death, linger over people already living on the outer periphery of normal life. Winter's Bone achieves the impressive feat of internalizing this harsh environment and making it part of the people who populate this story.
The heart and soul of Winter's Bone is 19-year-old Jennifer Lawrence, who is spellbinding to watch as Ree, a teenager charged with the care of two young siblings after her father jumps bail and her mother has tuned out from all her children's needs (whether from psychiatric or drug-related reasons is never made clear, though Ree's antipathy to the drugs widely available in her community suggests the latter). The ramshackle house in which she lives and some nearby land are her only financial assets, but these have been placed as bond for her father's bail. Ree's father has failed to turn up, and unless she can bring him back, or prove that he's dead, she'll be without a roof over her head.
It is more than probable that quite a large number of people living in her immediate area, many of whom Ree is tangentially related, know something about what happened to her father, Jessup. We are introduced to Jessup though hearsay and rumors, none of which seems to make him a particularly attractive character, but this does not in the least reduce his importance to Ree, who needs to find him in order to survive. She does not pretend to have any particular love for her father, and the best thing she can think to say about him is that he "never cooked a bad batch" of meth.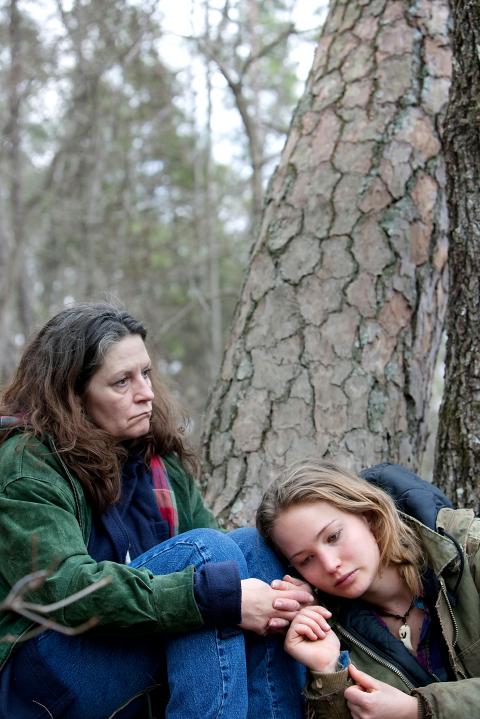 Winter's Bone, directed by Debra Granik.
Photo courtesy of CatchPlay
Her relatives are unwilling to talk, and this reluctance is backed up with force. For them, it is simply a matter of managing family affairs, and killing an intransigent member of the clan may be unpleasant and regrettable, but needs must, and these are not the sort of people to baulk at a bit of blood. Fortunately for Ree, blood ties also matter, and she finds an unlikely ally in her Uncle Teardrop, an unstable and violent man who is probably as much a liability as a friend. John Hawkes, who plays the role, manages to embody shocking violence and intense vulnerability without recourse to sentimentality. For all the assistance he gives Ree in her quest, he never allows himself to be sympathetic, and he walks off the screen in the final scene of the film on a quest that can only lead to more violence. As brilliant as Christian Bale's performance as Dicky Eklund was in The Fighter, Hawkes' has an absence of sentiment that makes him even more compelling, more dangerous, and infinitely less likable.
Another performance that deserves special praise is from Dale Dickey, who plays Merab, a matriarch scared by the violent world in which she lives. She warns Ree what retribution she might face if she keeps asking unwanted questions, and does not hesitate to deal out that retribution when her warnings aren't heeded.
There is a hard edge to Winter's Bone that makes Ree and her surroundings believable, even in the film's moments of almost Gothic absurdity. Some of the drug-dealing minors who populate the story are so weird they have to be real (many locals were used as extras).
Ree exists in a system that encompasses extremes of overblown machismo, matter-of-fact violence, and a medieval code of honor that locks people into silence or forces them to exact bloody vengeance. And there seems to be no way out. Fortunately, director Debra Granik does not try to create one.
Winter's Bone to some extent is a coming of age story, and Ree's quest for her father makes a woman of her, one who can see the violent logic of her community and who can also accept it (as if she really had any other choice). In Winter's Bone, growing up is not about becoming free, but about understanding the limits of freedom. It's not a happy conclusion, but one that is a remarkably potent antidote to the poles of moral vacuity or moral certainty that are usually represented in mainstream cinema.
Publication Notes
Film Notes:
Winter's Bone
DIRECTED BY:
Debra Granik
STARRING:
Jennifer Lawrence (Ree), John Hawkes (Teardrop), Isaiah Stone (Sonny),
Ashlee Thompson (Ashlee), Shelley Waggener (Sonya), Garret Dillahunt (Sheriff Baskin), William White (Blond Milton), Dale Dickey (Merab)
RUNNING TIME:
100 minutes
TAIWAN RELEASE:
Today
Comments will be moderated. Keep comments relevant to the article. Remarks containing abusive and obscene language, personal attacks of any kind or promotion will be removed and the user banned. Final decision will be at the discretion of the Taipei Times.