Restaurant review: Nan Ta Men 南大門
Located in one of Taipei's seedier areas, Qi Tiao Tong (七條通), a bustling alley off Linsen North Road, is home to an eclectic collection of Japanese and Korean restaurants, as well as an assortment of girlie bars that cater mostly to Japanese businessmen.
Among the eateries, Nan Ta Men is a good place to go to sample some hearty, authentic Korean fare, yet not break the bank. The restaurant's dining room is always full, and the young staff members are kept on their toes attending to tables that seat companies of four or more.
The spacing is arranged in such a way that on a recent Friday visit my dining partners and I had little trouble overhearing a group of businessmen chatting in Japanese at the table on one side, and a Taiwanese man confirming the area's long-standing reputation as a den of iniquity by instructing his female ganbu (幹部), or high-ranking employee, to "train the hostesses" on the other.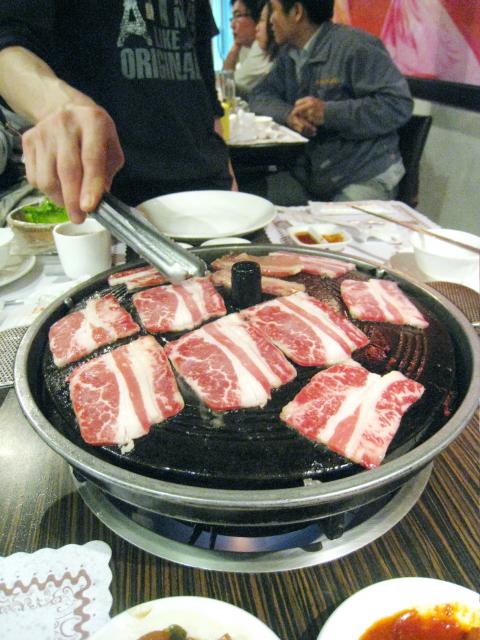 Succulent barbecued meats are the main draw at Nan Ta Men.
Photo: Ho Yi, Taipei Times
Barbecue is Nan Ta Men's main attraction, and a copper grill is built into every table. We began our evening spread with boneless short ribs (烤牛小排, NT$450), the most expensive dish on the barbecue menu. An agile staff member quickly brought over a platter of marinated meat, flipped it a few minutes on the grill and voila: We enjoyed the tender beef's piquant symphony of flavors with slices of garlic and chili wrapped in crisp lettuce.
Nan Ta Men's barbecue standards include beef tongue (NT$400, 上等牛舌), pork intestine (NT$380, 辣烤肥腸) and lamb (NT$250). Served with chili and sesame oil sauces, the thin slices of spicy marbled pork (辣烤五花肉, NT$350) offer an equally exciting taste bud adventure.
The wraps of barbecued meat can be further enriched by the addition of kimchi, which comes as part of the restaurant's panchan, the array of small plates that is the trademark of Korean food. The eatery's selection of panchan is small, but comes in unlimited supply.
A visit to Nan Ta Men would not be complete without its immensely popular seafood pajeon (海鮮煎餅, NT$250), or Korean pancake, which is made with shrimp, squid and scallion. Crispy and golden brown on the outside, tender and juicy on the inside, the fluffy pancake had a hint of the ocean that was met with unanimous approval at our table.
The ginseng chicken soup (人蔘雞湯, NT$350 for a half chicken, NT$650 for a whole bird) impressed us with its luscious broth, which was thickened with glutinous rice and flavored with garlic and chestnuts.
Other must-tries include dolsot bibimbap (石頭拌飯, NT$180), or hot stone bowl of rice topped with vegetables, egg, and either beef or pork, and raw oysters with chili paste, vinegar and scallion (涼拌生蚵, NT$400). Those with a sweet tooth can finish with the restaurant's signature fried ice cream (NT$100 for two scoops).
The downside of dining at Nan Ta Men is the inescapable greasy smell of barbecue that clings to your clothes. Prospective diners should also be aware that patience is needed on weekends if you show up without reservations.
Publication Notes
Nan Ta Men 南大門
Address: 63, Ln 119, Linsen N Rd, Taipei City (台北市林森北路119巷63號)
Telephone: (02) 2571-1017, (02) 2571-1136
Open: From 5:30pm to 4am, closed Mondays
Average meal: NT$600
Details: Menu in Chinese and Korean, credit cards accepted
Comments will be moderated. Keep comments relevant to the article. Remarks containing abusive and obscene language, personal attacks of any kind or promotion will be removed and the user banned. Final decision will be at the discretion of the Taipei Times.