Movie review: Hideaway
After a drugs overdose claims her lover, Mousse finds out she's carrying a child and her ambiguous journey into motherhood unfolds
Hideaway, a French drama with lulling quiets and an undertow of emotional violence, gets off to an unpromising start with two addicts doing what they do best, nodding out and shooting up. The woman in bed, Mousse (Isabelle Carre), is sleeping or passed out, her hair spilling around her head. Her lover, Louis (Melvil Poupaud), is playing the guitar, his dirty fingers finding the notes as a cigarette burns between his lips. But he's barely more animate and he soon fades, this time for good. Done in by a bad fix, he dies less than 11 minutes into Hideaway, upending Mousse's life and perhaps our expectations for this story.
One of the pleasures of Hideaway (Le Refuge), from Francois Ozon, an erratic talent of satisfying films like Under the Sand and misfires like 8 Women, is its insistence on ambiguity. The slowly unfolding narrative isn't particularly novel — Mousse turns out to be pregnant and cleans up, kind of — and the ending can be glimpsed before it's tied up rather too neatly. But before then, Ozon brings us close to Mousse, an often opaque, prickly, at times unlikable character who proves more complex than her addiction and her pregnancy might suggest. And he gives her a fine foil in Louis' gay brother, Paul (the newcomer Louis-Ronan Choisy), whose insertion into her life and the story take both to unexpected places.
By the time Paul encroaches, Louis is buried and Mousse's belly is jutting out from her slim body, thrusting her center of gravity forward and seemingly pointing her in the direction of motherhood and all that implies. She's living in a bucolic country house that belongs to someone whom, she tells Paul, she slept with when she was 16. "He thinks," Mousse says of her lover turned landlord, "he's my dad." The casualness with which she delivers that line, in between mouthfuls over dinner, is something of a minor jolt — there's an entire other movie embedded in that one sentence — and it helps explain how Ozon shades in his characters and builds his story: With a few words, you catch sight of how the girl became the woman.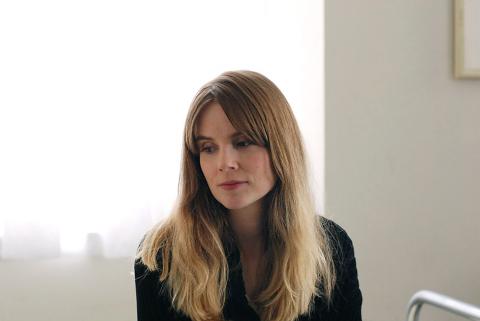 Isabelle Carre stars in Hideaway.
Photo Courtesy of Zeus film
Nearly everything that follows works in a similar, deceptively casual register. There are minor incidents (some anxiety about a stove) and notably underlined details (Mousse staring at Paul's body, her gaze and the camera lingering over a curve in his back). Another character, Serge (Pierre Louis-Calixte), provides some modest diversion. Mousse guzzles beer and prescription methadone. And, in one scene of her bathing, she looks at herself in a mirror, doubling her image. She then lies back and cups her belly with her hands, a gesture that suggests that this woman who, seconds before was captivated by, or just lost in, her own reflection, has begun, perhaps for the first time, to think about the life growing inside her.
Carre was actually pregnant during the shoot, which thickens the movie's realism (nothing screams fraud like a pillow stuffed under a shirt) and further complicates the character. At one point Mousse tells Paul that when she learned that Louis had died and that she was pregnant, she decided to have the child because, as she put it, she thought her dead lover would continue to live on inside her. That might sound romantic or hopeful to some ears, but initially there's something morbid and troubling about her confession, particularly since one of the last images of Louis is of him shooting up and collapsing into Mousse's embrace, a physical surrender that Ozon stages in a visual echo of a classic Pieta.
This invocation of Jesus and the mourning Mary remains unsettling, partly because at first it's unclear if Ozon is sentimentalizing his characters or groping for spiritual substance. (Mothers and their children have, with varying meaning and impact, populated some of Ozon's other films, most recently in Ricky, a fable about an infant who sprouts wings, and Time to Leave, a melodrama about a dying man.) But while the Pieta imagery startles, it makes increasing sense as the story builds around it. Because as Hideaway deepens and evolves, you understand that the image of Mousse cradling Louis is a manifestation of her love: This was how she held him, with a tender love that in its depth was itself holy.
Publication Notes
Film Notes
HIDEAWAY
DIRECTED BY: Francois Ozon
STARRING: Isabelle Carre (Mousse), Louis-Ronan Choisy (Paul), Pierre Louis-Calixte (Serge) and Melvil Poupaud (Louis)
RUNNING TIME: 105 Minutes
LANGUAGE: In French with Chinese and English subtitles
TAIWAN RELEASE: Today
Comments will be moderated. Keep comments relevant to the article. Remarks containing abusive and obscene language, personal attacks of any kind or promotion will be removed and the user banned. Final decision will be at the discretion of the Taipei Times.