When nature calls
'Lucky money' isn't the only thing flowing at Tzunangong. The temple boasts a US$1.38 million bathroom that leaves users flushed with excitement
At first glance, Tzunangong's (紫南宮) Seven Star Public Bathroom (七星級的廁所) appears to be the height of luxury. Built for US$1.38 million in 2007, three futuristic towers or "golden shoots" (金筍) welcome visitors to the convenience, which boasts a nursing room, handicap access, a viewing platform, a rest area and, of course, facilities for males and females.
But does the bathroom deserve its self-proclaimed "seven star" moniker? Does it warrant a special journey to Jhushan Township, Nantou County as, for example, a restaurant boasting three Michelin stars might?
I have tried many a facility, from China's open air toilets — essentially cement troughs that seem designed for the embarrassment of users and the entertainment of passersby — to marbled private club restrooms with tuxedo-clad employees on hand with towels. Though not exactly a connoisseur of the commode, I am, by virtue of experience, an authority on the lavatory.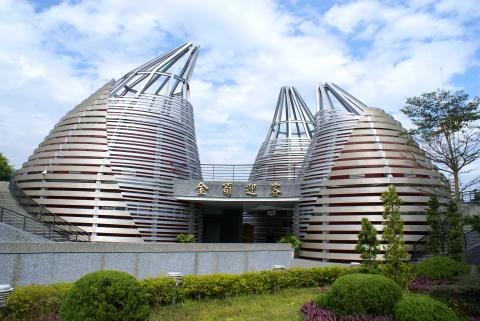 Photos: Taipei Times
SQUATTER'S RIGHTS
Down to business. Rate This Toilet (ratethistoilet.wordpress.com) defines the basics of bathroom cleanliness: a sanitary, odor-free environment, soap-filled dispensers, working hand dryers and toilet tissue. Tzunangong's bathroom gets off to a roaring start with top marks in each category. Two stars.
Taking the Grooming Lounge Blog's (www.groomingguys.com) "compulsive" guide to public toilets as point of reference, a bathroom worthy of the name, the site says, should be fully automatic, enabling the user to avoid direct contact with anything — faucet, toilet handle or soap dispenser — that could harbor germs. Here again, Tzunangong has all its bases covered with fully automated facilities. One star.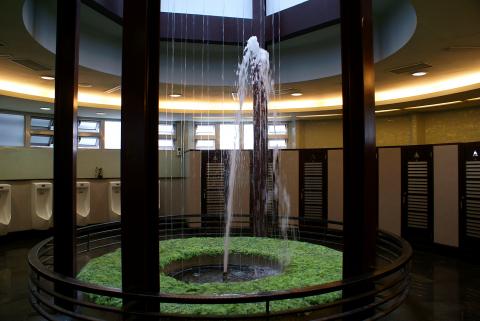 Photos: Taipei Times
But sanitation and automatization, though essential, perhaps, for the discerning traveler, are just basic criteria. High-end facilities, by their very appearance, help promote good bathroom etiquette.
TOILET TRAINING
Several Web sites offer the lowdown on toilet behavior. Babeled.com (www.babeled.com) declares in its Edict of Public Restroom Etiquette, to never talk on a "cellphone while dropping a deuce." It's also improper to "grunt at extreme decibel levels." Sound advice, indeed.
Meanwhile, Ehow.com (www.ehow.com) offers its own protocols: "[Keep] your hands to yourself," for example, and avoid "staring at fellow patrons or engaging in conversation." (Emergency situations — such as a lack of toilet tissue — are excluded).
And for the love of the Earth God (土地公), stop squatting on the toilet seat. Clean it first and sit on it like the rest of us. Though not as extensive as the abovementioned lists, Tzunangong does post signs telling users how to deport themselves in the facilities. So that's another star.
NOW THAT'S A LOO
The Web site Independent Traveler (www.independenttraveler.com) has its own reader-generated list of the best (and worst) toilets across the globe.
A "seven star" bathroom at a hotel in Dubai, for example, provides sanitation engineers who meticulously wipe down every stall after use and hand out towels to patrons to dry their hands. The toilet seats found in the bathroom of a hotel in Japan have fans to dissipate unwanted smells and built in "butt heater[s] and sounds to cover bodily functions."
Alas, Tzunangong's bathroom pales in comparison. Aside from its sensor-activated deodorizing equipment and ventilation system, it lacks such sophisticated amenities. But then again, you don't have to pay to use it.
There is, however, some ostentation. A large water fountain in the center of each bathroom provides a soundtrack to the action, there are murals in vibrant colors and fresh flowers are among some of the more pleasing flourishes. There's even an area for visitors to powder their noses. That's worth a fifth star.
Yet the sheer scale of Tzunangong's bathroom sets it apart. With more than 100 stalls — ranging from individual urinals located a respectable 30cm apart and sit-down toilets with plenty of leg room — patrons won't have to worry about queuing up to answer an urgent call of nature.
So is Tzunangong's bathroom worth seven stars? Definitely not, if only because this reviewer is inclined to pooh-pooh anything above five stars as a promotional gimmick. Is it worth a visit? Absolutely — if, that is, you happen to be in the vicinity.
Publication Notes
Bathroom Notes:
What: Seven Star Public Toilet (七星級的廁所)
Where: Tzunangong (紫南宮), 40, Dagong St, Jhushan Township, Nantou County (南投縣竹山鎮大公街40號)
Admission: Free
Getting there: UBus Co (統聯客運) runs a daily bus service departing hourly from the terminal next to the Taipei Train Station. Be sure to tell the driver you are going to Tzunangong. One-way tickets cost NT$380
Comments will be moderated. Keep comments relevant to the article. Remarks containing abusive and obscene language, personal attacks of any kind or promotion will be removed and the user banned. Final decision will be at the discretion of the Taipei Times.