Aboriginals take Zorba to China
The Chooky Dancers hit Beijing last month to perform in China's Lunar New Year gala
Lionel Dhulmanawuy, an Aboriginal dancer from a remote tropical island off northern Australia, points to his cracked lips and dry skin: Beijing's winter is "powerfully cold," he says.
Dhulmanawuy and his fellow Chooky Dancers, who became a YouTube sensation with a quirky Zorba the Greek number, left Australia for the first time last month to perform in China's televised Spring Festival gala, seen by millions.
China is a far cry from Elcho Island, where the men first developed their five-minute routine, which begins with a traditional dance with spears — and ends with the barefoot men wearing loincloths doing Greek-style gyrations.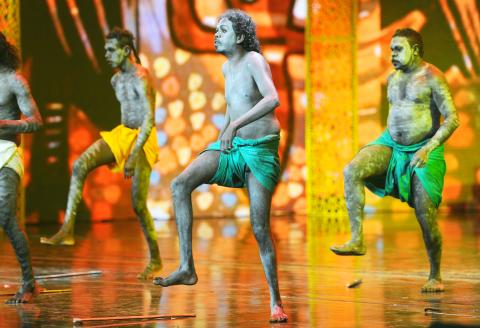 Members of the Chooky Dancers rehearse for a Chinese television show. The program will air on Beijing Telivision's Lunar New Year gala on Friday.
Photo: AFP
Their videos have gone viral, with more than 1.8 million hits since 2007.
"Their eyes will be popping out of their heads," Gaymangura, one of the dancers, told Agence France-Presse through a translator when asked how he thought the Chinese audience would react to seeing half-naked men covered in white body paint.
The Chooky Dancers spent nearly 20 hours in four planes to reach the Chinese capital to star in the annual gala, to be broadcast by Beijing Television to a massive viewing audience during Lunar New Year festivities on Friday.
Members of the Australian Aboriginal dance group called the Chooky Dancers are pictured in their dressing room before rehearsals for a television show to be broadcast by Beijing Television during Lunar New Year festivities on Friday.
Photo: AFP
While the men have been performing at festivals around Australia for several years and starred in the television show Australia's Got Talent, Dhulmanawuy admitted he was nervous about dancing for the millions of people who will be watching the show.
"When we were rehearsing yesterday I was really, really shy thinking about how many people are going to be watching," he said in one of the dialects spoken on the island of 2,000 people, mostly Aborigines.
The glitzy gala will feature a range of local and international acts including Spanish flamenco dancers, a British child singer, a Swedish pianist and Russian girls wearing pink bunny ears and matching tutus.
"The Chooky Dancers are very strange and very humorous so it is very good for Chinese viewers," Shi Tao, director of the show, told AFP.
During their four days in Beijing, when temperatures hovered below the freezing mark, the men donned gloves and hats purchased at a supermarket to visit Tiananmen Square and then — a treat for the self-professed kung-fu fans — a martial arts show at a sports high school where the actor Jet Li (李連杰) studied.
"It's really great but too cold," Dhulmanawuy told AFP as he counted the five layers of clothing that he was wearing, even while inside the hotel. "My eyes are cold and my teeth hurt. It hurts when I move my nose around."
The dancers, whose performance for the gala was pre-recorded, were invited to Beijing as part of the Year of Australian Culture in China, which is aimed at strengthening relations between the two countries.
These ties were severely strained last year when four Rio Tinto executives, including Australian passport holder Stern Hu (胡士泰), were jailed on bribery and trade secrets charges.
Josh Bond, the manager of the Chooky Dancers, hopes the Chinese audience likes their blend of traditional and Greek dance so much that they can come back later this year.
"Maybe they will be Australia's new export," Bond said.
Comments will be moderated. Keep comments relevant to the article. Remarks containing abusive and obscene language, personal attacks of any kind or promotion will be removed and the user banned. Final decision will be at the discretion of the Taipei Times.