Planet Pop
Actor Charlie Sheen was back in rehab on Friday and production of American TV's most popular comedy, Two and a Half Men, was on hold, one day after a person who called emTAergency services said the actor was intoxicated and in pain.
According to a person familiar with the emergency call placed on Thursday, one of Sheen's neighbors told an emergency operator that the actor was "intoxicated" and complaining of abdominal and chest pains.
Sheen, 45, was taken to a Los Angeles area hospital and was there until around midnight on Thursday, said his publicist, Stan Rosenfield, who cited the actor's history of hernia problems. Rosenfield said on Friday that Sheen was in rehab, but he did not say why.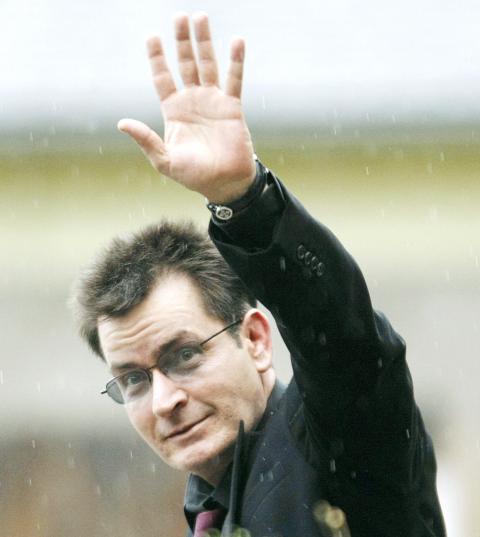 Charlie Sheen's back in rehab.
Photo: Reuters
"Charlie Sheen has voluntarily entered an undisclosed rehabilitation center today," the spokesman said. "He is most grateful to all who have expressed their concern."
The latest fallout from Sheen's chaotic life came two weeks after CBS' top entertainment executive said the actor's off-camera actions haven't affected his work as the star of his hit sitcom, the centerpiece of CBS' Monday comedy lineup.
Sheen's headline-making behavior has included a wild night that left a New York hotel room in shambles and sent him to a hospital, and a guilty plea last summer to assaulting his wife in Aspen, Colorado.
Sheen filled gossip pages again this month by spending a weekend partying in Las Vegas.
His latest hospitalization was his third in as many months.
Earlier this month, CBS Entertainment President Nina Tassler was asked about Sheen at a news conference with TV reporters.
"We have a high level of concern. How can we not?" she said, adding the situation can't be viewed simplistically. The actor does his job on Two and a Half Men reliably well, she said.
When a questioner suggested a person in a different line of work would be fired for involvement in similar incidents, Tassler replied, "What do you get fired for? Going to work and doing your job?"
Meanwhile, US singer Jimmy Buffett left hospital on Thursday, a day after he fell off a stage at the end of a Sydney concert and was knocked unconscious, Australian television reported.
Buffett departed St Vincent's Hospital in Sydney via a back entrance to avoid the media after doctors gave him the all-clear on Thursday morning, Ten Network television reported.
Medical staff said the singer had suffered a head injury, but added he was in good spirits and lucky to have recovered so quickly from the fall at Hordern Pavilion on Wednesday night.
Witnesses attending his show described hearing a "crack" as Buffett's head hit the floor following an encore performance of his song Lovely Cruise. "He really took a very nasty tumble," the hospital's emergency department director Gordian Fulde, who attended the concert, told Seven Network television. "He just didn't see the drop in front of the stage. I heard the 'crack' and I thought: 'This guy has broken his neck.'" Fulde, who is also a surgeon, rushed to the aid of the 64-year-old entertainer.
"He had a head injury and he lost consciousness ... (but) scans show that he's OK," Fulde told Seven Network.
Buffett lay on the floor in front of the first row of seating waiting for paramedics and an ambulance to arrive, and he was rushed to hospital half an hour later.
Meanwhile, a musical by singer-songwriter Tori Amos and a new play from Mike Leigh are among productions being staged by Britain's National Theatre over the next year.
Amos has written music and lyrics for a play based on The Light Princess, a 19th-century fairy tale by Scottish writer George MacDonald. The theater announced Wednesday that it will be staged early next year.
Writer-director Leigh, who was nominated for an Academy Award this week for the screenplay to his film Another Year, has started work with an ensemble of actors on a play that as yet has no script and no title and is due to open in September. Leigh's plays, like his films, are developed collaboratively during rehearsals.
"I have absolutely no idea what's in his mind," said the venue's artistic director, Nicholas Hytner.
Britain's flagship state-funded theater has had a run of successes in recent years, transferring several hits to Broadway and broadening its audience through a discount ticket policy.
Seems like a good year for Britain. Historical drama The King's Speech got a new boost in the race for Oscars glory on Saturday, as its director won a key prize in a weekend of Hollywood awards.
Tom Hooper got the top gong for outstanding directorial achievement at the Directors Guild of America (DGA) show, seen as a key indicator of prospects for success at next month's glittering Academy Awards.
The winner of the DGA award has gone on to win the Oscar for best director on all but six times since 1948.
Comments will be moderated. Keep comments relevant to the article. Remarks containing abusive and obscene language, personal attacks of any kind or promotion will be removed and the user banned. Final decision will be at the discretion of the Taipei Times.