A-lin sets sights on the Taipei Arena
The pop siren proved she can sing like the best of them at her show in Legacy
Aboriginal songstress A-Lin (real name Huang Li-ling, 黃麗玲), who was dubbed a "natural diva" in the title of her second album, continued her rise to divadom with a sold-out performance at Taipei Legacy (傳音樂展演空間) this weekend.
A-Lin's first large-scale concert proved she is one of the best R 'n' B singers in Mando-pop, with an octave-jumping range and virtuosic improvisational verve reminiscent of Mariah Carey.
The pop siren ascended to a new career apogee when two singles from her album Loneliness is Not the Hardest Part (寂寞不痛) debuted at the top of both KKBOX's and ezPeer's charts last month.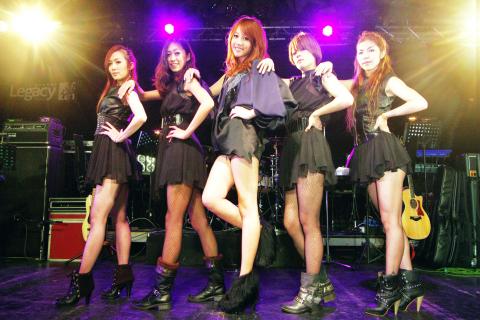 A-lin and her dancers are happy together.
Photo Courtesy of Avex
A-Lin kicked off Saturday's show with rock-fused versions of three hits: Zero Limit (Lin極限), Awakening (開竅) and Be Myself (做我自己), proving she can pull off rock's high octane energy with her explosive vocals.
An early highlight arrived when she delivered two trademark ballads, Give Me a Reason to Forget (給我一個理由忘記) and Am I the One You Miss Tonight (今晚你想念的人是不是我). Her jazzy, atmospheric delivery of these classics was reminiscent of jazz diva Nina Simone.
Although A-Lin is relatively young (28) compared to Mando-pop bigshots such as Jolin Tsai (蔡依林) and Stephanie Sun (孫燕姿), A-lin's smoky vocals make her ideal for interpreting songs that require a more mature sound.
"Thank you for coming to share happiness and vent your negative emotions," she said, fully understanding her current reputation for lovelorn ballads. "Whether you are happy or not, we are happy at this moment."
Not content with simply delivering her own hits, A-Lin went on to cover other singers' anthems as well, including a jovial medley of The Cardigans' Love Fool, Momoko Tao's (陶晶瑩) Sisters Stand Up (姐姐妹妹站起來) and Tarcy Su's (蘇慧倫) Long Live Heartbreak (失戀萬歲).
The real eye opener was her bluesy renditions of three male singers' hits: Jonathan Lee's (李宗盛) A Song To Myself (給自己的歌), Khalil Fong's (方大同) Love Love Love (愛愛愛), and Crowd Lu's (盧廣仲) I Love You (我愛你). She delivered these with such jazzy verve and tiptoed rhythm that it was easy to forget one was at a pop concert.
For an encore, A-Lin displayed her rarely seen energetic persona by tackling a dance version of Zero Limit backed by four dancers.
"Was that good? I've always loved dancing," she said. "I want to dance like Jolin, A-mei (aka Chang Hui-mei, 張惠妹) and Elva (Hsiao, 蕭亞軒) in the future."
She ended the evening with Four Seasons (四季) and her most acclaimed hit, Lovelorn, Not Guilty (失戀無罪), which has inspired numerous tributes on the TV talent show circuit .
"Whether you are happy or not now, we will be happy in the future," she told the audience. On the brink of grateful tears many times during the evening, A-Lin joked. "I will save my tears for the Taipei Arena."
With her rising stardom and such an entrancing performance, odds are it won't be long before she performs there.
Comments will be moderated. Keep comments relevant to the article. Remarks containing abusive and obscene language, personal attacks of any kind or promotion will be removed and the user banned. Final decision will be at the discretion of the Taipei Times.