Shine on
Chung Wei-wen abandoned the fashion world 10 years ago to start Chung's Silver Work Studio, which specializes in jewelry and limited edition teapots
Jewelry company Chung's Silver Work Studio celebrates its first decade this year despite sticking to a decidedly non-commercial philosophy. Just two people make its highly detailed sterling silver jewelry, and owner Chung Wei-wen (鍾維文) refuses to discount his work.
"I feel promotions like clearance sales don't respect the value of handmade work," says Chung, who founded Chung's Silver Work Studio with his wife Liu Lan (劉嵐). "But even without them we've been around for 10 years, so I think we're doing okay."
Crafted by Chung and an apprentice in his studio near Zhongshan MRT Station (中山捷運站), most jewelry by Chung's Silver Work Studio is inspired by nature and motifs found in traditional Chinese art.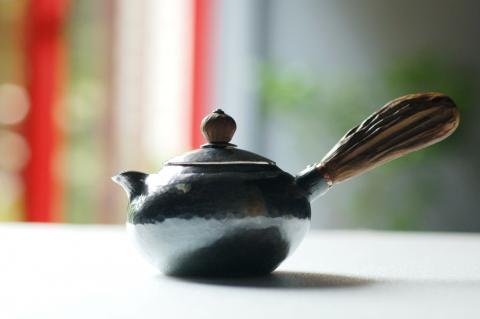 Photo courtesy of Chung's Silver Work Studio
One bracelet is composed of ridged sterling silver links that glisten like sunlight on ocean waves when held up to the light. The gentle arch of bamboo reeds waving in the breeze inspired a pendant embellished with a tiny peridot cabochon. Another pendant is a simple brushed silver circle meant to evoke taichi movements.
Before becoming a jewelry designer, Chung was a freelance stylist. He and Liu worked as a team for advertising and record companies and taught classes at Shih Chien University (實踐大學). But after eight years in the fashion business, Chung began to feel burned out.
"Stylists actually spend a lot of their time in meetings. I had to keep compromising until the final result was something I wouldn't have done," he says.
Photo courtesy of Chung's Silver Work Studio
Chung, who began collecting and wearing sterling silver bracelets in high school, also had a hard time finding suitable accessories. "I had control over the clothing the models wore, I could do their hair and make-up, but I could never find jewelry I liked," Chung says.
The former fashion design student decided to hole up in his home on Yangmingshan and teach himself jewelry-making by studying technique books. Most of the DIY volumes available were in English and Chung says he only understood a third of the instructions, learning the rest of the techniques through trial and error.
The first pieces by Chung's Silver Work Studio were sold at a cafe where Liu worked part time before the company expanded to four department stores throughout Taipei City, including Eslite's Dunnan and Tianmu branches. But Chung felt uncomfortable selling in a competitive retail environment. While the company's newest items have special introductory prices, Chung was reluctant to hold further sales, put items on clearance (most of Chung's Silver Work Studio jewelry ranges in price from NT$990 to NT$10,900) or create holiday-themed pieces like heart-shaped jewelry for Valentine's Day.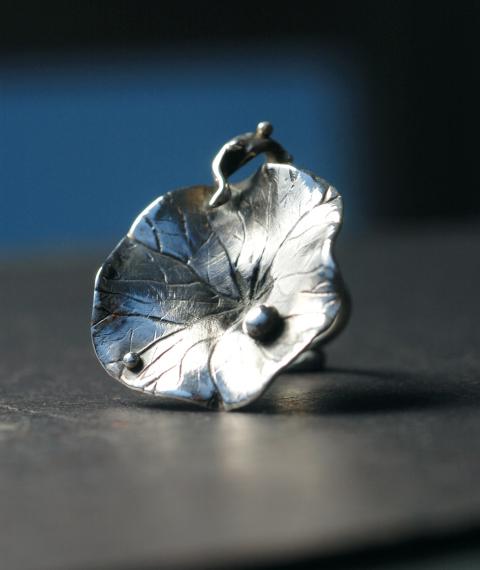 Photo courtesy of Chung's Silver Work Studio
"One customer asked, 'Who do you think you are, [Louis Vuitton]?" Chung says. "I had no idea until the end of our first year at Eslite that our sales were last among all the merchants."
He eventually closed his department store counters to focus on his combination studio and store, which opened in 2009, and another shop on Yongkang Street.
Chung uses lost wax casting, in which the design is first carved into a wax prototype used to make a mold, for three-dimensional pieces with finer detailing, and silversmithing for larger items, including limited edition teapots that Chung began making after customers who were tea connoisseurs told him the beverage tastes better when brewed in sterling silver containers. Instead of electroplating, which Chung avoids because of the chemicals involved, all jewelry is polished by hand, creating a soft luster.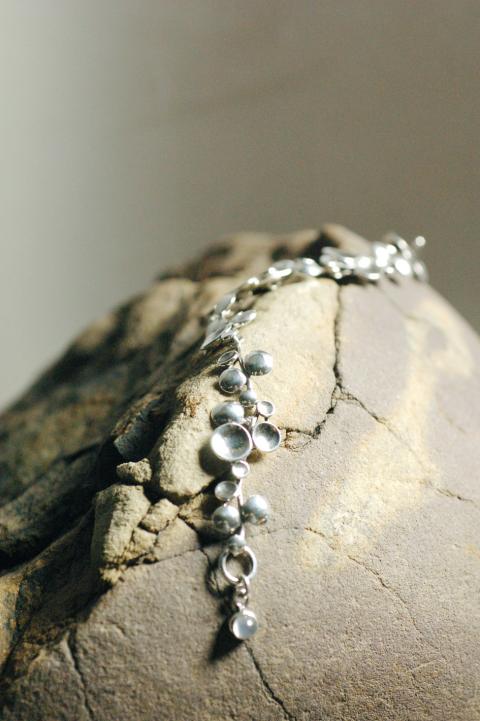 Photo courtesy of Chung's Silver Work Studio
While Chung's first pieces were inspired by Bauhaus design, his company's signature is now finely detailed jewelry inspired by traditional Chinese art and carvings or nature. One pair of earrings is based on the way ocean waves are rendered in watercolors, while a ring is shaped like a lion doorknocker.
One of the company's most popular items is a pendant with hoops that double as a bubble wand. Chung created it by experimenting with twisting a thin stem of silver into curlicues after watching a street vendor knot balloons into different shapes.
A Siamese cat his family once owned served as the muse for Chung's favorite series. "He was gorgeous and had a unique personality, very fierce but gentlemanly at the same time," Chung says. One pendant has the feline stretching its lithe body out, his front paw reaching for an invisible target.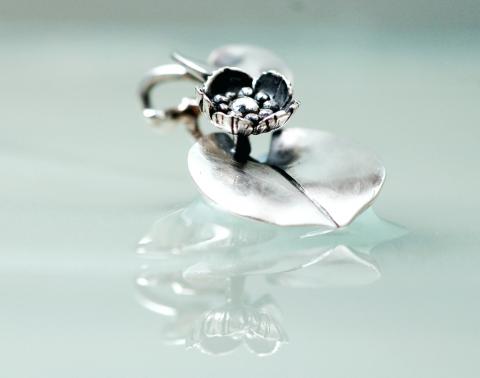 Photo courtesy of Chung's Silver Work Studio
"I'm not a very creative person. I can't just imagine things, I have to see them first," Chung says. "But when I see something beautiful, I use my jewelry to make a record of it."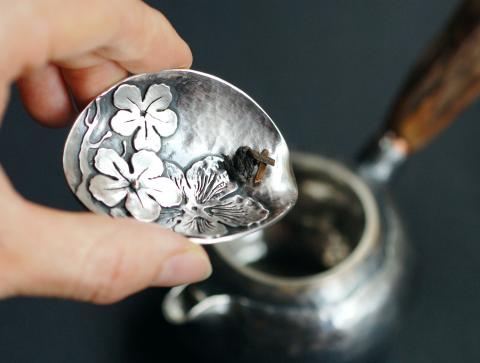 Photo courtesy of Chung's Silver Work Studio
Publication Notes
STORE NOTES
WHAT: Chung's Silver Work Studio
WHEN: Zhongshan studio open daily from midday to 8pm; Yongkang Street store open daily from 12:30pm to 9:30pm
WHERE: Zhongshan studio and store: 2F, 10-1, Ln 20, Zhongshan N Rd Sec 2, Taipei City (台北中山北路二段20巷10-1號2樓), (02) 2531-9866; Yongkang Street store: 14, Ln 31, Yongkang St, Taipei City (台北市永康街31巷14號), tel: (02) 2394-6420
On the Net: www.chungsteam.com
Comments will be moderated. Keep comments relevant to the article. Remarks containing abusive and obscene language, personal attacks of any kind or promotion will be removed and the user banned. Final decision will be at the discretion of the Taipei Times.