A match made in Jerusalem
The 'shadchan' plays a pivotal role in the ultra-Orthodox Jewish community bringing unmarried individuals together. But how did an outsider come to perform such an important function?
Heather Sirota is a loquacious Jewish grandmother of 14 living in the heart of Jerusalem's ultra-Orthodox community. In one hand she holds a filing card with a photograph stapled to it. In the other is her phone. She peers at the card and tells the rabbi on the end of the line: "She's 20, 1.5m, from Philadelphia. Her parents are separated, not divorced. She's the fourth child of five — two are married. She's absolutely lovely — and I don't often say that."
Sirota flips the card over and reads out a couple of names and phone numbers: references provided by the young woman for community elders who will attest to her character. The rabbi, acting on behalf of a young man whose details are to be found on a similar card in Sirota's possession, will call the numbers, ask pertinent questions and then convey his approval — or otherwise. All being well, a meeting between the pair will be arranged and then, Sirota hopes, an engagement.
Sirota, 67, is a shadchan, a traditional Jewish matchmaker. Beneath the vaulted ceilings of her house in Mea Shearim, one of the earliest settlements outside the Old City walls and home to the strictest adherents of the Jewish faith, a wicker basket of filing cards lies on a large cloth-covered dining table. Some are clipped together with laundry pegs: these are couples Sirota has introduced and who are now dating with a view to marriage.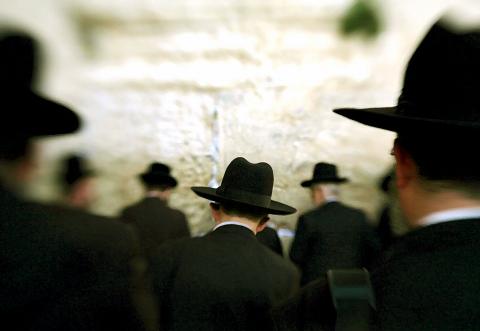 Ultra-Orthodox Jews take part in prayers at the Western Wall, Judaism's holiest site, in Jerusalem.
Photo: EPA
The shadchan performs a pivotal role in ultra-Orthodox Jewish circles where young men and women rarely mix, but marriage at an early age — 17 or 18 — followed by a large brood of children is considered highly desirable.
In this largely insular world, there is, according to Sirota, a spectrum of religious observance, from "black," the strictest ultra-Orthodox communities, to "colored," modern Orthodox. At the "black" end, she says, it's relatively simple for parents to identify suitable potential partners for their children. "It's a very small community so it's very easy to find out about people. The parents can do all the checking."
What are they checking? "Personality, good character traits, how bright or what kind of learner the boy is, whether he's outgoing or quiet, whether he wants to study Torah [religious texts], or whether he wants to go out to work — which is not usual here — what his interests are, if he has any. Everyone checks. The parents want to know how he relates to his friends, what his brothers do, what kind of family he comes from. It's a whole investigation."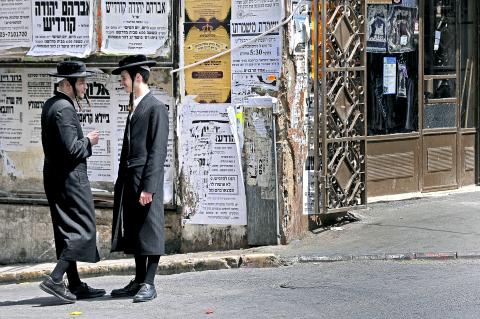 Ultra-Orthodox Jewish men talk in the Mea Shearim neighborhood of Jerusalem.
Photo: Bloomberg
Once the checking — by both sets of parents — is complete and satisfactory, financial issues are discussed, sometimes assisted by the rabbi. "The parents will try to work out if they've got enough money to buy the couple an apartment, and if so, where. Or they will rent one." At this stage, the young couple will probably not have met.
Sometimes the parents will involve a shadchan. "You go to the shadchan and say my daughter is now ready to get married," says Sirota. "And someone else comes and says their son is ready to get married. And the shadchan says, 'why don't we put this one together with that one?' That's what I do."
The young people would not necessarily be told what was happening. These are, she concedes, arranged marriages, but once the couple meet they "have free choice to say no. It's not a forced marriage. They are 100 percent entitled to say I don't like that person."
The couple will meet a few times, usually in the home of a family friend, alone but with others nearby, before deciding whether to get engaged. In less strict communities, couples date. Although a physical relationship before marriage is out of the question, there is no limit on how long they can date, says Sirota. "But I'll tell you honestly, the longer they date the less chance there is that it will come to an engagement," says Sirota. "If they are not engaged by the time they have dated 10 times, it's going to collapse."
Sirota's enthusiasm for her work does not detract from an often far-from-rosy picture of ultra-Orthodox family life. A recent survey by Israel's labor ministry found that 56 percent of ultra-Orthodox families live below the poverty line. Haredi women commonly have seven or eight children, some families stretching well into double figures (contraception is permitted but unusual). Haredi men devote much of their lives to religious study, shunning paid work. Many families rely on state benefits and charitable handouts. Some studies have noted a rise in domestic violence; depression is not uncommon.
Most of Sirota's clientele have come to Orthodox Judaism as young adults. Most have come to live in Jerusalem from abroad: mainly the US, UK, Canada, South Africa, South America and Australia. "Most have got a university education, they're coming from a different world, very much more particular about height, size, looks," says Sirota. "The more you've come from a secular world, the more important these things are."
The perceptible influence of the secular world concerns Sirota. "This generation, they want what they want. When I was young, if I wanted green shoes there was no such thing. You bought white shoes and painted them green. But today if you want a pair of black shoes with gold dots and a silver bow — if you go into enough stores, you will find what you want. That mentality of finding whatever you want in the material world has come into finding a partner. People are looking for perfection. But people are not born and made perfect, we all have our imperfections." Divorce between Orthodox couples is becoming more common.
Sirota's candidness about what is largely a closed world stems from her own sense of outsiderness. Born into a secular South African Jewish family, she came to Israel 32 years ago with her husband, and was drawn into ultra-Orthodoxy through the religious education of her two sons. "I am not a Mea Shearim lady, I don't fit in anywhere," she says.
It was through her sons and their friends that Sirota became involved in matchmaking, concentrating on it full-time after giving up her job in education. "For three years I was in denial, telling people I'm not a matchmaker but maybe I can help you," says Sirota.
She won't be precise about how many couples she has introduced who have gone on to marry, but says it's in three figures. "I work very hard on my couples, but I never push anyone."
Many of her young married couples have become part of an extended family. "There's nothing that brings greater joy. I have buzz in my life. I'll carry on doing this as long as I can," says Sirota.
Comments will be moderated. Keep comments relevant to the article. Remarks containing abusive and obscene language, personal attacks of any kind or promotion will be removed and the user banned. Final decision will be at the discretion of the Taipei Times.